Finance
Blackstone's Crown Prince Built His Career on Bold Real Estate Bets
How a dealmaker with an eye for property became the heir apparent at the buyout giant.
By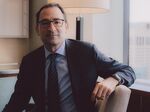 How do you get to the top of the private equity business? Turns out, it's by getting really, really good at flipping real estate.
This month, Jon Gray, 48, became president and chief operating officer of Blackstone Group LP. The job sets him up to one day succeed Chief Executive Officer and co-founder Stephen Schwarzman, who's steered the private equity firm over 30 years from a $400,000 initial investment to $434 billion in assets. The traditional core of the private equity game is corporate buyouts, supercharged with debt. Blackstone set itself apart by diversifying into hedge funds and real estate, and providing credit to companies. Gray, as head of the real estate division, expanded the portfolio into a $115 billion property giant that's Blackstone's top profit driver.

He did it in part with two audacious bets at what should have been the worst possible moment, just before the real estate crash and financial crisis. In 2007, Blackstone paid $39 billion for Equity Office Properties Trust, Sam Zell's collection of 580 commercial buildings, in what was then a record leveraged buyout. The firm also bought the Hilton hotel chain for $26 billion. Blackstone and its investors eventually earned profits of more than $20 billion from those investments. But it was a grind: Gray had to get his partners to kick in $800 million more before the Hilton transaction turned around.
Gray may not, at first glance, seem like much of a risk taker. He joined Blackstone right out of college and never left. People who've worked with him describe him as preternaturally composed. "He's that right combination of somebody you want your daughter to bring home when she's going on dates, somebody you trust with your money, and somebody with steel balls," says Thomas Saylak, who was Gray's boss as co-head of real estate at Blackstone until 2002. "He has the ability to make hard decisions under stress."
Gray will have plenty more to stress over as Schwarzman's second-in-command. Schwarzman still has vast ambitions: He's said Blackstone can get to $800 billion in assets in five years, about double what it manages today. "I don't envision sharp turns here," says Gray, speaking in his soon-to-be-old office on New York's Park Avenue a week after his promotion was announced on Feb. 13. "Steve has said this is like the restaurant business. If you continue to serve good food, your customers come back and new customers show up."
Blackstone and its private equity brethren are some of the most important investment engines in the world. Critics of the buyout model point to the rich fees the firms charge investors and say profits come at times from cutting jobs at the companies they load with debt. What's undeniable is the industry's reach. Blackstone invests for some of the biggest pension funds in the U.S., university endowments, and sovereign wealth funds. It's owned everything from SeaWorld to the Weather Channel. This year it bought a controlling stake in the financial data unit of Thomson Reuters Corp., which competes with Bloomberg LP, the publisher of Bloomberg Businessweek. It's bought and sold the iconic Waldorf Astoria and owns Chicago's Willis Tower. It snapped up foreclosed homes after the financial crisis.
It's a business that's remarkably profitable for its practitioners. Schwarzman earned $786.5 million in 2017, and Gray made $274 million. Since Blackstone went public in 2007, its stock, including dividends, has returned 115 percent, vs. 128 percent for the S&P 500.
Gray is seen by peers as an innovator in real estate financing. "He studies and understands macroeconomic trends," says Jeff Blau, CEO of Related Cos., a New York-based developer. "Through all that research, he comes to a position on a city, an industry, or an asset type, and bets big on that. It enables him to put out a huge amount of capital." Early on, Gray saw that publicly traded real estate companies could be valued by the market at less than the sum of their parts—over time he led so-called take-privates of about 30 such companies. After swallowing them up, he would offload bunches of assets at high prices to pay down debt and cut Blackstone's investment cost. That's partly how he made the high-wire act with Equity Office Properties work. He sold $27 billion of the portfolio when office values were still close to their peak.
"He revolutionized the real estate business," says Chris Nassetta, CEO of Hilton Worldwide Holdings Inc. In other areas of the Blackstone empire, Gray will oversee businesses with long-standing, aggressive rivals. Money has poured into buyout funds, driving deal prices up and potential returns down. The credit business pits Blackstone against similar managers and well-capitalized Wall Street banks. Hedge funds are an increasingly difficult proposition, with some of the world's best-known managers calling it quits in a world unwilling to pay high fees for middling returns. The firm's size may give it an edge. "The investors want to put a lot of money to work, and that favors those who have economies of scale," says Steven Kaplan, a professor at the University of Chicago Booth School of Business.
Another challenge will be to keep the profitable peace. Private equity firms are "filled with the most achievement-oriented people, and they don't always play nicely together," says Jeffrey Sonnenfeld, an expert on CEOs and leadership who teaches at the Yale School of Management. "To manage that is very hard, and Blackstone so far has been otherworldly good at this." Above Gray's desk is a photo of a basketball hoop next to a sign with the word "Perseverance." Gray says it reminds him of a high school basketball season when he rode the bench. "He has a disarming personality and comes across as calm," says Blau, who's known Gray since the early '90s. "He's been able to, from a very young age, interact with older owners of businesses who could easily view him as some young whippersnapper they don't want to deal with."
Outgoing President Tony James remains as executive vice chairman. More than two years ago, James began inviting Gray to meetings he wouldn't normally sit in on. "Tony included me in a lot of things that probably made it a little more complicated and cumbersome for him," Gray says. "This is a big job. Understanding a lot of the plumbing was very helpful."
And then there's Schwarzman. The 71-year-old shows no signs of abandoning his post soon. He's raised his global profile, counseling heads of state from President Trump to China's Xi Jinping and establishing the Schwarzman Scholars program in China, modeled on Oxford's Rhodes scholarships. Sounds like a tough boss to manage up to. It may help that Gray has "built up parts of the business that were not Steve's world," Sonnenfeld says. "He doesn't crowd Steve's aura." —With Melissa Mittelman and David Carey
 
Read next: Imagine Wall Street Without Jamie Dimon and Lloyd Blankfein
Before it's here, it's on the Bloomberg Terminal.
LEARN MORE