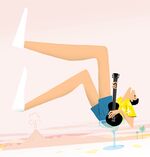 For the show's investors, it may not matter that Escape to Margaritaville isn't very good. It blends the greatest hits of Jimmy Buffett, a set of cheery cardboard characters, and a simple—if occasionally demented—plot into a concoction syrupy enough to taste sort of like a Broadway show. But like the worst versions of its namesake beverage, it's too watered-down to be much fun.
The production is the first in a coming onslaught of shows gambling on the songs of pop acts: In 2018, Broadway is set to stage music from the likes of Cher, the Go-Gos, and Donna Summer. The producers behind each hope to replicate the success of Mamma Mia!—which grossed $625 million in New York and was spun into the most successful movie musical ever—and Jersey Boys, which has made more than $2 billion worldwide.
But the jukebox musical can be a tricky cocktail to master. For every Beautiful, the Tony-winning Carole King story, there's a Lennon, which ran for a mere 49 performances. In Margaritaville, writers Greg Garcia (My Name Is Earl) and Mike O'Malley (Shameless) spin their tale around a doofy Casanova named Tully (Paul Alexander Nolan), who leads a beach band at a rundown resort in the Caribbean. His main hobby is engaging in an affair with a new tourist each week.
Naturally, an uptight career woman, Rachel (Alison Luff), shows up to lay claim to his shell necklace—and his heart. One startling natural disaster later, and Tully and his goof troop are forced to find their way on the chilly mainland. All the while, they sing creamy, anodyne versions of Buffett hits such as It's Five O'Clock Somewhere, Son of a Son of a Sailor, and, as if you could forget, My Head Hurts, My Feet Stink, and I Don't Love Jesus.
The talented Nolan has a caramel-smooth voice, and his oft-exposed pecs are the exact size and shape of cantaloupes. Luff is appropriately high-strung, and their hodgepodge gang (including standouts Eric Peterson and Lisa Howard as their downtrodden pals) carries the show as best it can. But the book lobs them little but cringe-inducing jokes until the second act, when a series of increasingly bizarre events—a zombie tap dance number, for example—provides some badly needed razzmatazz. It's as if Buffett and the other creators were so confident that his fan base, the "parrotheads," would snap up tickets, they forgot to reach to the top shelf for ideas.
Buffett has described the setup as "a vertical tailgate": Fans book a room in the Marriott Marquis above the theater, drink at the bars, and then hit the show. A sign onstage sagely observes, "You can't drink all day if you don't start in the morning," and yet the mood in the lobby is subdued. A handful of Tiki bars are set up, but few people line up for drinks. Even the merchandise is uninspired—couldn't they have borrowed those shot-glass wordsmiths from Señor Frogs?
When it moved to the Marquis Theatre from a tryout in Chicago, Margaritaville replaced On Your Feet!, a high-octane musical featuring the pop songs of Gloria Estefan. That show, attracting a range of demographics, ran for 746 performances before setting out on an 80-city tour. To get folks to sing along to Why Don't We Get Drunk and Screw every night and bounce around the beach balls that abruptly fall like a wet towel during Act 2, Margaritaville will have to rely more directly on Buffett's army of flip-flop-wearing snowbirds. It might work. Already, they dutifully visit his corporate ecosystem of restaurants, hotels, and casinos. When Latitude Margaritaville opens in Hilton Head, S.C., later this year, they'll retire in his retirement homes.
Other coming jukebox musicals won't be so lucky. It seems as though producers have forgotten such epic flops as Good Vibrations, which strung together the hits of the Beach Boys and ran for only 94 performances. (Even beach balls couldn't save that one.) The quicker these saccharine, paint-by-numbers productions fall by the wayside, the sooner they'll make room for more inventive, original work. In the meantime, better find that salt shaker.
Before it's here, it's on the Bloomberg Terminal.
LEARN MORE