Hedge Funds Dug Into Stocks Right Before the Market Went Mad
By and
JPMorgan data show fund exposure at three-year high on Feb. 1

S&P 500 sank 6.5% over next two days amid yields, VIX trauma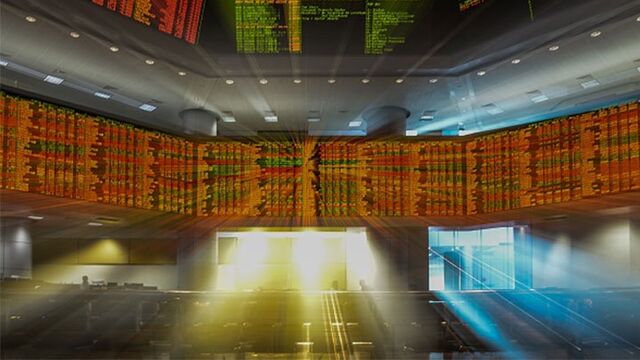 You didn't have to be some dad with an E*Trade account or an ex-manager for Target Corp. shorting the VIX to get burned. The smart set took its lumps in the downdraft, too.
Days before the S&P 500 Index's biggest selloff since 2015, bullishness among hedge funds specializing in stocks surged to the highest in more than three years, according to client data compiled by JPMorgan Chase & Co. The bank looked at a value called net exposure, which subtracts short positions from longs.

Equities remained shaky Thursday as volatility that's gripped global financial markets persisted amid signs that the rise in Treasury yields has yet to run its course. After rising as much as 0.4 percent earlier, futures on the S&P 500 were down 0.3 percent as of 7:01 a.m. in New York, while the Cboe Volatility Index rose to 28.79.
Hedge funds weren't alone, of course, in charging into the market at the worst possible time and, moreover, they generally were prescient as a group when it came to anticipating a potential surge in volatility. Still, the consequences of aggressive positioning may be harder to swallow for professional traders whose performance has become an increasingly urgent matter. The HFRI Equity Hedge Total Index, which tracks equity-focused hedge funds, trailed the S&P 500 in each of the past eight years. Lackluster returns have sparked withdrawals and grumbling about fees.
Net exposure among JPMorgan's hedge fund clients increased by 1.2 percent from a week ago to 0.72 on Feb. 1. The next two days, the S&P 500 plunged 6.5 percent as a rout triggered by a surge in Treasury yields got exacerbated by VIX-related selling.
Clients of retail brokerages were also active before the selloff. Trades from just two shops -- E*Trade Financial and TD Ameritrade -- accounted for more than one-third of the volume on the New York Stock Exchange last month. That's triple levels in 2016.
Before it's here, it's on the Bloomberg Terminal.
LEARN MORE