technology
Qualcomm Falls Amid Concern Broadcom's Higher Bid Won't Work
By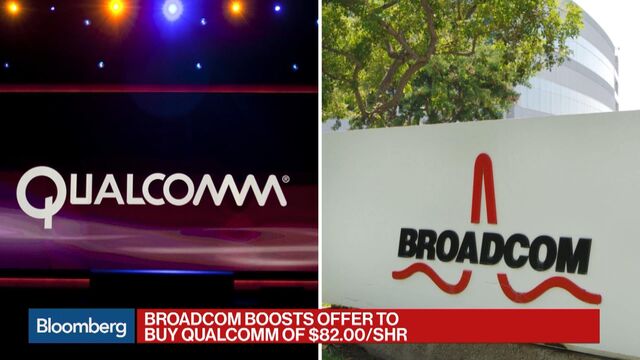 Qualcomm Inc.'s stock fell on a day when its would-be purchaser, Broadcom Ltd., offered shareholders a 17 percent higher price.
The new $82-a-share bid is within the range that investors told Bloomberg News they'd need to tender their holdings in what would be the largest ever technology acquisition. Yet the stock dropped 6.6 percent, to $61.73, on concern that the offer will still be spurned as too low by Qualcomm. Another hurdle is Broadcom's insistence that Qualcomm not raise its bid for NXP Semiconductors NV, something Qualcomm is under pressure to do.
"For Qualcomm, while the price is higher, the 'best and final' nature of the deal may be viewed as increasing the chance Broadcom could walk," said Sanford C. Bernstein & Co. analyst Stacy Rasgon in a research note. "We suspect the price is still below what Qualcomm is looking for; at a minimum by the metrics they outlined a few weeks ago they would likely still consider an $82 bid as undervaluing them."
Qualcomm wasn't the only stock under pressure Monday, a day the broader market sunk the most since 2011. The Dow Jones Industrial Average shed more than 1,100 points amid rising concern that inflation will force interest rates higher. The S&P 500 Information Technology Sector Index fell 4 percent.
Broadcom's proposal Monday also provides Qualcomm's board, facing a shareholder vote in March that could put them out of a job, a means to upset the apple cart. Broadcom Chief Executive Officer Hock Tan is insisting that Qualcomm stick to its offer of $110 a share for a pending purchase of NXP, and not cede to pressure of its own to sweeten the bid. Broadcom said its own offer for Qualcomm is linked to the deal with NXP being done at the current price, or terminated.
"Broadcom may have just handed Qualcomm a 'poison pill,"' Christopher Rolland, an analyst at Susquehana International Group, said in a note. "With the deal contingent upon NXP at $110 or not at all, Qualcomm's board of directors can hinder the potential of a takeout by raising the bid for NXP, closer to the $135 value that NXP activists have been pushing for."
NXP's list of top shareholders is full of investors who have piled into the stock in recent months arguing that Qualcomm's offer must be improved. Some, such as Elliott Management Corp., are demanding $135 a share or more from Qualcomm.
The San Diego-based chipmaker is trying to close its purchase of NXP before next month's shareholder meeting, when investors will vote on whether to replace its board members with Broadcom nominees and approve the takeover. Qualcomm's management has argued that NXP makes the company's stand-alone prospects even stronger in their opposition to Broadcom's offer.
(
Updates with closing shares in second paragraph.
)
Before it's here, it's on the Bloomberg Terminal.
LEARN MORE