technology
Broadcom Pressures Qualcomm to Negotiate After Raising Bid
By
Qualcomm stand-alone plan isn't realistic, Broadcom CEO says

Offered breakup fee would be in the billions of dollars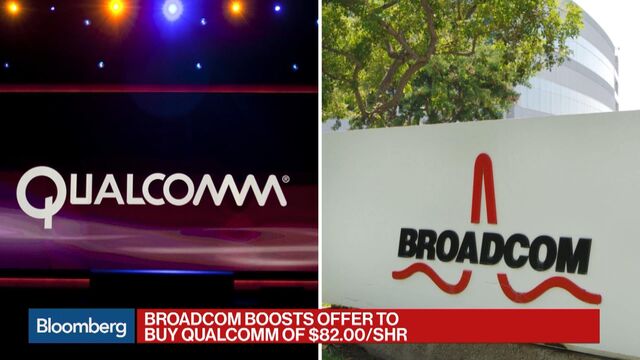 Broadcom Ltd. offered Qualcomm Inc.'s shareholders a $16 billion bigger payday, ratcheting up the pressure on its rival chipmaker to negotiate while deriding Qualcomm's plan for independence as "pie in the sky."

"Any rational board would engage with us," Broadcom Chief Executive Officer Hock Tan said in an interview. "It's an offer that provides more value to the shareholders of Qualcomm than any standalone value that Qualcomm has tried, or may think they can try to create."
Broadcom early Monday raised its bid for Qualcomm to about $121 billion in an attempt to force what could be the largest-ever technology deal. The new offer of $82 a share is 17 percent higher than an opening proposal in November that was rejected. It's the "best and final" proposal, Broadcom said.
Tan is raising the stakes for Qualcomm Chief Executive Officer Steve Mollenkopf to come talk or face a March shareholder vote that could oust his board. Investors contacted by Bloomberg at the time of the initial bid said they would need more than $80 a share to side with Broadcom. Qualcomm said Monday it had received Broadcom's revised proposal and would review the offer before responding.
Mollenkopf dismissed the earlier bid as not even warranting consideration and his team has avoided responding to outreach, according to Tan. The two men disagree on the future of the industry and have opposite views on how a semiconductor company should be run. Broadcom believes the boom years are over and expensive spending to get into new areas is a waste of shareholder money. Qualcomm's leaders argue that a new growth surge is just around the corner.
The proposed combination would cap more than two years of consolidation in the semiconductor industry and create the world's third-largest chipmaker, with products in almost all smartphones.

Qualcomm has argued that regulators would be unlikely to quickly, if ever, approve such a combination. Tan has said he's already identified two minor businesses that overlap and assured regulators that he'd spin them off to speed approval. Broadcom also has started regulatory approval processes in the U.S., China and the European Union, the company's antitrust lawyer Daniel Wall, of Latham & Watkins, said Monday.
Tan said he's prepared to offer a breakup fee that would be in the multiple-billions of dollars and at the high end of the range typically offered in such circumstances. He'll also offer shareholders payments that increase with time if regulatory approval takes longer than the year he's forecasting, something that will give Broadcom an incentive to get it done quickly.
"For Qualcomm, while the price is higher, the 'best and final' nature of the deal may be viewed as increasing the chance [Broadcom] could walk," Stacy Rasgon, an analyst at Sanford C. Bernstein & Co. wrote in a note to investors. "We suspect the price is still below what [Qualcomm] is looking for; at a minimum by the metrics they outlined a few weeks ago they would likely still consider an $82 bid as undervaluing them."
Current Qualcomm board member Paul Jacobs, and one other, have been invited to join the new board, Broadcom said. 
The offer also hinges on Qualcomm's ongoing $47 billion purchase of NXP Semiconductors NV. Investors have piled into the stock, arguing Qualcomm's $110-a-share offer must be improved. But Broadcom said the NXP deal must either be concluded at the current offer or terminated. Qualcomm shares fell 2.8 percent to $64.24 at 11:01 a.m. in New York. Broadcom rose 2.9 percent and NXP was little changed.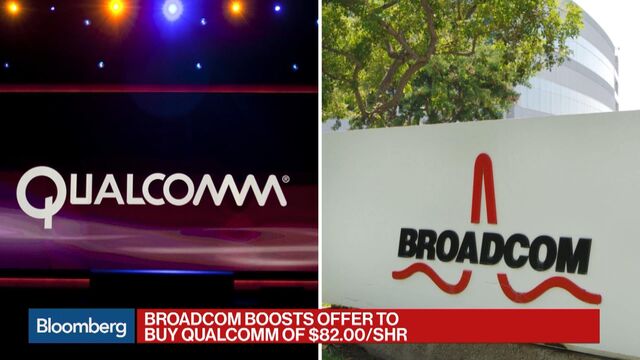 Broadcom's hostile bid for the larger San Diego-based company is the latest and most audacious move by Tan in a string of deals that have made his company one of the world's largest suppliers of semiconductors. He wants Qualcomm for its leading smartphone modem chip division, an example of what he calls a "franchise" that will continue to dominate.
Qualcomm has countered that its future is much brighter as a standalone company. The chipmaker says it's on the cusp of breaking into new markets for products such as servers, personal computers and autos, putting it on a path to becoming much bigger.
That argument has been hurt by attacks on its licensing business. Regulators around the world are fining or investigating Qualcomm, supporting elements of Apple Inc.'s claims in a lawsuit against the company that it abuses its dominant position. Qualcomm has countered that it expects to win in court over time.
The fate of Qualcomm's licensing business is key to its future. The company is unique in the chip industry because most of its profit comes from charging fees on patents that cover the fundamentals of all modern phone systems. That cash influx fuels industry leading research and design that in turn helps its chip unit build products that dominate the smartphone industry.
Investors will have to choose whether they want to take the money from Broadcom now or sit tight and hope for a favorable resolution of its legal entanglements and for the promised new market growth to kick in.
Before reports of Broadcom's initial offer in November, Qualcomm's stock had been trading at less than $55, partly because of worries its earnings would continue to be hurt by customers such as Apple refusing to pay license fees.
— With assistance by David McLaughlin
Before it's here, it's on the Bloomberg Terminal.
LEARN MORE