Why Apple Isn't Worried About Broadcom's $105 Billion Bid for Qualcomm
By
Broadcom is said to want to shut Qualcomm licensing business

Apple's Android rivals to struggle to keep up without Qualcomm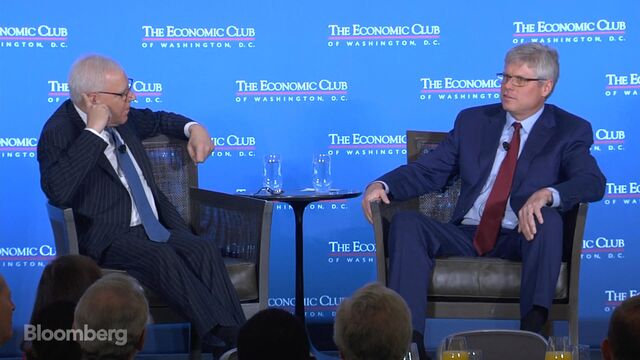 Big takeovers have a way of placing pricing power in the hands of the merging companies.
So when Broadcom Ltd. went public with a hostile $105 billion bid for Qualcomm Inc. -- potentially creating a colossal maker of chips used in wireless handsets -- mobile phone makers had cause for concern. Chief among them: Apple Inc.
If Broadcom succeeds in buying Qualcomm, itself seeking to close a deal for chipmaker NXP Semiconductors NV, the transactions would bring a quarter of the chip suppliers used in the iPhone X under one roof. That kind of market concentration should be anathema to a customer like Apple Chief Executive Officer Tim Cook, a master manager of his company's long, diverse, global chain of parts providers.
"Does he really want one guy to have that much power over the supply chain?" said Mike Walkley, an analyst at Canaccord Genuity.
Yet Apple isn't grousing publicly and Hock Tan, Broadcom's CEO, has suggested that Apple is comfortable with the deal. "We would not undertake this if we are not highly confident our common key customers would embrace it," he said late last year. That's a contrast to some Android phone makers that have complained openly about the proposal. Apple declined to comment.
Apple isn't complaining because a Broadcom acquisition of Qualcomm would probably save the iPhone maker billions of dollars in licensing fees while posing risks for Apple's key smartphone competitors.
Licensing threatened
In what would be a clear boon to Apple, Broadcom plans to close Qualcomm's licensing business over time because it causes too much friction with customers, according to people familiar with its plans. 
For years, Qualcomm was the sole provider of modem chips for iPhones and iPads, but nowadays Apple is designing more of its own components, making the companies more like rivals than supply chain partners.
Qualcomm also charges Apple and other phone makers license fees from patents covering the fundamentals of all modern handsets. The levy, a percentage of the price of each device sold, has been Qualcomm's main source of profit and costs Apple about $2 billion a year, analysts estimate.
Apple stopped paying last year and accused Qualcomm of illegally using its dominance in cell phone chips to demand inflated licensing fees. Once in control, Broadcom could save Apple money by ending those fees.
"They think it's done. They want to get rid of licensing," said Stacy Rasgon, an analyst at Sanford C. Bernstein. "If you buy a chip from them, you wouldn't need a license. If I'm Apple, I'm going to probably pay less."
R&D Cut
Broadcom ownership of Qualcomm may also hobble competing smartphone makers, according to Carolina Milanesi, an analyst at Creative Strategies. Qualcomm's licensing profits have funded deep research and development that's improved mobile internet connections and turned phones into pocket-sized computers. Those benefits go to all industry players, not just Apple, though.
Apple can charge $1,000 for a phone because consumers believe the iPhone is the best performing device. In China, that premium position has been eroded by Android-based local phone makers like Oppo and Vivo, that rely heavily on Qualcomm chips. The competition from Qualcomm-dependent rivals lessens the value of Apple's component designs and creates more tension with Qualcomm.
Qualcomm is "lowering the innovation that vendors in the Android ecosystem have to put in, so they're making it easier to compete with Apple," Milanesi said. "Qualcomm invests a lot in innovation and driving things forward, which creates more of a competition for what Apple is doing in chips."
Broadcom executives plan to reduce spending on R&D to 15 percent of revenue from about 19 percent. An independent Qualcomm wants to splurge almost a quarter of sales on R&D. That equals about $5.5 billion a year invested by Qualcomm, compared with about $3.2 billion at Broadcom.

While Broadcom spends less than Qualcomm, the budget is heavily focused on improving its Wi-Fi chips and other components where it currently dominates, according to Broadcom Chief Technical Officer Henry Samueli.
That's less threatening than Qualcomm's R&D efforts, which often take it into new territory where Apple is investing heavily, too. Earlier this month, the chipmaker unveiled a wireless headphone chip that it said works better than the Apple-designed processor in AirPods.
Rather than spending money and time inventing technology that could compete with Apple in a decade, Broadcom aims to support Apple's and other phone makers' near-term goal of releasing the most-advanced smartphone every year.
"We're not looking at starting totally new projects where maybe five to ten years from now they may generate revenue, they may generate profitability," said Samueli. "We're going after real projects that are in the pipeline with customers lined up and ready to go."
For more on Apple, check out the Decrypted podcast:
— With assistance by Alex Webb, and Mark Gurman
Before it's here, it's on the Bloomberg Terminal.
LEARN MORE