Qualcomm Investors Want Bump of $10 a Share From Broadcom
By and
Broadcom's bid is attempt to 'steal' chipmaker, investor says

Tan has reputation for getting mostly what he wants in deals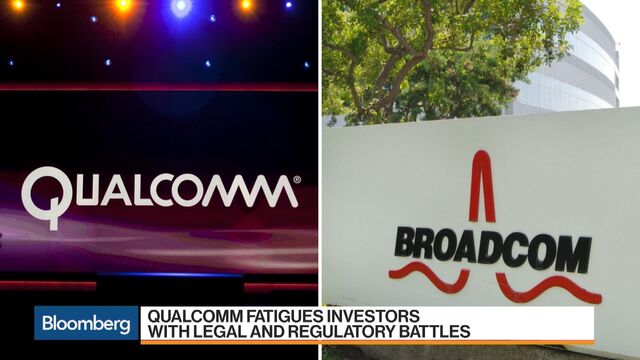 Qualcomm Inc. investors want at least $10 more than the $70-a-share Broadcom Ltd. is offering. If history is any guide, they might get partway there.
"We would be very interested in evaluating an offer that begins with an 8," said Daniel O'Keefe, a fund manager of the $3.1 billion Artisan Global Value Fund, which owns Qualcomm stock. The board "should urge Broadcom to come back with a higher bid."
Qualcomm's board rejected Broadcom's $105 billion acquisition offer Nov. 13, saying it was too low. Broadcom, which hasn't yet improved its proposal, said it remains "fully committed" to the purchase and has received positive feedback from investors and customers. For now shareholders seem to be siding with Qualcomm. But Broadcom Chief Executive Officer Hock Tan is a tough negotiator and Qualcomm has big problems.
Tan has been the leading actor in a wave of deals that have shaken up the $300 billion chip industry over the last two years. He's put together a string of transactions that have more than doubled the size of his company and were applauded by investors who have bid up Broadcom's stock. Part of what they like is Tan's ability to cut a deal on his terms.
In his three largest purchases -- for LSI Corp., Broadcom Corp. and Brocade Communications Systems Inc. -- Tan hasn't paid more than 6.8 percent over his opening offer, according to regulatory filings. When LSI Chief Executive Officer Abhi Talwalkar asked Tan for an increase of 10 cents a share on his $11.15 offer in 2013 he was told that the bid was final. Talwalkar's board capitulated to Tan's price.
'Somewhat Exhausted'
Qualcomm shares were little changed at $66.58 at noon Monday in New York. The initial offer represented a 28 percent premium to the stock's closing price before the deal was initially reported on Nov. 3. A bump of 6.8 percent would take Broadcom's bid up to $74.76, still below what the company is worth, according to several investors.
"We certainly expect another round," said David Rolfe, chief investment officer at Wedgewood Partners Inc., which oversees about $5.2 billion. "It has got to be at least in the $80 handle to get enough shareholders."
While investors may not like Broadcom's opening salvo, Qualcomm's multiple challenges -- a legal battle with Apple Inc. and regulatory actions around the world that threaten its lucrative licensing business -- have tried their patience and undermined their confidence in the company's future.
It doesn't help that Qualcomm has underperformed most other chip stocks this year. Prior to Bloomberg's report of Broadcom's offer, Qualcomm's stock was down 16 percent in 2017, compared with a 41 percent gain by the benchmark Philadelphia Stock Exchange Semiconductor Index. Broadcom, whose offer was partially in its own stock, was up 47 percent. Since the bid, Qualcomm has rallied but is still about 5 percent below the offer price.
"A lot of portfolio managers may be somewhat exhausted holding their Qualcomm position," said Daniel Morgan, a vice president at Synovus Trust Co., which owns Qualcomm stock. Morgan said an offer of $85 to $95 a share will persuade most to sell.

Mike Green, a long-term Qualcomm backer, is ready to part with his holdings for less.
"I'm still an owner although I drastically cut it down three years ago," said the American Money Management portfolio manager. "I would like to get $75 to $80 for the shares."
In its response to Broadcom's offer, Qualcomm's board cited confidence in the company's future growth prospects and management's ability to deliver. Qualcomm has said the ongoing dispute with Apple, which has stopped paying billions of dollars in licensing fees, is a commercial negotiation they will resolve. The record fines levied in Korea and Taiwan, and the U.S. antitrust investigation were prompted illegally by Apple and will be seen off in the courts, they've said.
"It might take a lot of litigation, so it's a tiresome stock that has worn other investors out. We're getting close to fatigue ourselves," said Brian Barish, the chief investment officer of Denver-based Cambiar Investors LLC. "Broadcom is trying to steal it at $70."
While Qualcomm has resolved such disputes before, investors are concerned there are too many issues that will take too long to fix. Broadcom's timing may be good in that regard and some investors are considering whether fresh leadership might unravel some of Qualcomm's entanglements more quickly.
'Sitting Duck'
"Qualcomm is a sitting duck for something like this," said Wedgewood's Rolfe. "Maybe Broadcom will take a different tack, be willing to negotiate with Apple and others and resolve these lawsuits in a quicker fashion than the current Qualcomm strategy."
Even those who believe Qualcomm is being taken advantage of and will eventually rebound, have their limit.
"At $80 it's a done deal," said Ross Gerber, CEO of Gerber Kawasaki Wealth & Investment Management. "Qualcomm is worth a lot of money over time and the bid doesn't accurately value the company. You have to pay a price that the board cannot justify leaving."
— With assistance by Jeran Wittenstein, and Charles Stein
Before it's here, it's on the Bloomberg Terminal.
LEARN MORE