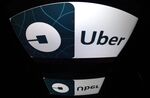 It's tempting to believe the high drama is ending at Uber. Don't bet on it. 
Yes, the company is moving past its year of hell. Travis Kalanick has been locked out of the chief executive suite, at least for now. Thanks to stock purchases led by SoftBank Group Corp., Kalanick and a number of other Uber stockholders cashed in some of their equity for a windfall. The stock transaction also ended a bitter feud that pitted one of Uber Technologies Inc.'s largest stockholders against others. Minefields still exist, but Uber seems to be making pragmatic, grown-up decisions perhaps for the first time in its history.
But Uber wouldn't be Uber without the possibility of fireworks. And SoftBank, which helped save Uber from its drama, might be the one lighting the fuse. 
Check out what a senior SoftBank executive said within hours of the Japanese conglomerate becoming Uber's largest shareholder. Rajeev Misra told the Financial Times that Uber was better off focusing on its core markets including the U.S., Europe, Latin America and Australia. Translation: Uber's newest and biggest part-owner wants the company to pull back from offering rides in places like Southeast Asia, the Middle East and Africa.
Notably, those are regions in which SoftBank or its technology investment fund owns pieces of Uber rivals such as Grab in Southeast Asia and Ola in India. It seems SoftBank doesn't want its children to squabble among themselves -- or engage in costly wars for market share. 
On the face of it, it's entirely sensible for Uber to weigh whether it should stick with the dozens of countries in which it operates. Already, Uber stopped doing business in China and Russia after it was too tough to compete with established local competitors. I've suggested that SoftBank could help Uber make a similar graceful exit from some of its overseas markets. That's essentially what Misra is saying, too, and I'm sure at least some Uber executives and stockholders are on board with the idea. 
Still, it's one thing to believe Uber should scale back its global ambitions. It's quite another for an Uber investor and board member like Misra to publicly air his views. If Uber's executives and other directors needed a reminder, Misra clearly signaled that SoftBank has no plans to be a passive stock owner. But what happens if not all of Uber's management or other stockholders agree with SoftBank's notion of more global retreats? Uber's boardroom has been a boxing ring before, and Misra is potentially giving them fuel for their next big slugfest. 
Misra's comments also spotlight the inherent conflicts in SoftBank's Uber investment. SoftBank already owns a big position in Didi Chuxing, the Chinese transportation company that forced Uber to retreat from the country in 2016. Now Didi is expanding outside of China and potentially threatening Uber again. It recently announced it would purchase 99 Taxis, the on-demand ride company in Brazil, which is home to the two cities 1 that generate the most rides for Uber. Reportedly, Didi also has its sights set on expansion in Mexico, another Uber market. And it doesn't sound as if Didi is done. "Globalization is a top strategic priority for Didi," the company's CEO told Bloomberg News earlier this month. 
In short, SoftBank -- Uber's largest stockholder -- is helping finance Didi's head-to-head competition with Uber. And it's making it clear that Uber shouldn't compete with SoftBank-backed companies in several markets. This is beyond awkward. 2  
SoftBank has helped end a long, unpleasant period of Uber's history. But it also may have opened another chapter in Uber's soap opera. 
Before it's here, it's on the Bloomberg Terminal.
LEARN MORE