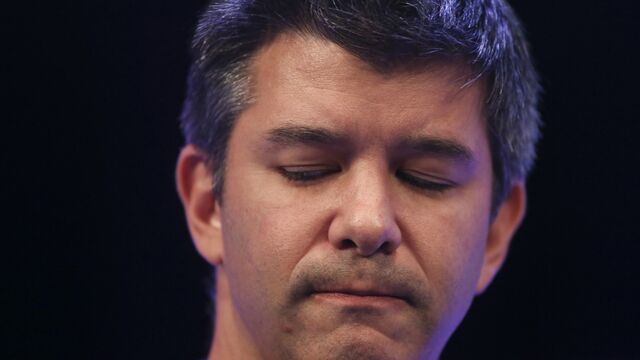 Uber Technologies Inc. has been plagued for months by a steady drumbeat of bad news. Allegations of sexual harassment by employees, a federal probe into software designed to bypass regulators and a lawsuit involving Alphabet Inc.'s Waymo unit led to co-founder Travis Kalanick's departure in June. The latest challenge is a lawsuit against Kalanick by Uber's largest shareholder, the venture capital firm Benchmark. The case comes at a perilous juncture for the ride-hailing company. It also signals an end to the blank check on behavior that venture firms have long given startup founders like Kalanick.
1. Why is Benchmark suing if Kalanick is already out?
Though Kalanick relinquished the CEO job two months ago, he has refused to relinquish two of the three board seats he controls. Benchmark sees Kalanick as a toxic force at Uber and holds him responsible for its cultural failings, detailed in a secret report compiled by former U.S. Attorney General Eric Holder. Benchmark, which holds a 13 percent stake in Uber, spearheaded Kalanick's ouster after the board allowed the embattled co-founder to take a leave of absence. Kalanick says in court papers that Benchmark pressured him to resign and merely "suggested that he should agree to limit his discretion in filling those seats."
2. What are Benchmark's specific claims?
Benchmark says Kalanick duped the firm into allowing him to fill the three seats. The lawsuit advances two claims under a Delaware law that allows shareholders to challenge the appointment or removal of a company's officers or directors. A third claim is for fraudulent inducement, alleging Kalanick committed fraud by withholding management missteps in order to persuade Benchmark to give its consent. The former CEO said Benchmark was aware of all the events on which it based its fraud claim.
3. How much influence does Kalanick wield on Uber's board?
Kalanick remains an influential figure on Uber's current eight-person board. Benchmark, whose partner Matt Cohler holds one seat, is the only party to the lawsuit against Kalanick. Media mogul Arianna Huffington, who is leading the search for a new CEO, is considered a close ally of Kalanick's. Uber co-founder Garrett Camp and ex-Uber executive Ryan Graves both hold seats and have remained loyal to Kalanick, though that loyalty may have begun to waver. Six board members released a statement saying they were "disappointed that a disagreement between shareholders has resulted in litigation."
4. How does the lawsuit affect Uber's CEO search?
The governance fight could spook a prospective chief executive. Meg Whitman, the CEO of Hewlett Packard Enterprise, was considered a candidate by Uber's board before she publicly withdrew. GE Chairman Jeffrey Immelt is one of four or fewer remaining candidates. The board has said it hopes to pick a CEO by early September.
5. How swiftly could the case be resolved?
A case like this could go on for years, but that's not likely here. Venture-capital firms like Benchmark generally don't like waging public fights with the founders of startups they invest in, fearing others will go elsewhere for capital. Uber has its own reasons to want a quick resolution. Since it has board elections annually, it wants to answer "who will take the driver's seat" as promptly as possible, said Larry Hamermesh, a corporate governance expert at Delaware's Widener University School of Law. A lengthy lawsuit could stymie an investment from a consortium that includes SoftBank and Didi Chuxing and also embarrass both sides. Following Holder's probe, Uber fired more than 20 people for sexual harassment, gender discrimination and other issues. Many of the details have remained private so far, and Benchmark paints the undisclosed findings as damning for Kalanick.
6. Why is this being heard in Delaware?
Delaware is home to more than half of the U.S.'s publicly traded companies and 63 percent of Fortune 500 firms, and its chancery court specializes in hearing high-profile business disputes. Benchmark and Uber are Delaware entities.
7. What does Delaware law say about such board disputes?
Benchmark is bringing its claims under what's known as "Section 225" in Delaware's General Corporation Law, a provision that allows a judge to determine whether the election, appointment, termination or resignation of an officer or director is valid. Typically, the court would get involved when there's a dispute about the results of an election or the validity of stockholders' written consents to remove or elect directors. Here, Benchmark is not challenging a contested election or the validity of board actions. That makes its claims inappropriate, according to Kalanick's attorneys.
8. What's at stake for Benchmark?
It's one of Silicon Valley's most elite venture capital firms and has taken major stakes in Snap Inc., WeWork and Yelp. Uber could be its biggest exit to date. In court papers, lawyers for Kalanick pegged the value of Benchmark's stake at more than $7 billion. The longer the case goes on, the more interventionist and founder unfriendly Benchmark will appear.
9. What are the likely early steps in the court battle?
The two sides will probably agree to, or the court will impose, what's called a status quo order, barring current board members from making any dramatic changes without giving the other side notice and a chance to object. The judge, Sam Glasscock III, could issue the order at the first hearing, which has yet to be scheduled. The judge said in a letter to the attorneys that he will consider Benchmark's request to expedite the case and Kalanick's bid to dismiss it altogether.
The Reference Shelf
Before it's here, it's on the Bloomberg Terminal.
LEARN MORE