Morgan Stanley Warns on U.S. Trade Risk and Suggests Hedges
By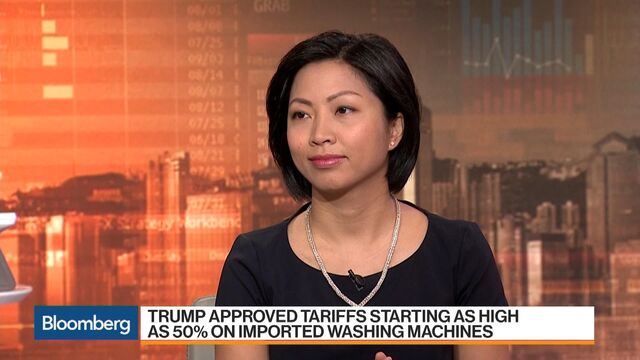 Trade risk in U.S. markets is no longer hypothetical, and investors would do well to pay attention, according to Morgan Stanley strategists.
The Trump administration took less action on trade policy in its first year than its campaign rhetoric may have caused people to believe. But there are a number of approaching deadlines on trade decisions, in addition to simmering conflict with China and ongoing Nafta negotiations, that may start to affect markets more significantly. The latest sign of protectionism came Monday, when the U.S. slapped tariffs on imported solar panels.
"While Nafta negotiations are ongoing, nearer-term deadlines approach for the U.S. administration to take action on -- or ignore -- recommendations initiated under U.S. law for protectionist actions, such as tariffs," Morgan Stanley strategists led by Michael Zezas wrote in a note Monday before the Trump administration's action. "This could stoke concerns about a harder stance in Nafta negotiations and a broader protectionist push."
READ MORE: Trump Tension Fueled Anew as China Trade Surplus With U.S. Grows
"We just need to see now if this elicits a response from other countries thereby increasing market concern," Zezas said in an email Monday after the announcement of the new tariffs.
The strategists see three likely trade scenarios: the status quo, a temporary trade dispute or a protectionist push. A brief flareup would cause a short-term risk-off move in the markets, they say, but a full-on effort to damp imports could have a sustained effect.

To protect against such a risk, Morgan Stanley's recommendations in foreign-exchange and equities include:
Go long the Japanese yen versus Korean won as a hedge
Maintain core shorts of the Mexican peso and Canadian dollar this year
Favor defensive stocks (health care, real estate investment trusts, telecoms and utilities), especially those with low foreign-revenue exposure, over cyclical shares (industrials, materials and technology) and companies dependent on foreign sales
Sell stocks of companies with supply-chain disruption risk from U.S. tariff implementation: apparel, autos, communications equipment, retailers, semiconductors, solar and technology hardware
"Electing to initiate tariffs is not without precedent in recent U.S. history, but has not heretofore meaningfully changed the country's free-trade stance," Zezas wrote. "Yet we must recognize that a tariff action could challenge investors' perception whether the U.S. will adhere to current free trade policies."
Before it's here, it's on the Bloomberg Terminal.
LEARN MORE