Business
Will Cosmetics Get an Amazon Makeover?
The retailer has become the biggest seller of beauty products online. Upscale brands worry about its lack of cachet.
Stephanie Wong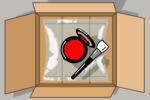 For beauty companies, image is everything. For Amazon.com Inc.—which made a name for itself based on assortment, price, and speedy delivery—not so much. In fact, some beauty brands see the internet giant's way of doing business as an affront to glamour itself. With its utilitarian website—a scroll of endless products on white backgrounds—Amazon doesn't carry the prestige that companies such as Estée Lauder Cos. and Coty Inc. want for their premium brands. The cosmetics makers have instead focused on their own sites and retailers where they can tightly control presentation and pricing.
Yet with Amazon expanding into every corner of retailing, these brands may have to reverse that strategy quickly—or risk losing a high-growth opportunity that could offset declining foot traffic at physical stores. They also could boost profits by selling through Amazon, because the online retailer takes less of a cut on many sales than some department stores and specialty retailers, according to Becca Edelman, a senior beauty research associate at digital marketing company L2 Inc. "Amazon has established itself as a major player in the beauty market," she says. "It has a growth channel offering much bigger margins than brands would otherwise have."

Amazon has quietly become the largest online beauty retailer in the U.S., with 36 percent of the market, according to analysis company 1010Data. Its expansion has encroached on specialty retailers, but most of the products sold are still mass-market brands, such as Clairol or CoverGirl, as well as young independent labels, rather than pricier premium goods. That's largely because many cosmetics companies are concerned that putting their upscale lines on Amazon would lessen their cachet.
Brands have fought hard to keep their sales channels limited. The European Union's top court ruled last month that luxury-goods companies, including Coty, aren't violating antitrust rules by restricting where their products can be sold. "The quality of luxury goods is not simply the result of their material characteristics but also of the allure and prestigious image which bestow on them an aura of luxury," the EU judges said in the case. "An impairment to that aura of luxury is likely to affect the actual quality of those goods."
Such thinking is one reason Estée Lauder has no plan to sell on Amazon—at least through June—Chief Executive Officer Fabrizio Freda said last year. Coty CEO Camillo Pane said in a November interview that although Amazon is "an important partner" and represents a "massive" opportunity for the company's lower-priced brands, its luxury lines are bound by more selective distribution agreements. Coty and Estée Lauder declined to comment further.
Premium retailer Sephora has gone as far as dropping some prestige cosmetics that started selling on Amazon, Edelman says. Sephora, owned by Paris-based LVMH, declined to comment.
Nonetheless, Amazon is pushing forward: It signed a deal with online retailer Violet Grey for access to a set of luxury brands, according to Women's Wear Daily. It also offers a monthly luxury beauty sample box and is testing a two-hour delivery program in Dallas with retailer Sally Beauty Holdings Inc.
In an email, Amazon said it is "uniquely positioned" to innovate in the beauty market. It's been working with luxury brands "to make sure their products are presented in an optimal environment," including enhanced images, more product details, and expanded editorial content. Amazon has created specialized sections for luxury beauty products on its website and also a separate section for salon, spa, and dermatology goods. These so-called storefronts help customers discover new products, the company said.
Amazon's move comes as beauty companies are adjusting to lower foot traffic at department stores, and pharmacy chains such as CVS Health Corp. have reported stagnating sales of retail merchandise. In response, Estée Lauder has invested in website improvements and expanded its selection sold at Sephora and Ulta Beauty Inc., which specialize in beauty products.
Mass and premium products are increasingly being sold side by side at shops such as Ulta—something once unthinkable in an industry that prizes exclusivity. Now, specialty retailers are one of Estée Lauder's fastest-growing distribution channels, accounting for 11 percent of total sales.
Even so, Amazon's history of quickly becoming a force in new retail categories suggests that cosmetics makers will have to contend with it sooner or later, says Stephan Kanlian, chairman of the master's degree program in cosmetics and fragrance marketing at the Fashion Institute of Technology in New York.
Some luxury brands have embraced Amazon's platform. Revlon Inc. says it has sold its line of Elizabeth Arden Inc. products on Amazon since late 2016. And Anastasia Beverly Hills, the eyebrow specialist that's attracted 15 million Instagram followers with its list of Hollywood celebrity clients, has gone on Amazon to improve its margins, while continuing to handle its own customer service inquiries, L2's Edelman says. The company declined to comment on its relationship with Amazon.
Tmall, the Chinese online retailer operated by Alibaba Group Holding Ltd., sidesteps the control issue by letting Estée Lauder customize its section of the website. "The reality today is we only sell on platforms where we control our assets, our virtual store," Freda said in November.
FIT's Kanlian says cosmetics companies might not have that luxury for much longer, given Amazon's retailing heft. "The drumbeat becomes louder, louder, and louder until the point that it is inevitable—because the business is there," he says. "The consumer traffic is there." 
(
Corrects Amazon's share of online beauty sales in the third paragraph.
)
BOTTOM LINE -
Amazon has won 21 percent of online cosmetics sales, putting pressure on beauty brands that want to restrict the sales of their products to upscale channels.
Before it's here, it's on the Bloomberg Terminal.
LEARN MORE