Technology
This Handheld Device Detects Opioids. It's Not Always Right
Cops desperate for ways to fight fentanyl want TruNarc, despite its flaws.
By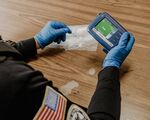 They call Arrand Johnston the Evidence Man, but he says the evidence isn't what it used to be. Johnston is a narcotics detective in Fort Wayne, Ind., assigned to identify the various pills, powders, and crystals his fellow police officers seize the night before. In the room where he works, there's a pinned reference poster of commonly abused pills, a panoply of sizes, shapes, and pastel colors. The poster, Johnston says, is almost obsolete in the age of fentanyl, a synthetic opioid that's struck terror in police departments because of its extreme toxicity and powdery resemblance to more pedestrian drugs.
Police departments across the U.S., including in Fort Wayne, are seeing a massive spike in overdose deaths. Stories of the drug sending police into overdose from mere skin contact are probably exaggerations—but not by much. Dealers tell you not to use fentanyl alone, and cops aren't even supposed to touch it during a bust. Officials say they need a way to detect fentanyl that's easier and more reliable than the decades-old, $2 roadside drug tests that look like a kids' chemistry set and often have trouble identifying cocaine.
"I don't even think of these as overdoses anymore," says Captain Kevin Hunter, Johnston's boss. "They are drug poisonings." In Fort Wayne, suspected drug deaths have risen 500 percent over four years; there have been 94 so far this year, and the causes of an additional 50 deaths are pending toxicology results. Emergency OD calls have almost quadrupled, to 1,130, over four years. "The numbers are just exploding," says Wade Sparks, a spokesman for the federal Drug Enforcement Administration, which reported seizing about 633 pounds of fentanyl last year, a 72 percent increase from the year before.

Fort Wayne's is among the police departments in 44 states and 50-some countries that have spent about $22,000 a pop for TruNarc, a handheld drug scanner that can detect fentanyl in the field or the lab without direct contact. (Johnston uses it through three layers of plastic.) TruNarc is far from perfect. Because of its price, Johnston can afford only one unit. Besides that, the device's results are sometimes inconsistent or even wrong. Police say that's still a lot better than the alternative.
Thermo Fisher Scientific Inc., a $20 billion biotech company in Waltham, Mass., introduced TruNarc in 2012 after conversations with narcotics officers and has refined it over the years. TruNarc uses a built-in laser to determine a given substance's molecular "fingerprint," which the system's custom app can compare against the substances in its database. The device's initial list of 115 drugs and mixing substances has grown to 415, says product manager Kerstin Barr. Thermo Fisher's size and first-mover advantage have kept TruNarc well ahead of its couple of competitors.
The Fort Wayne narcotics unit has been using TruNarc for about two years, since fentanyl killed five people there in a summer weekend. The city of 265,000 has been the epicenter of Indiana's prescription drug problem—where a single physician, seeing 90 to 100 patients a day, wrote out millions of prescriptions, mostly for opioids. After the doctor's arrest in the spring of 2016, street-level drug dealers flooded the market with pain-pill knockoffs made with fentanyl. This past November, inmates at the local jail caused a small fire by lighting a piece of spice paper—a colorless, odor-free substance that mimics the effects of marijuana—laced with the drug. At least 34 people wound up in the hospital, and 11 had to be revived using Narcan, an emergency opioid antidote.
With TruNarc, "we get so many positives, for fentanyl, heroin, meth, cocaine," Johnston says. "But then we get a lot of inconclusives, where it's not in the library." When the device falls short, which can happen a dozen times a week, Johnston sends a report to Thermo Fisher, which evaluates the unknown substance for addition to its database. "Once it is found on the streets of Fort Wayne, we need to be darn sure our library meets the reference standard," says Thermo Fisher's Barr.
A recent Marshall University study showed that TruNarc provided consistent results about 84 percent of the time out of 68 samples. In 828 scans, it misidentified substances five times and returned a false positive for fentanyl once. The study's authors warned that the device will be only as good as its database. The American College of Medical Toxicology and American Academy of Clinical Toxicology said in a July report that officers worried about contact with fentanyl may be just as safe with cheaper precautions such as gloves and masks. Thermo Fisher declined to comment on the study.

The company has powerful advocates. In March, Senator Ed Markey, a Massachusetts Democrat, introduced the International Narcotics Trafficking Emergency Response by Detecting Incoming Contraband with Technology Act, or Interdict Act. Markey imagined a dystopian, drug-ravaged future, citing 1,500 fentanyl OD deaths in his home state in 2016 and warning that if the drug hit the rest of the nation as hard, as many as 75,000 Americans might die each year, more than in the entirety of the Vietnam War. He then delivered what's become his signature line on the issue: "Fentanyl is the Godzilla of opioids."
Markey's bill requests millions of dollars to pay for hundreds of small, handheld devices that he says identify fentanyl on the spot. Congress should put such devices in the hands of border officers to stop the fentanyl flow, he says. He never names TruNarc directly, only obliquely describing the device as "something that looks and feels like a Nintendo Game Boy." Nor does he mention that Thermo Fisher, which has been lobbying to pass his bill, is based in his home state.
A House version of the Interdict Act passed 412 to 3 in October in a rare show of bipartisan support. That was a few days before President Trump declared the opioid epidemic a public-health emergency, while releasing almost no new funds to address it. Presidential counselor Kellyanne Conway has since been pegged as the White House's point person on opioid issues, and Markey's bill remains stalled in the Senate, a possible late addition to the next government funding extension.
Back in Fort Wayne, even though the police department has sent another round of inconclusive reads to Thermo Fisher for analysis, TruNarc is still used every day in the evidence room. "There are so many different versions of fentanyl out there now," Captain Hunter says, because dealers are cutting the stuff with all kinds of things. "It's getting harder to know what we are dealing with. Being able to identify it is huge."
BOTTOM LINE -
TruNarc is the leading handheld drug scanner for police worried about fentanyl, but federal funding has been held up so far.
Before it's here, it's on the Bloomberg Terminal.
LEARN MORE