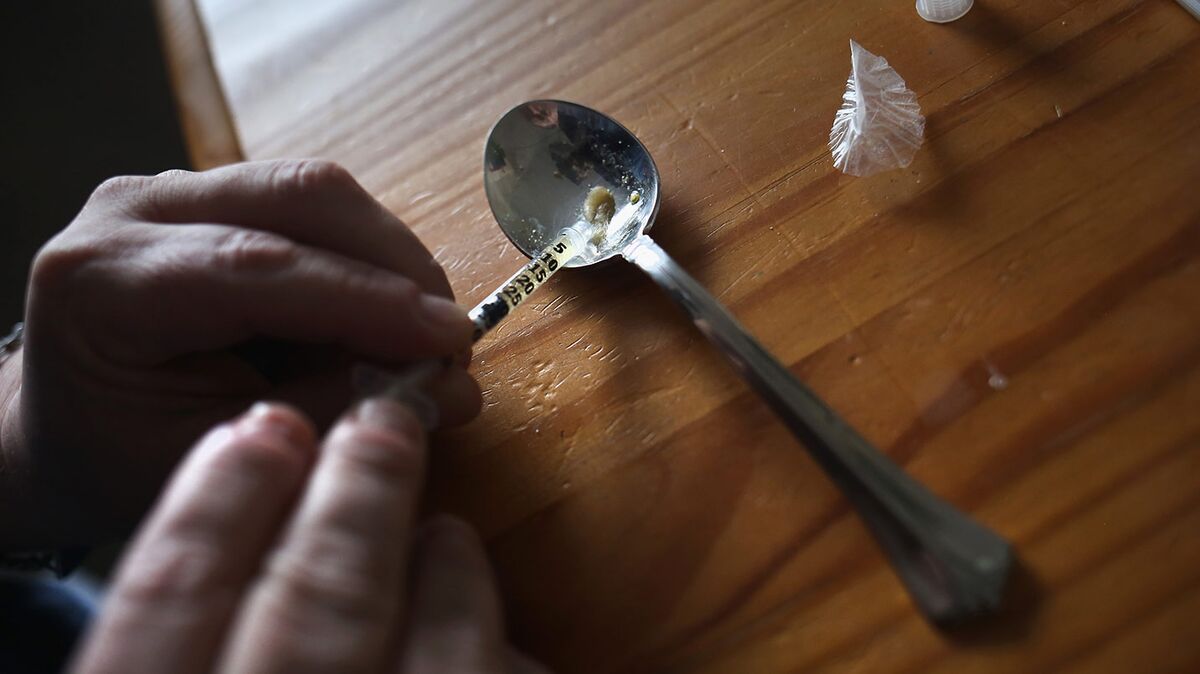 Heroin and Opioids
Painkillers Spark an Epidemic of Addiction
By
|
Updated June 12, 2017 1:24 PM UTC
Everything about the massive surge in opioid abuse cuts across traditional boundaries of drug use in the U.S. It's hit white residents in the countryside as well as minorities in cities. It involves long-banned substances like heroin, legally prescribed painkillers like OxyContin and synthetic street drugs like fentanyl. Their combined death toll now almost equals that of car crashes or firearms. Their spread has reignited a debate over the four-decade war on drugs, and raised questions over why it took an increase in the number of white overdose victims to switch attention from law enforcement to treatment. Another unresolved issue is whether doctors and drug companies can balance a desire to treat pain effectively with the growing evidence that prescription opioids like OxyContin and Vicodin have become gateway drugs for heroin. Four of five new U.S. heroin users report having previously misused prescription pain relievers.
The Situation
As a candidate, U.S. President Donald Trump outlined a plan to end what he called the opioid epidemic. He said he would cut off the supply of drugs by building a wall on the border with Mexico and closing loopholes that he said allowed drugs to be shipped in from China. He also said he would expand access to treatment and prevention services. But the president's proposed 2018 budget calls for sharp cuts in several of the agencies involved in the response to the epidemic. And the health-care bill passed by House Republicans would drop the requirement put in place by the Affordable Care Act, also known as Obamacare, that drug treatment be covered by Medicaid, the government insurance program for low-income Americans. In recent years, nearly every state has enacted laws related to opioid abuse, including measures targeting doctors and pharmacists who prescribe or dispense too many of the pills, and offered criminal immunity to patients seeking treatment for an overdose. States and the federal government  have made the opiate-antidote drug naloxone more readily available; it's been credited with reversing more than 26,000 overdoses between 1996 and 2014. Globally, poppy cultivation has reached its highest level since the 1930s. Heroin addiction in Afghanistan — the world's largest opium producer — has soared, while its use has risen in China and in Africa, now a way station for Afghan heroin.
The Background
Extracts of the poppy plant have been a source of trouble since the 19th century Opium Wars. Heroin, first produced in 1898 by Bayer, the German pharmaceutical company, was marketed as a non-addictive substitute for morphine. By the early 1900s, widespread heroin use led states like New York to open addiction centers in hospitals. Heroin's latest wave arose from changes in prescription opiate use. Opioid painkillers rose in popularity in the 1990s, partly in response to what was seen as widespread undertreatment of chronic pain. In 1996, Purdue Pharma introduced OxyContin as an alternative to stronger opioids reserved mainly for the dying. Its annual sales surged to $1 billion. In 2007 Purdue paid $600 million in fines and its executives pleaded guilty to federal criminal charges for misbranding the product as less addictive than other painkillers. In 2010, it released a reformulated version that was harder to crush for snorting. A May 2015 study found that while the new version reduced illicit use of the painkiller, it led more people to take up heroin, whose price was dropping. Nearly 90 percent of new heroin users in the U.S. are now white, compared with an equal mix of whites and nonwhites before 1980. In March, U.S. Senator Claire McCaskill of Missouri launched an investigation into how the five biggest makers of prescription pain pills promoted them
The Argument
Officials from hard-hit states have chided federal regulators for not doing more to restrict opioid prescriptions. In response, health officials are encouraging doctors to reserve the strongest painkillers for patients who don't respond to milder drugs. Groups that advocate for patients in chronic pain worry that the rush to solve the addiction problem will lead to needless suffering. Officials in Seattle have turned to an approach for heroin abuse long used in Sydney and a handful of European cities and more recently in Vancouver: opening supervised sites for addicts to shoot up under medical supervision, a plan also under consideration by Boston and New York. Others argue that any long-term solution has to include improving the job prospects for young people in regions that have fallen behind economically.
The Reference Shelf
First published March 29, 2016
To contact the writer of this QuickTake:
Lauren Etter in Austin at letter1@bloomberg.net
To contact the editor responsible for this QuickTake:
John O'Neil at joneil18@bloomberg.net