Photographer: John Moore/Getty Images
Everything about the massive surge in opioid abuse cuts across traditional boundaries of drug use in the U.S. It's hit white residents in the countryside as well as minorities in cities. It involves long-banned substances like heroin, legally prescribed painkillers like OxyContin and, increasingly, street drugs that mimic powerful synthetic opioids like fentanyl. Their combined death toll now exceeds that of car crashes or firearms and opioid abuse is seen as a prime factor in declining American longevity. Behind the crisis is a tangle of issues from addiction to treatment to enforcement, regulatory policy involving drugmakers and diplomacy with nations where opioids are manufactured.
The Situation
U.S. President Donald Trump declared the situation a national emergency in October. That cleared the way for temporary appointments of specialists under federal grants to crisis areas, but didn't create additional funding. A commission Trump appointed to study the issued had called on Trump to rapidly expand treatment capacity, along with the emergency declaration and other measures. More than 200 states and localities have sued drugmakers and drug distributors, accusing them of creating a public-health crisis with their mishandling of the powerful drugs. Officials of Purdue Pharma Inc., the maker of OxyContin, confirmed in November that they are in settlement talks with a group of state attorneys general and trying to come up with a global resolution of the government opioid claims. States and the federal government have made the opiate-antidote drug naloxone more readily available; it's been credited with reversing more than 26,000 overdoses between 1996 and 2014. Still, in 2016 fatal drug overdoses jumped by 21 percent, and the rate of deaths from synthetic opioids like fentanyl doubled.

The Background
Extracts of the poppy plant have been a source of trouble since the 19th century Opium Wars. Heroin, first produced in 1898 by Bayer, the German pharmaceutical company, was marketed as a non-addictive substitute for morphine. By the early 1900s, widespread heroin use led states like New York to open addiction centers in hospitals. Heroin's latest wave arose from changes in prescription opiate use. Opioid painkillers rose in popularity in the 1990s, partly in response to what was seen as widespread undertreatment of chronic pain. In 1996, Purdue Pharma Inc. introduced OxyContin as an alternative to stronger opioids reserved mainly for the dying. Its annual sales surged to $1 billion. In 2007 Purdue paid $600 million in fines and its executives pleaded guilty to federal criminal charges for misbranding the product as less addictive than other painkillers. In 2010, it released a reformulated version that was harder to crush for snorting. A May 2015 study found that while the new version reduced illicit use of the painkiller, it led more people to take up heroin, whose price was dropping. Nearly 90 percent of new heroin users in the U.S. are now white, compared with an equal mix of whites and nonwhites before 1980. Globally, poppy cultivation has reached its highest level since the 1930s.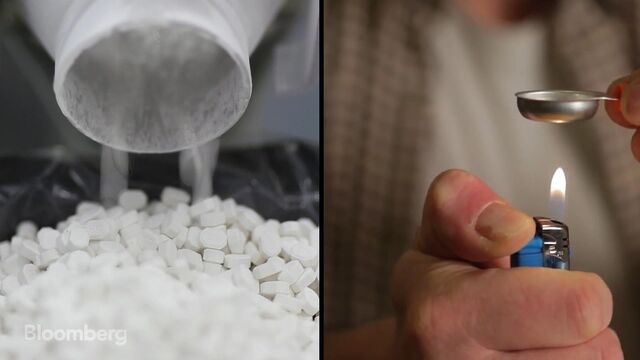 The Argument
While Trump agreed to his commission's call for a declaration of emergency, he said that the prime solutions should be telling people not to use the drugs and cutting off illegal supplies. But his commission had pointed instead to measures to help educate medical professionals about prescription abuse and to make treatment easier to obtain. Officials from hard-hit states have chided federal regulators for not doing more to restrict opioid prescriptions. In response, health officials are encouraging doctors to reserve the strongest painkillers for patients who don't respond to milder drugs. Groups that advocate for patients in chronic pain worry that the rush to solve the addiction problem will lead to needless suffering.  Nearly every state has enacted laws related to opioid abuse, including measures targeting doctors and pharmacists who prescribe or dispense too many of the pills, and offered criminal immunity to patients seeking treatment for an overdose. But with limited action at the federal level and little new money available to fight addiction, many states are pinning their hopes on generating a Big Tobacco-style legal settlement. Cigarette makers agreed in 1999 to pay $246 billion to settle states' suits that sought to recoup the costs of smoking to society.

The Reference Shelf
A Journal of the American Medical Association article analyzing 50 years of heroin use.
Results from the 2016 National Survey on Drug Use and Health.
The Drug Enforcement Administration's threat assessment for 2017.
The National Council on State Legislature's overview of drug legislation in 2016.
A Cincinnati Enquirer series on "Seven Days of Heroin."
A Bloomberg News article on surgeons working to reduce the use of painkillers by their patients. 
A seven-point plan for fighting the epidemic outlined in a column by Michael R. Bloomberg. 
First published March 29, 2016
To contact the editor responsible for this QuickTake:
John O'Neil at joneil18@bloomberg.net
Quotes from this Article
Before it's here, it's on the Bloomberg Terminal.
LEARN MORE