Finance
The Unlikely Strategy Behind Buffett's Investments in Encyclopedias
He also has holdings in bowling shoes, vacuum cleaner bags, and Ginsu knives—for a reason.
By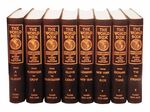 Warren Buffett has eclectic taste in companies. Along with large, thriving businesses such as Geico and the BNSF Railway, he's accumulated a collection of head-scratchers. There's a bowling shoe brand, a maker of vacuum cleaner bags, almost three dozen newspapers, and the manufacturer of Ginsu knives.
Then there's World Book. Once sold to millions of American families, its encyclopedias were described by Buffett as "something special" when he acquired the company. And for years he wasn't wrong. The business mattered enough to break out its earnings in annual reports for his Berkshire Hathaway Inc.—$32 million before taxes in 1990 alone. With the ascent of the personal computer and the internet in the 1990s, sales plunged, but Buffett let the business plod along. As Berkshire grew, World Book's results became a rounding error.
Yet here we are more than three decades later, as World Book celebrates its 100th anniversary, underlining a quirk of the Berkshire method: One of the world's greatest investors has created a conglomerate that holds on to a bunch of companies that are well past their prime. "Because of his model, he's got many more rounding errors in there than he might have wanted," says Steve Wallman, a longtime Berkshire investor and money manager in Wisconsin. "He's spent a lot of time around businesses that were dead or were thought to be dead."

Buffett contends that this loyalty helps him buy more companies. The conglomerate, he's said, has no "exit strategy" for the businesses it buys—it doesn't flip acquisitions for a quick profit. "That's one reason why Berkshire is usually the first—and sometimes the only—choice for sellers and their managers," he wrote to shareholders in 2003. And it's hard to argue with Buffett's success: A hundred dollars invested in Berkshire when he took control in 1965 is worth more than $2 million today. For the people running these companies, though, it creates a challenge. How do you rally staff at a business that's faded and is in search of relevance?
At World Book, this task has fallen to Jim O'Rourke, a 46-year-old media executive who joined three years ago. World Book is still published in paper form—you can buy it for $999—though the company long ago shifted focus to selling online subscriptions to libraries and schools. It also publishes books besides encyclopedias. But that's not exactly a growth strategy.
O'Rourke is trying to draw consumers back. In August the company launched a mobile app and online portal called World Book WOW that packages its voluminous content, along with e-books and games, for third- to eighth-graders. It costs $7.95 a month, and so far more than 10,000 have subscribed. "My main competitor is distraction—kids playing Xbox games, Snapchat," says O'Rourke, who sports an Apple Watch and works in an uncluttered office with views of the Chicago River.
When the first edition of the World Book came out in 1917, its illustrations were as cutting-edge as today's virtual-reality video games. By the late 1950s the company was printing more than half a million sets a year, many of which were sold door to door. At one point the sales force numbered more than 40,000. And then there were the publicity stunts: In the 1960s the publisher sponsored a search for the Loch Ness Monster in Scotland and sent explorer Sir Edmund Hillary on a nine-month expedition to Mount Everest to look for the Yeti. That neither creature was ever found did nothing to lessen the buzz such spectacles created.

In the late 1970s, Scott Fetzer Co., a small conglomerate in Ohio best known for Kirby vacuum cleaners, bought World Book. The marriage wasn't so strange: Kirbys, like World Book sets, were sold door to door and had steep price tags. Families often financed the purchase of both products, and providing loans was a lucrative side business. That combination piqued Buffett's interest, and in 1985 he bought the company. World Book, he noted at the time, racked up more sales in the U.S. than its four largest competitors combined.
Then came the onslaught: first CD-ROMs such as Microsoft Corp.'s Encarta and later the rise of Wikipedia. World Book had become the "most difficult problem" for Berkshire, Buffett wrote as early as 1996. By the time O'Rourke arrived, the publisher was a shadow of its former self. The company still stubbornly printed its flagship encyclopedia and annual updates called Year Books, even though Encyclopaedia Britannica had announced two years earlier that it would no longer issue a print edition.
It's early, but O'Rourke has been getting results. Margins have improved over the past three years, in part because of cost-cutting. Revenue is also up, climbing 9 percent last year, he says, while declining to give the amount. Operating income has grown 40 percent since the end of 2014. Still, it's tough to compete with the latest from Silicon Valley when you're a 100-year-old publisher with an owner who's unlikely to plow a lot more money into the business.
A bit of help is coming from an unlikely source: After decades of declines, sales of print encyclopedias rose last year and are projected to do so again. Why? It doesn't hurt that World Book is the last of its kind, a multivolume encyclopedia that's updated each year. "As long as we're profitable doing it and we continue to publish a great product," O'Rourke says, "we're going to keep doing it."
BOTTOM LINE -
Buffett often hangs on to small businesses past their prime. He says it helps him get better deals on future acquisitions, since owners want buyers in it for the long term.
Before it's here, it's on the Bloomberg Terminal.
LEARN MORE