Technology
How GM Bought Its Way to the Front of the Driverless-Car Pack
The automaker owes its surge to the AI acumen of San Francisco startup Cruise Automation, which it acquired last year for $581 million.
By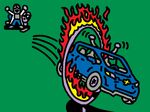 Three years ago, General Motors Co. wouldn't even let its self-driving cars out of the parking lot. Its custom Chevrolet Volt hybrids, meant to autonomously ferry employees around GM's 700-acre research and development campus in the Detroit suburb of Warren, Mich., could only handle basic driving and topped out at about 25 miles per hour.
At the time, Silicon Valley's legions of programmers had a big lead on Detroit. Automakers were struggling to develop operating systems as intuitive as Apple Inc.'s and Google's, and Google had already been working for years to bring artificial intelligence to cars, while Apple was working to spin up a similar project. If either company, or Elon Musk's Tesla Inc., beat the likes of GM and Ford Motor Co. to reliable, mass-market driverless vehicles, the old-school carmakers would be doomed to become mere manufacturers such as Foxconn Technology Group—low-margin assembly lines that left the high-value design work to others.
Today, the field looks different. Apple has scaled back its automotive ambitions, laying off staff and extending the deadlines for those who are left. Google's parent, Alphabet Inc., is locked in a brutal battle with Uber Technologies Inc. over the intellectual property of Alphabet's driverless unit, Waymo, and has sidelined plans to build cars. Tesla can barely get its driver-required Model 3 out of its factories. Meanwhile, on Nov. 29, GM unveiled the latest version of its electric Chevy Bolt, a close second to Waymo's self-driving minivans as the most advanced autonomous car the world has seen. Among other things, GM intends the Bolts to form the backbone of a robo-taxi business it plans to start in 2019.
"Autonomous driving is one of the most difficult software challenges of the decade, if not the century," says Kyle Vogt, the face of GM's automation efforts. And yet, improbably, the sleepy old automaker is a contender to solve it.
GM's first shots at a self-driving Bolt fired off pulses of laser-based radar, known as lidar, using roof-mounted rods that looked like goal posts; the third-generation one has its scaled-down lidar gear built into the roof rack. The old model had sensors poking through holes sawed into the body near the front wheels; the new one has them hidden behind the grille and front fender. It's tough to overstate how much it looks and feels like a regular car that just happens to do all the driving itself. The self-driving Bolt can handle speeds up to 30 mph or the twists and turns of congested San Francisco without incident. Waymo's minivans, by contrast, tend to stick to the broad streets of Phoenix's suburbs but can hit highway speeds.
Detroit's driverless comeback wasn't homemade. GM owes its resurgence to the AI acumen and good name of San Francisco startup Cruise Automation, Vogt's company, which it acquired last year for $581 million. (If Cruise meets certain deadlines that come with incentive payments, it'll wind up clearing almost $1 billion.) "GM is a leader because Cruise has allowed them to attract amazing talent," says Reilly Brennan, a partner at Trucks Venture Capital who lectures at Stanford.
Vogt created Cruise after co-founding Twitch, the streaming service popular with young people who want to watch others play video games. Amazon.com Inc. bought Twitch in 2014 for $1.1 billion; shortly before, Vogt created Cruise with the idea that he'd make portable driverless software, some kind of system that could be bolted onto existing vehicles. While experimenting with Audi sedans and the Nissan electric Leaf, he began to recognize that it'd be a lot easier to engineer the technology directly into a car's onboard controls.
"The Chevy Bolt was the only platform suitable to do that," Vogt says. At the behest of GM Chief Executive Officer Mary Barra, President Daniel Ammann started hammering out a deal with Vogt later that year after Vogt got a permit to start testing his self-driving vehicles on California roadways. "When we looked at the hardcore software engineering we needed, we saw a gap," Ammann says.
By the time GM bought Cruise, Vogt's team had figured out several key problems a few levels above the carmaker's sight lines, says Doug Parks, GM's vice president of autonomous technology. "Their guys were passing double-parked cars," he says. "We weren't even thinking about that." Over the past year and a half, the team has customized almost half the driver-operated Bolt's hardware components. "When you take technology to a company that can make millions of cars a year, you can get anything to market cheaper and faster," Vogt says, adding that his Bolts are already being tested on the road in four cities and could lose their steering wheels entirely sometime next year.
Vogt says he knows early achievements don't mean a lasting lead in the driverless race. At Cruise's San Francisco headquarters, he's continued to hire coders and mechanical engineers to work on the Bolt, pushing the total past 400. (Before the acquisition, Cruise had about 40 employees.) He also bought lidar maker Strobe, which he says will cut per-unit spending on the laser gear 99 percent; he wouldn't say how much he paid for the company.
As more self-driving cars make their way onto public roadways, they'll likely be watched especially closely by federal regulators. No one can afford a crisis like the ignition switch malfunction that was tied to 124 deaths before GM recalled some 30 million cars in 2014. The company concealed the crisis for years and eventually agreed to pay a $900 million penalty to the U.S. Department of Justice. Vogt says his goal is to eliminate traffic fatalities altogether.
Eric Noble, president of consulting firm CarLab, says self-driving software could need as much as 3 million miles of durability testing to be considered acceptable by the National Highway Traffic Safety Administration. GM is testing its cars in tough traffic around San Francisco, but they were involved in 20 of the 25 reported self-driving collisions and fender benders in California this year. Ammann says none of those incidents were the Bolts' fault.
Whatever happens in the long term, moving to the front of the self-driving pack remains a huge move for GM, Noble says. "It will be a long time," he says, "before we have a winner."
BOTTOM LINE -
GM bought its way into contention among self-driving car companies but has a lot of work to do to keep pace with leader Waymo.
Before it's here, it's on the Bloomberg Terminal.
LEARN MORE