Technology
'Angry Birds' Hatches Angry Investors
Rovio's IPO was set to soar, but the company is too dependent on its flagship game.
By and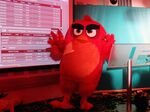 When Rovio Entertainment Oyj went public in September, investors eager to grab a piece of the producer of Angry Birds flocked to the stock, making it Finland's hottest share offering in a decade. These days, Rovio looks about as airworthy as a clay pigeon.
After a promotional campaign that included neon billboards, full-page newspaper spreads, and bus ads featuring the company's trademark scowling fowl, thousands of Finns submitted buy orders with their brokers. Although the initial public offering gave Rovio a market value of €900 million ($1.1 billion)—half what the company had first aimed for—the stock got a small bounce when a bank backing the IPO started purchasing shares to "stabilize" the price. That effort ended in October, and after Rovio on Nov. 23 disclosed that its marketing costs had soared, the shares dove 22 percent, spurring many buyers to think they'd gotten a turkey. "I'm disappointed in what they had led the market to believe," says Tomi Lahti, a Helsinki investor who bought stock in the offering.

Rovio's problem is that it remains overly dependent on its flagship title, in which users fling cranky cardinals, canaries, and eagles at various objects to knock them down. Since launching the original in 2009, the company has introduced at least 25 derivative games such as Star Wars-, Transformers-, and Rio-themed versions. Last year it co-produced The Angry Birds Movie, which had ticket sales of almost $350 million for a film that Rovio says cost $100 million to make. But mobile games require frequent updates as less than 5 percent of users typically play a title for more than a month, and just about half that number make in-app purchases—the way companies like Rovio earn money—such as a higher-powered slingshot that helps the surly birds inflict more damage. "Getting people to come back and continue playing is tough," says Matthew Kanterman, a games analyst at Bloomberg Intelligence. Companies must "keep giving them something new each day."
Rovio's attempts to broaden its portfolio have largely disappointed, with titles such as Jolly Jam and Travel Match Club pulled from app stores within a year of publication. A 2012 puzzle game called Amazing Alex sold well early on but was quickly forgotten and taken off the market in 2015. Of the 19 games available from Rovio these days, 16 are Angry Birds-themed, and only one—Angry Birds 2, released in 2015—ranks among the top 100 U.S. offerings in the iOS App Store, according to researcher App Annie. An effort by Rovio to publish books and run its own animation studios, key to its plan to become a broader entertainment company, ended in March, when it sold those businesses to a former executive.
Rovio says it can keep growing with new titles including Battle Bay, a multiplayer game in which teams of boats face off amid rolling waves. Chief Executive Officer Kati Levoranta says the company is developing about 10 games, both inside and outside the birdcage, and that Rovio can extend the lifespan of titles by adding features and characters such as the Thanksgiving-themed Cold Turkey and a feather-clad Eddie, the mascot of the heavy metal band Iron Maiden. "The Angry Birds brand is a very unique asset," she says. "It has already shown its longevity and capability to be versatile."
The three analysts who cover Rovio—all from banks involved in the IPO—have buy recommendations on the shares. While the company depends heavily on a single franchise, it's a phenomenally successful one. Angry Birds and related titles have been downloaded 3.7 billion times and last year generated more than $24 million in licensing fees for merchandise including T-shirts, toys, and comic books. Rovio has shown it can persevere in pursuit of golden eggs. From 2003 to 2009, it drove itself to the brink of bankruptcy developing more than 50 games, typically with gloomy titles such as Darkest Fear, Cyber Blood, and Wolf Moon. Then it came up with Angry Birds, a silly but entertaining confection that capitalized on the iPhone's touchscreen technology. "The positive for Angry Birds is that it's well-known," says Hannu Rauhala, an analyst at OP Group in Helsinki. "And these days, games can have a long lifespan."
BOTTOM LINE -
Investors who bought into Rovio's IPO have been disappointed as the company struggles to expand its business outside the birdcage.
Before it's here, it's on the Bloomberg Terminal.
LEARN MORE