Finance
China's Unlucky Tycoon: The 'Canal Madman' Keeps Finding Trouble
Wang Jing has businesses on four continents—and a long list of woes.
By and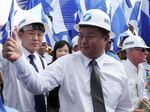 A SpaceX rocket that exploded last year left three of the world's most ambitious entrepreneurs red-faced. Elon Musk tweeted about the failure of his launch vehicle, and Mark Zuckerberg wrote on Facebook about the loss of his plans to expand the internet in Africa using the Amos 6 communications satellite on board. Wang Jing, the least well-known of the three, scrapped his plans to buy the Israeli company that owned the Amos 6.
For Wang, 44, it was another in a string of setbacks for projects around the globe. His plans for a $10 billion deep-water port in Crimea fell through after Russia annexed the region in 2014. The same year he broke ground on a $50 billion canal in Nicaragua to compete with Panama's. Little ground has moved since. A deal in Ukraine has been tied up by that country's courts. Wang was also a high-profile loser in China's 2015 stock market crash. After his Beijing Xinwei Technology Group added $30 billion in market value in less than a year, making Wang one of China's richest people, the collapse wiped out three-quarters of those gains within four months. The telecom equipment company's shares have been suspended since last December, after they fell 10 percent in one day on a Chinese media report questioning Xinwei's business model, including in Cambodia. The company has published a 105-page report denying any wrongdoing and providing clarifications on its global operations.
Wang, who says he made his fortune mining in Southeast Asia before turning to telecommunications, is involved in the leadership of 30 companies, according to the website of his Hong Kong-based construction company, HKND Group. "I am a very ordinary Chinese person," he told Bloomberg in 2013, the year HKND secured the Nicaragua canal project. "I can't be any more ordinary." His Xinwei stake, which once put him among the world's multibillionaires, is now worth about $350 million, after subtracting pledged shares.
Wang's business model is based on pledging highflying shares to finance other projects. His use of the strategy goes back to 2014, when Xinwei went public via what's known as a reverse takeover, in which a private company buys a public company to use its exchange listing. The stock soared after the deal, and Wang and other shareholders began using their stakes essentially as collateral to raise money, according to an analysis of company filings. He has pledged 85 percent of his stake; the stake was valued at more than $2 billion at the last trading price. In July, Wang unpledged some shares promised to China's Development Bank to make stock payments to some other shareholders related to a missed profit target at Xinwei.

His overseas projects, most of which are in poor countries, have used something called buyers' credit. From Tanzania to Cambodia, Xinwei guaranteed loans from Chinese banks to its foreign clients, who used the proceeds to buy goods and services from Xinwei. In an October filing to the Shanghai exchange, Xinwei said it had guaranteed 15 billion yuan ($2.3 billion), mostly for nonsubsidiaries, equivalent to 123 percent of the company's net assets.
Despite recent stumbling blocks, Wang continues to operate across four continents, even as a clampdown at home has targeted several Chinese multinational conglomerates. His access to financing and the fact that his projects are often in line with Chinese government objectives have led to speculation abroad that in some of his ventures he may be acting on behalf of the state, something Wang says isn't true. "You can't get this kind of cash in China without having Party chops," says Dennis Wilder, former director for East Asian affairs at the National Security Council under George W. Bush.
It's hard to say whether Wang is a proxy for the Chinese state or just good at aligning with Beijing's interests, says Usha Haley, a professor of management at West Virginia University who's testified on a takeover by a different Chinese company before the U.S. Senate. For Chinese tycoons, "it's about synchronizing your goal to the party goal."
A former senior officer in the People's Liberation Army is a senior manager at Xinwei. Vice president since 2014, Zhang Jixiang was commended by China's President Xi Jinping and has been credited with turning the PLA's remote Zhurihe base in Inner Mongolia into China's biggest and most advanced combat training facility. The PLA didn't respond to a request for comment. In September, Xinwei revised its articles of association to align with provisional rules for enterprises involved in military work. The new charter requires the company to seek approval from the defense regulator for changes in control or if Xinwei employs foreigners.

Wang's interest in space aligns with the government's goal of expanding China's network of satellites. He launched a low-orbit satellite with Tsinghua University in 2014, the first of dozens he promised to put into space by 2019. Xinwei's $285 million bid for Space Communications of Israel, which owned the Amos 6, has been canceled since the explosion.
Wang's foray into Ukraine appeared to be in accord with the Chinese government's plans to extend its influence abroad. He met with Ukraine's ambassador to China and co-founded Ukraine House in Beijing in 2014. The following year, the country agreed to join President Xi's One Belt One Road initiative, a vast effort to bind more than 60 countries in trade across Asia, Europe, and Africa.
Now, Wang has hit a roadblock in Ukraine, where authorities named one of Wang's companies as part of an alleged collusion with local businessmen to "destroy" the country's strategic manufacturing of aircraft engines by extracting assets. The company tried to buy a stake in Motor Sich PJSC, Ukraine's biggest maker of aircraft and helicopter engines. A court in Kiev froze those shares in September. Ukraine's security service and prosecutors say that the buyout could "eliminate" domestic jet-engine production by moving capacity offshore. Motor Sich said in a July statement on its website that it had done nothing wrong and has cooperated with investigators; it declined requests for additional comment. The Ukraine court doesn't name Wang in its order. It lists businesses involved in the deal, including a unit of his Skyrizon group of companies, according to Chinese filings.

One reason some Ukrainians are wary: Years ago, China's military bought its first aircraft carrier, a decaying Soviet-era hull that it later refurbished for military use, from Ukraine. The middleman in the deal was a Hong Kong-based businessman who said he wanted to turn the carrier into a floating casino. "A lot of people still remember that," says Olena Mykal, an assistant professor of political science at National University Kyiv-Mohyla Academy who studies Asian influence in Ukraine. "Ukraine is being careful."
The stalled deal could have repercussions for Wang's other investments. Filings show some of his pledges of Xinwei shares were to guarantee financing for his Skyrizon companies. The pledges are worth as much as $550 million based on the last traded price on Dec. 23. Meanwhile, Xinwei has said its trading suspension keeps being extended, not because "things aren't running smoothly," as is the case with other suspended companies, but because of a complex restructuring involving approvals from defense regulators. The revamp would allow Xinwei to raise funds to buy a company from Wang linked to the Ukraine venture or its assets.
The canal project was greenlighted in 2013 by Nicaragua's legislature and includes an airport, ports, a pipeline, a railway, and two free-trade areas. Wang's HKND has also funded philanthropic ventures, including an opera festival where Nicaraguan President Daniel Ortega's son Laureano played one of the lead roles. HKND said in a June statement it was completing designs for a Pacific port and procuring a better location for the canal locks to avoid seismic faults.

Wang has said he plans to turn Xinwei into one of the world's top three telecommunications companies. But in many countries where the company operates, such as Cambodia, there are few signs of a major telecom enterprise. In Nicaragua it took four years from the time Xinwei signed a contract to provide mobile phone service before the company installed 1,000 wireless base stations, according to Nicaragua state media. "Xinwei really has a ghost presence on the ground," says Monica DeHart, an anthropologist at Puget Sound University who studies China's footprint in Nicaragua. Local press in China and Nicaragua have called Wang the "canal madman," skeptical that his plan for a second shipping route across Central America will ever be realized. Unless he finds a solution to his Ukraine problem, his canal dreams may look more and more like a fantasy. —With Volodymyr Verbyany, Peter Martin, and Adrian Leung
BOTTOM LINE -
Wang has used pledged shares as a way to guarantee financing for ambitious projects, including one that's run into legal trouble in Ukraine.
Before it's here, it's on the Bloomberg Terminal.
LEARN MORE