These Funds Bet on Catalonia Politics...and Won
By and
Debt in region riven by independence movement beats market

Pimco's strategy echoes firm's Quebec bond purchases in 2014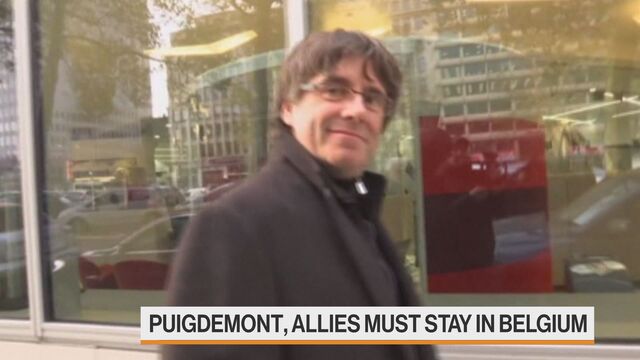 For proof that taking on political risk is a winning formula in Europe this year, look no further than Pimco's wager on Spanish unity.
The California fund manager has amassed the largest position of Catalonia's $6 billion of junk-rated debt, undeterred by a raucous independence movement and a snap election next month that may produce another victory for separatist candidates. Betting the region will mend its divisions has produced only market-beating returns since Oct. 10, when ousted Catalan leader Carles Puigdemont backed away from his bid for independence.

BlueBay Asset Management LLP, one of the owners of Catalonia's February 2020 bond, expects the yield margin Catalonia pays on the notes relative to Spain to halve to 100 basis points a year from now. The obligations have returned 3.4 percent since Oct. 10, outperforming the 0.74 percent gain in a Bank of America Merrill Lynch index of euro-denominated quasi-government debt.
"We're bullish," Kaspar Hense, who helps manage BlueBay's $57 billion, said in an interview in London. "The chance of independence is very small, and overpriced."
Geopolitics was cited as the No. 1 short-to-medium term risk to the global economy, according to a survey of U.K. institutional investors conducted by PineBridge Investments. Yet ignoring headlines about threats to the euro area from populism has been the key to stock-picking this year.
On an aggregate basis, Pimco held 8.3 percent of the Catalonia's bonds across all maturities, BlueBay had 2.7 percent and Nordea Bank AB held 5.9 percent, according to the most recent filings compiled by Bloomberg. Pimco increased its stake in the February 2020 bond by 17 percent over the past eight reported quarters, while BlueBay boosted its holdings by 27 percent.
Spokesmen for Pacific Investment Management Co. LLC, known as Pimco, and Nordea declined to comment on their positions.
It's not the first time Pimco has bet on separatist politics and won. Quebec provided the firm with an opportunity in 2014, when fund manager Ed Devlin pocketed gains on the province's bonds in the expectation the breakaway movement would lose momentum.
Pimco Says Marois 'Mess' Gives Quebec Opportunity: Canada Credit
Catalan tensions may be reprised soon. An election on Dec. 21 might re-energize the independence movement in Spain's largest regional economy, potentially rocking Europe's political establishment. The uncertainty has prompted BlueBay to unload some of its holdings during the rally that followed the defeat and flight to Belgium of Catalan leader Puigdemont.
"We've reduced a bit and are somewhat cautious into the election, because we think it will be a close race," BlueBay's Hense said. "But we don't expect full independence to come."
An opinion poll published Nov. 19 showed Catalan secessionist forces on track to win 68-71 seats in parliament, maintaining their majority, though down from 70-73 seats in an October poll.
"There's still a lot of risk," Charles St-Arnaud, an investment strategist at Lombard Odier Asset Management in London, said by phone. "With the separatist movement flaring up periodically there may be a long-term political risk premium applied to Catalonia."
According to the most recent filings, Pimco held 47 percent of a single issue, Catalonia's 4.9 percent 2021 bond. The difference between the security's bid and ask yield -- a measure of liquidity -- was 23 basis points versus 0.3 basis points for similar-term German debt, according to Bloomberg prices.
"Our base case is for a solution to be achieved where Catalonia doesn't break away," Michael Leister, head of rates strategy at Commerzbank AG, said by phone. "We should see an outperformance of Catalonia versus" Spanish government bonds.
Before it's here, it's on the Bloomberg Terminal.
LEARN MORE