Union Leader in $15 Wage Effort Resigns During Sexual Misconduct Investigation
SEIU is now looking into complaints of abusive behavior against the leader of its "Fight for 15" push.
By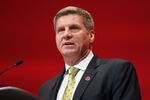 An architect of the "Fight for 15," organized labor's sweeping drive to raise wages in the U.S. fast-food industry, has resigned from his post at the Service Employees International Union after being suspended last week during an investigation into his relationship with a subordinate, whom he recently married.
A spokeswoman for SEIU said the ongoing investigation into Scott Courtney, who had been an executive vice president in the union, now includes "complaints related to sexual misconduct and abusive behavior towards union staff," as well as potential violations of anti-nepotism and ethics policies. 
Current and former SEIU employees had told Bloomberg News last week that Courtney had a pattern of dating subordinates, and some said they believed people working for him had been rewarded or reassigned based on those romantic relationships. Courtney did not immediately respond to a request for comment; reached last week via Twitter, he said he was on his honeymoon and "in no position to respond at this time."
In a Monday morning email to her executive board, SEIU President Mary Kay Henry said she accepted Courtney's resignation and that she was taking additional steps such as "terminating one staff member and placing another staffer on administrative leave as a result of information discovered through this investigation." Henry's email did not name the staff members.
SEIU is the nation's second-largest union, and it's not the first to deal with allegations of sexual misconduct. Some union leaders say sexual harassment is a widespread problem within organized labor, just as it is in the rest of the workforce.
"Every woman that I know, whether they're in management or punch the clock, has faced it," including those working for unions, said Lori Pelletier, president of the Connecticut AFL-CIO and former leader of the organization's national LGBT group. "If it is a co-worker or a union brother or a union sister, it's hard. You somehow feel the betrayal of trust."
Courtney has been a key ally of Henry's and an architect of the "Fight for 15," a high-profile effort to raise U.S. wages and unionize low-wage industries such as fast-food restaurants. Henry informed her board on Oct. 16 that she was suspending Courtney.
"There is no place in our organization for conduct that violates our Code of Ethics," Henry said in an emailed statement. "Such conduct does not reflect who we are or represent the values that guide the important work we do every day for working people, our families, and communities."
—With assistance by Ben Penn (Bloomberg BNA)
Before it's here, it's on the Bloomberg Terminal.
LEARN MORE