'Fight for 15' Leader Suspended While Union Investigates Office Dating
Current and former SEIU staff describe a union leader's pattern of relationships with subordinates.
By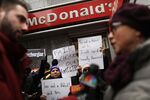 An architect of the high-profile union campaign to raise U.S. fast-food wages has been suspended from his duties at the Service Employees International Union this week over a relationship with a subordinate whom he married, and multiple current and former colleagues say his conduct is part of a pattern of previous romantic relationships with women working for him.
Scott Courtney, an executive vice president at SEIU who played a key role in creating and leading the union's "Fight for 15" campaign, was suspended from his job on Monday by SEIU President Mary Kay Henry. A staff email sent by Henry on Wednesday said that there had been questions about Courtney "relating to a romantic relationship between a staff person and a supervisor." 

Courtney, reached via Twitter earlier this week, said he was on his honeymoon and "in no position to respond at this time." His new wife, an SEIU organizer who now goes by Ashley Courtney, seemed to address the controversy by posting to Twitter and Facebook a photo of the couple in wedding attire with the caption, "No matter what you do to us, I will not apologize for getting married. #LoveAlwaysWins." Mr. Courtney did not respond to further questions, and it not clear if the couple still work together at SEIU.
Beyond his relationship with his new wife, multiple current and former SEIU employees who spoke to Bloomberg said that Courtney had a pattern of dating subordinates. His conduct, these people say, has been a source of tension and concern within the union and has spurred an internal ethics complaint that preceded this week's suspension. Some co-workers said that they believed people working for Courtney had been rewarded or reassigned based on romantic relationships with him. 
SEIU spokeswoman Sahar Wali said the union is investigating "the situation that gave rise to" allegations about Courtney's relationship with the staffer and the union's "ethical code and anti-nepotism policy." She declined to comment on the details. It is unclear from SEIU's statements if Courtney's suspension and the ongoing investigation are limited to his relationship with his now-wife.
With nearly 2 million members, SEIU is the nation's second-largest union and arguably its most politically influential. Courtney is a major figure in the leadership, previously serving as organizing director of the health-care division and national organizing director. Courtney has been central to the "Fight for 15," which has successfully pulled Democratic Party politicians to the left while raising minimum wages through state and local legislation. The campaign has combined strikes against some low-wage employers with political and legal pressure tactics. The goal is to enact a $15 minimum wage across the country and organize low-wage industries.
The campaign's chief target has been the fast-food industry, which SEIU has so far failed to unionize. "Holding McDonald's accountable is our air traffic controllers moment—our chance to reverse a steady decline for workers that started when President Reagan fired 11,000 striking air traffic controllers, undermining the bargaining power of workers for decades," Courtney said in 2015. As part of the union's effort against McDonald's, the Fight for 15 sought to highlight claims of sexual harassment filed against the company with the Equal Employment Opportunity Commission.
This month's sexual harassment scandal involving Hollywood mega-producer Harvey Weinstein may have spurred SEIU employees to be more outspoken about alleged impropriety within the union. "Without Harvey Weinstein, there may have been an ethics complaint filed, but I don't know that there would be the scale of conversation that's happening now," said one current SEIU employee. "There are some very clear parallels—that there is a man with an outsize amount of power in a certain dynamic and a whole system that has enabled that behavior." 
In her internal email, SEIU's Henry acknowledged that the investigation into Courtney would cause a big stir in the union. "I know that this situation has profound impacts on our staff family," she wrote. "Just as we fight to make change in our society, we know that our organization should reflect the kind of just society that we fight for across the country."
Some women who had left SEIU said they felt Courtney's alleged relationships with subordinates would cast into doubt any  recognition or advancement bestowed on women working below him in the union, since co-workers might assume the promotion came from a sexual relationship with him. One woman recounted a time when she felt pressured by him into agreeing to have dinner together and had to scramble to find a way to back out. "The climate he created was hostile to women, and ultimately it didn't stop with him," said the woman, who now works elsewhere in the labor movement.
Janice Fine, a labor studies professor at Rutgers University and a former union organizer, said the macho culture that has historically prevailed in organized labor remains a widespread issue. "This generation of young women in the labor movement, they've just come up in a time where they are so much better at calling that stuff out," she said.
—With assistance by Ben Penn (Bloomberg BNA).
Before it's here, it's on the Bloomberg Terminal.
LEARN MORE