This Taiwan ETF Is a Backdoor Bet on Apple's iPhone Suppliers
By and
IShares fund holds firms that get 18% of revenue from Apple

Higher concentration of suppliers than semiconductors ETFs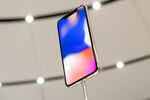 What's the best way to bet on Apple Inc.'s suppliers? Try an exchange-traded fund tracking Taiwanese stocks.
As Apple prepares to roll out the iPhone X, the latest version of its flagship smartphone, on Nov. 3, international investors are ramping up bets on suppliers for the device, whose shares can rise and fall on the latest rumors swirling around the iconic gadget.
But for those who don't want to chase down dozens of parts makers listed in Taiwan or South Korea, one fund can give U.S. investors a concentrated dose -- the iShares MSCI Taiwan Capped ETF.
The $3.7 billion ETF, symbol EWT, holds 91 companies, eight of which identify Apple as their single largest source of revenue, according to a Bloomberg supply chain analysis. The ETF's basket includes firms like Catcher Technology Co. Ltd., Hon Hai Precision Industry Co., which assembles the iPhone and other Apple devices, and Taiwan Semiconductor Manufacturing Co. Ltd.

Taken together, around 18 percent of the collective revenue earned by companies in EWT in the second quarter came from Apple -- the most of any U.S.-listed ETF, the data show.

But don't assume that just because the ETF is exposed to Apple, it'll move together with the iPhone maker's stock. In fact, over the last year, EWT had a 0.435 correlation with Apple, according to data compiled by Bloomberg. A reading of zero indicates that two assets are completely uncorrelated, while a reading of one shows that they move in lockstep.
Still, the Taiwan ETF tidily beats other funds that have traditionally been used to access suppliers to Apple, such as those that hold semiconductor firms, according to Anand Srinivasan, a senior analyst at Bloomberg Intelligence.
The iShares PLHX Semiconductor ETF, for instance, holds companies such as Texas Instruments Inc., Broadcom Ltd. and Qualcomm Inc., many of whose products make their way into iPhones. But supplying Apple generates less than 7 percent of the collective revenue earned by companies in the fund, which trades under the ticker SOXX.
Another semiconductor fund, the VanEck Vectors Semiconductor ETF, holds 18 companies that are Apple suppliers. But selling parts to the Cupertino, California-based company also accounted for less than 7 percent of all the revenue generated by the ETF's holdings in the second quarter.
Last month, investors used a South Korean ETF tracking the country's Kospi 200 Index to bet on parts makers ahead of Apple's Sept. 12 media event unveiling its new phone. The Mirae Asset Tiger 200 ETF had net inflows of $174 million on Sept. 8, the most this year, as investors bet the announcement would boost domestic suppliers. But firms in the Mirae Asset ETF received around 2 percent of their revenue from Apple in the second quarter, making it a pretty diluted wager.
Before it's here, it's on the Bloomberg Terminal.
LEARN MORE