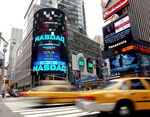 Biotech stocks are starting to hit some benchmarks of bubbliness. Rapidly rising prices? Check. Greater tolerance of drug-trial failure? Check.
An out-of-control IPO market? We're not quite there yet. The IPO window is far more active than last year, but still seems in no immediate danger of overheating.  

Relative to the boom years of 2014 and 2015, when more than 100 IPOs raised more than $10 billion, this year has been relatively quiet. Twenty-four IPOs have raised about $2.3 billion dollars 1 so far. Absent a huge late-year push, this year won't even top 2013's pre-boom IPO tallies. 
But this is a definite improvement on last year's sluggishness. Three-quarters of the way through 2017, there have been exactly as many IPOs as in all of 2016, and they have raised significantly more money. 

The trajectory of the market is definitely upward. The past two quarters have been the best in terms of biopharma IPO volume and value since 2015. Still, even this year's best quarter -- 12 IPOs raised $1.14 billion in the second quarter -- doesn't measure up to the peaks seen from 2013 to 2015. 

The trend seems to be toward fewer but higher-quality IPOs. The average biopharma IPO this year has raised $96 million, the highest in the past four years by a decent margin.
And while performance is a somewhat unreliable measure of quality, due to the youth of these companies and the recent buoyancy of biotech stocks, the offer-to-date share-price increase of this year's IPO class is 52.3 percent, outstripping 2014, 2015, and 2016.
It all adds to up to an IPO market that looks increasingly robust, but not extraordinarily exuberant. When that starts to change and many more marginal companies start clambering through the IPO window as they did in 2015, then it's time to start worrying.
Before it's here, it's on the Bloomberg Terminal.
LEARN MORE