Irrational Exuberance
Evidence of Biotech Froth Continues to Mount
Investors keep driving up shares based on shaky trial data.
By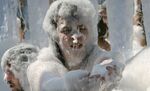 Biotech investors may need to pump the brakes. 
Share prices have been soaring; the Nasdaq Biotech Index is up 28 percent this year. Drug failures are being punished more modestly. And now the definition of drug success appears to be getting more generous. 
Catabasis Pharmaceuticals Inc.'s Phase 2 trial of its medicine for the muscle-wasting disease Duchenne Muscular Dystrophy (DMD) flopped badly earlier this year. But its shares soared Wednesday morning after the company claimed a subset of patients who stayed on the drug showed "clinically meaningful" improvement, sufficient to justify a final-stage trial.
But "clinically meaningful" is ambiguous and may not translate to statistically meaningful. And this new data comes with no placebo arm for comparison. Pushing a drug forward based on a failed trial and uncontrolled data from possibly cherry-picked patients is not a recipe for success. 
Catabasis shares slipped from truly dizzying pre-market highs after others pointed out these issues, but were still up more than 12 percent as of this writing. 
This follows an unfortunate trend of companies and investors hyping dubious DMD results. For example, on September 29, investors sent shares of PTC Therapeutics Inc. up more than 14 percent after a FDA-convened panel of experts declared the company's DMD drug wasn't a total failure. The drug had flunked multiple trials, FDA scientists had panned its data, and the drug has a vanishingly small shot at approval. Investors chose to see the glass as half-full.
Amicus Therapeutics Inc. is another example of such giddiness. Its shares jumped more than 8 percent on Wednesday after it said an early-stage trial of a drug for Pompe disease helped patients. But this was only a 20-person test, with no control group. Some of the positive data came from even tinier numbers of patients; there were multiple sub-groups, and patients started the drug at different times.
Amicus is dangling the possibility of an early FDA approval based on this data. But another trial will almost certainly be required to confirm the drug's effectiveness. Wednesday's share-price gain doesn't seem entirely out of whack with the results -- until you realize shares had already gained nearly 200 percent this year. 
We are a long way from the dizzying share-price heights of 2015, and we aren't seeing floods of low-quality IPOs as we did back then. But it's past time for investors to get vigilant about overexuberance.
To contact the editor responsible for this story:
Mark Gongloff at mgongloff1@bloomberg.net
Before it's here, it's on the Bloomberg Terminal.
LEARN MORE