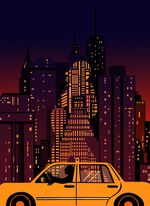 In 2013, Alan "Ace" Greenberg was dying. The former ­chairman of Bear Stearns Cos. had been diagnosed with cancer, and "I had a limited amount of time to find out how my dad thought and operated," says Ted Greenberg. "So when it looked like he might not have that much time left, I told him that there was some stuff I wanted to know."
He went through his father's files and archives and, over the course of multiple discussions, probed his dad about ­lingering, decades-old questions. A stand-up comic who formerly wrote for Late Night With David Letterman, Greenberg turned what he learned into a play, Ace. The one-man show is set in the late 1980s—when, in an act of post-­adolescent rebellion, the younger Greenberg was driving a cab and living in relative squalor in New York's East Village. In an Oedipal turn that clearly hasn't escaped him, Ace necessitates that Greenberg play both his father and himself, a dichotomy he pulls off by alternating voice, mannerism, and accent.
Exploring his relationship with his father, who died in 2014, the play is peppered with anecdotes from his family's Wall Street milieu. Laced through it, too, are the younger Greenberg's fond feelings for and regrets surrounding his dad, whose own life was defined by a series of connections with powerful people. "I was always very intrigued by his relationship with the sort of Machiavellian power brokers like [Ivan] Boesky and Roy Cohn," Greenberg says.
One of the play's points of contention, and a source of that rebellion, is Ace's loyalty to these morally compromised friends. Set on the eve of Boesky's sentencing for insider trading, the show consistently returns to the disgraced arbitrageur's relationship with the Greenberg family.
Unmentioned in the play is another of Ace's friends and clients, Donald Trump, who ended their relationship in 2012 after a perceived slight about Ace not returning his calls at JPMorgan Chase & Co., where he was working at the time. "Out of nowhere, Trump yanks all his accounts from Ace Greenberg in a hissy fit, blaming everyone," Greenberg says.
It's a dinner-party-worthy anecdote, but the show attempts to mine profundity from such gossipy tidbits, too. Amid trappings of wealth, success, and unimpeachable talent, the elder Greenberg maintains a humble, almost folksy equanimity. Viewers are taken—by way of flashbacks narrated by an oft-­bitter, occasionally sheepish young Ted—from Ace's origins in Oklahoma to his early lessons on Wall Street.
He indisputably left his mark on finance: At Bear Stearns, which he transformed from a small brokerage into a publicly traded international behemoth, the elder Greenberg instituted an ­anti-nepotism rule, overturning decades of Wall Street's Ivy League-leaning insularity. And he changed lives, consistently giving money to charities large (tens of millions of dollars to United Jewish Appeal) and small. "There was a woman in Arkansas whose kids were kicked out of school because she objected to a crucifix on the facade," Greenberg says. "So he paid for her kids' tuition for three years."
But as Ace demonstrates in multiple scenes, the qualities that endear so-called Great Men to the world seldom endear them to their children. Greenberg says he and his sister "took the anti-­nepotism rule somewhat personally: We were like, 'God, we're not even allowed to work for our own dad,' " he says, explaining his hurt feelings. Similarly, there's a moment in the play where Greenberg recalls his father's criticism of an heir to the Kuhn, Loeb banking fortune who opened a bookstore on Madison Avenue instead of entering the family business. "What a waste of human flesh," his father remarks offhandedly in the play, inadvertently giving his son an underachievement complex for decades.
Ace, then, will have an obvious resonance for a Wall Street crowd, not simply because Greenberg is a legend, but because it speaks to the obstacles faced by children of the very rich. "Will Leon Black come to the show and like it?" asks Greenberg rhetorically. "Who knows? But will children of high-powered people, or any kid who feels like it was hard to find room for themselves around a figure who cast such a large shadow in so many different directions, like it? That's my hope." Ace runs Oct. 1 through Nov. 5 at the Marjorie S. Deane Theater in New York.
Before it's here, it's on the Bloomberg Terminal.
LEARN MORE