Politics
The State That Made India's Modi Could Break Him
The Congress party, booted out in 2014, hopes to break the BJP's hold on Gujarat, which is smarting from the prime minister's currency policy.
By and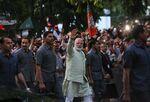 Indian Prime Minister Narendra Modi vaulted to national office in 2014 after presiding over more than a decade of robust economic growth in Gujarat, India's westernmost state. During his almost 13 years as the state's chief minister, Gujarat's economy grew faster than the rest of India, and its per capita income almost quadrupled. The "Gujarat model" became a byword for Modi's pro-business policies—and a promise of what he might do for India.
Yet his move last year to ban 86 percent of the country's paper currency in a bid to stamp out corruption is having a particularly harsh effect on the state's economy, which is heavily dependent on export, trade, and manufacturing. A new national sales tax is hurting, too. "Development has slowed here," says Kanti Bhai Yadav, 40, a small-restaurant owner who voted for Modi in the past three elections. Yadav says his situation hasn't improved since Modi left for New Delhi. "Maybe it's because as a prime minister, he is thinking of the whole country," he says.
The economy is slowing across India, with gross domestic product falling to 5.7 percent in the quarter ended in June from 7.9 percent a year earlier. That's fueled criticism of Modi's national economic record before an election in Gujarat expected in December. It's doubtful the disorganized opposition, embodied in the Indian National Congress, will be able to loosen the grip that Modi's ruling Bharatiya Janata Party has on the state, but the discontent is a warning as he builds toward the next national election in 2019, with jobs and incomes likely key issues.

With less than three months to go, the BJP is throwing all its resources into Gujarat to ensure the party doesn't suffer a defeat after ruling the state for 19 years. A loss could set off a chain reaction and sap Modi's momentum. Like much of India, Gujarat has seen social unrest. Textile and diamond traders have held demonstrations against the new goods-and-services tax. One of the biggest challenges has come from the large and influential Patel community, a caste that accounts for about 15 percent of the state's population of 63 million. Members have held protests demanding they be guaranteed government jobs and enrollment in universities—benefits enjoyed by underprivileged castes elsewhere in India.
Since 2015 the Patels have rallied behind a 24-year-old protest leader named Hardik Patel who's vowed to unseat the BJP. Some demonstrations have swelled to close to 500,000 people, and Modi was forced to call in troops after numerous deaths at a protest in 2015. "The BJP has been forming the government with support from our community, but this time we will remove the BJP from power," Patel says. The prime minister's office didn't answer calls seeking comment.
As chief minister of Gujarat, Modi became known for securing large investment pledges from foreign corporations, with many of those coming at the biennial Vibrant Gujarat summit, an investor event put on by the state government. Gujarat is home to multinationals including Ford Motor, Honda Motor, and Bombardier. The chemical, petrochemical, pharmaceutical, and textile industries are concentrated there. The state is the world's largest producer of processed diamonds. After Modi left his post, however, deals started to dry up in Gujarat, which slipped to third in 2016 when ranked on the ease of doing business in India.
Modi still has a high profile in Gujarat. Billboards feature him prominently, and he frequently flies in to highlight projects. In September he and Japanese Prime Minister Shinzo Abe laid the foundation for a bullet train to Mumbai being built partly with a loan from Japan. Also that month Modi dedicated a dam on Gujarat's Narmada River. "We are going to the people with the agenda of development and good governance," says Jay Narayan Vyas, a BJP leader and former state cabinet minister under Modi.
The Congress party, which was booted from power in 2014, hopes to break the BJP's hold on Gujarat. Rahul Gandhi, the party's leader and scion of the Nehru-Gandhi dynasty, recently visited the state to blame the BJP for the effects of Modi's currency swap. The prime minister "is excellent in marketing but a zero in implementation," says Nishit Vyas, a Congress leader in Gandhinagar, the capital of Gujarat. Vyas accused the prime minister of marketing projects that never materialize. "People have realized that a Congress government is far better than this magician." Congress is promising an unemployment allowance and subsidized housing, he says.
In the village of Dhingda, outside Ahmedabad, farmer Dinesh Bhai Solanki, 51, says the BJP government enacts policies only for the rich. He laughs at the mention of a bullet train, saying a local train route was canceled months ago. "We will vote for the other party," he says.
While public resentment against the BJP has grown, Congress lacks the "killer instinct to win elections," says Sagar Rabari, a farmer-activist in Gujarat. Ghanshyam Shah, a political analyst in Ahmedabad and former professor at New Delhi's Jawaharlal Nehru University, is also skeptical that Congress will be able to capitalize on BJP's loss of momentum, saying, "I don't think Congress is able to articulate, mobilize, and use this dissatisfaction."
Plus, the BJP has the ultimate weapon—a sitting prime minister who's still popular and good on the stump, especially compared with Congress's Gandhi, an erratic campaigner at best, despite his pedigree. Although "the economy's not booming," the party will win by leaning on Modi, says Yamal Vyas, a state leader for the BJP. "He'll be our star campaigner."
BOTTOM LINE -
With state elections set for December, Prime Minister Modi faces grumbling over an economic slowdown in the heart of his base, Gujarat.
Before it's here, it's on the Bloomberg Terminal.
LEARN MORE