Wall Street Awaits Big Bang Out of Ford Boss's Coming-Out Party
By
Hackett gets a shot to show he can turn around Detroit laggard

'Huge unknown' CEO is part design guru, part football coach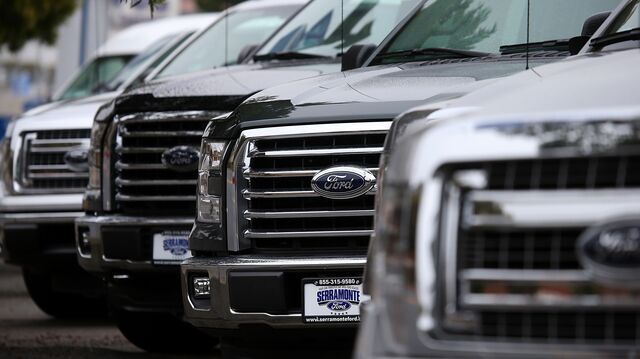 Jim Hackett has been busy at Ford Motor Co.
Since taking over in May, he's reversed course on building the Focus compact in Mexico, pushed into electric vehicles in China and India and partnered with Lyft Inc. on self-driving cars.
What he hasn't done is wowed Wall Street. Ford stock, a laggard the last three years, continues to lag the broader market.

Hackett, 62, will get a chance to sell his vision of a new Ford when goes before investors Tuesday, and he has some explaining to do. Foremost in investors' minds: How will he navigate the new realities of autonomous cars and electric vehicles, while simultaneously trying to capitalize on the global craze over sport utility vehicles?
"He's a huge unknown," said Emmanuel Rosner, an auto analyst with Guggenheim Partners. "It's a high-stakes event because investors have really no idea of what to expect."

In learning his way around a global behemoth, Hackett has spent serious time in Ford's design studios and sat down with union leaders and dealers. Participants in closed-door meetings have walked away expecting the former football player to make his mark not only in the ways Ford develops its vehicles, but in the basic blocking and tackling of getting costs down and margins up.
Inefficient Plants
In a session with union leaders in Detroit last month, Hackett's manufacturing chief Bruce Hettle said Ford's margins lag General Motors Co. and even some suppliers, according to a person who attended. To try to close that gap, Ford will train workers to better spot quality problems on the assembly line so it can reduce warranty costs, said the person, who asked not to be identified revealing internal discussions.
Hackett highlighted Ford's factory overcapacity in a meeting with a half dozen dealers in California last month. He told them he'd just read the book "Scale," a big-idea treatise on growth and sustainability, and is looking for ways to get more profit and efficiency out of the company's global production system.
"He's viewing his plants as not being as efficient as some of the competition," Henry Hansel, the president a California-based dealership group with three Ford showrooms, said of Hackett. "I suspect you're going to see him taking a hard look at that."
The CEO will have to act fast. Executive Chairman Bill Ford and his board ousted his predecessor, Mark Fields, for moving too slowly and lacking a clear plan for autonomy. A believer in brisk meetings, Hackett immediately pared his direct reports to eight from the more than 20 who reported to Fields. He arrived at last month's dealer gathering with just two executives and scribbled four pages of notes.
"You get the feeling he's out to win," Beau Boeckmann, president of California's Galpin Motors and one of the dealers in the meeting, said of the CEO. "Ford really does its best when its back is against the wall. At this point, we have to play to win."
Jobs Friendship
The intensely competitive Hackett has success stories in Silicon Valley going back years. His reimagination of the workplace helped spur a turnaround at office furniture maker Steelcase Inc., with Hackett winning over clients like Apple Inc. and personally befriending Steve Jobs. He joined Ford's board in 2013, a year before taking early retirement from Steelcase.
Hackett continues to have a penchant for design. When he first sat down with his executive in charge of creating new models, the freshly named CEO said he didn't want to end up staring at a close-to-finalized clay car sculpture, assessing the curve of a fender.
"He said, 'Look, I don't want executive entertainment,'" recalled Hau Thai-Tang, Ford's product development chief. "'I want to go where the work is being done. So show me where the post-it notes are. Take me to the people making prototypes out of cardboard and foam.'"
'Worm Hole'
No connection of Hackett's in the Valley goes deeper than his relationship with David Kelley, head of Stanford University's elite design school and founder of IDEO, a design firm Hackett acquired when he was at Steelcase. The two were so close, they created what they called a "worm hole" between their offices in California and Grand Rapids, Michigan, training cameras on each other's desks all day long.
Hackett has brought Kelley into Ford to help teach the automaker's designers a new way of crafting cars that starts with a deep examination of how people use their vehicles.
"At first, it's a bit unnerving," Thai-Tang said in an interview last month. "But I told my teams, if we all applied to the Stanford d.school, which has an acceptance rate of 4 percent, none of us would probably get admitted. Now, we have these two world-renowned design thinkers come and coach us on this approach. Why wouldn't we embrace that?"
For all the emphasis on design and vision, Hackett is no stranger to turnarounds or tough calls. He cut 12,000 jobs at Steelcase, including the best man at his wedding, according to Automotive News. As athletic director at the University of Michigan, he fired football coach Brady Hoke and replaced him with highly sought alumni Jim Harbaugh. A center on Michigan's 1970s football teams, he's fond of quoting his old coach, Bo Schembechler, and speaking in the lexicon of sports, such as by referring to Ford's "fitness."
"Jim is so disciplined about the way he thinks through where to win and how to win," Jim Farley, Ford's president of global markets and one of Hackett's top two lieutenants, said in an interview. "We have to ask ourselves, how do we win? Not how do we participate, but how do we win?"
— With assistance by John Lippert
Quotes from this Article
Before it's here, it's on the Bloomberg Terminal.
LEARN MORE