Technology
Prison Video Visits Are No Substitute for Face-to-Face, Especially at These Prices
By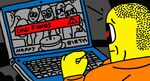 Once a week for nine months in 2016, Barbara Hughes drove the 90 minutes from her home in Springfield, Ill., to visit her son at Tazewell County jail in Pekin, where he was awaiting trial. But she never got to see him in person. Instead, she had to enter a room with video phones lining two walls and sit down at her assigned station.
At Tazewell, inmates' loved ones are allowed one free 20-minute session a week at the video phones. The stations are so cramped and narrow that Hughes and her ex-husband couldn't sit side by side while they talked to their son. (Hughes declined to give her son's name or specify his charges, wanting to protect his future employment prospects.) "It doesn't seem real, even though you're in the same building," she says. The monitors were so high that Hughes, a petite 5-feet-4, had to crane her neck to see. And there was always the ticking clock. "It's a hurry-up thing," she says. "You have to know what you're going to say, because you might get shut off." She could have video-called from home as much as she wanted but would have had to pay $6.95 for 20 minutes.
There are 650 U.S. correctional facilities offering some form of video viewing. Like Tazewell, most are county jails, and three-quarters have eliminated in-person visits, often as a stipulation of their contract with the company charging for the video feeds. Tazewell did so in 2014, when it hired Securus Technologies Inc., a prison phone company that now controls about a third of the video market. The business has been lucrative enough to attract the attention of the private equity world. In February, Platinum Equity LLC, the firm run by Detroit Pistons owner Tom Gores, agreed to buy Securus for $1.6 billion, more than double the company's 2012 valuation. The proposed deal has come under scrutiny from both regulatory commissions and prisoners' advocates, delaying its likely approval.
Securus Chief Executive Officer Richard Smith says the company is spending a lot to set up and run its video systems for jails, rather than simply selling them the equipment, but he adds that "we expect this to grow faster than our normal business." He estimates Securus will oversee 2.4 million video calls this year, two-thirds of them remote, i.e., paid. Rates vary by jail, from $5 to $12.99 for a 20-minute call and, in at least one jail, $40 for 40 minutes.
Even on the low end, though, these charges can be unmanageable: More than two-thirds of people incarcerated in the U.S. reported earning less than $12,000 before their arrest, and their families tend to fall into the same income bracket. Smith says Securus negotiates prices with individual institutions, and the more people who use the service, the lower the fees. "They like the prices to come down, and so do we," he says, "as long as it stimulates additional volume."
For now, the bulk of Securus's revenue comes from traditional phone services to 3,500 correctional facilities, a market historically associated with price gouging. In 2000 homebound grandma Martha Wright filed a class action to limit prison phone rates on the grounds that she couldn't afford to communicate with her incarcerated grandson. Her case became a cause célèbre for prisoner-rights advocates, many of whom joined the suit and came to be known collectively as the Wright Petitioners.
The suit was referred to the Federal Communications Commission, which ruled in 2013 to cap interstate calling rates and in 2015 to extend that cap to in-state calls and prohibit certain fees. This June a federal court ruled in a countersuit filed by Securus and four other companies that the FCC lacked the authority to limit in-state rates. Interstate caps remain intact.
The Wright Petitioners, represented by attorney Lee Petro, are now pressing the FCC to deny the sale of Securus to Platinum Equity, arguing that the company has continually violated the commission's previous rulings. "They'll still find ways to extract as much revenue as possible from inmates and their families," Petro says. In June he filed a formal petition protesting the sale, which prevented the FCC from fast-tracking its approval, something Securus and Platinum had sought. Securus maintains that it has complied with all applicable requirements.
The deal faced other holdups from public utilities commissions in states where Securus operates. While most states simply require notification of a proposed sale, at least two mandate an in-depth review. California, where Securus has contracts with 65 correctional facilities, approved the deal in August. Alaska, which contracts with Securus for all 14 of its prisons, won't issue a final order on the transaction until mid-December.
While the deal awaits approval, Gores, a favorite son of Flint, Mich., has had to weather criticism from prisoners' family members and advocates. "Securus charges an average of $15.78 for a 15-minute intrastate call in Michigan, while other providers charge substantially less," Petro says. "To the extent that Pistons fans will be paying more to speak with their loved ones than it costs to buy a 12-inch pizza at a Pistons game, Mr. Gores should think twice about completing his acquisition of Securus." Platinum Equity declined to comment.
Securus may have a better shot at federal clearance than it did last year. FCC Chairman Ajit Pai, who took office in January, previously represented Securus as a partner at Jenner & Block. Prisoners' advocates say Pai's work history presents a conflict of interest that should force him to recuse himself from voting on the company's acquisition. But federal agencies, including the FCC, require recusal from a merger or transaction only if the employee worked for one of the parties within the past year. The FCC's press secretary says Pai has the blessing of the commission's ethics office.
At least one FCC commissioner is worried about the costs of Securus's video service. In an email, Obama appointee Mignon Clyburn wrote, "I am concerned about the serious allegations made by the Wright Petitioners. Irrespective of whether the transaction is approved, I hope that the FCC will investigate these issues."
The Bristol County House of Correction in Massachusetts is one of Securus's newest video customers. Although the jail previously allowed only noncontact visits through a Plexiglas divider, Sheriff Thomas Hodgson says visitors still found ways to smuggle in drugs and that switching to video eliminates that risk. Several states, including Massachusetts, have introduced bills that would require correctional facilities to offer in-person visits. Hodgson plans to testify against such a mandate. "Whether you're looking through the Plexiglas and talking on the phone or looking through a screen, you're seeing the exact same thing," he says.
Hughes disagrees. In October 2016 her son was transferred to a jail that allows in-person visits through Plexiglas, though he has to remain handcuffed and shackled. They're not allowed any physical contact, but still, Hughes says, "I can see his face, his skin, his hair, his beard. I can see if he's doing OK. As a mother, these things are important."
BOTTOM LINE -
Video visiting is lucrative for prison phone companies, but it's prohibitively expensive for prisoners' families and a poor substitute for in-person contact.
Before it's here, it's on the Bloomberg Terminal.
LEARN MORE