Economics
Netanyahu Is Haunted by Cigars, Bubbly, and Subs
Israel's leader, his wife, and allies could all face charges in criminal probes.
By and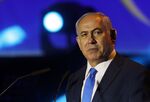 The spectacle of prominent political figures being hauled before police investigators has become a ritual of sorts in Israel. It happened to Prime Minister Benjamin Netanyahu's three predecessors—one, Ehud Olmert, spent 16 months in prison for corruption before being released on parole in July. A president served time for rape, and numerous cabinet ministers, lawmakers, and local officials have been indicted—and some jailed—over financial shenanigans.
But never before has an Israeli leader faced such a tangle of suspicions regarding events on his watch. There are the allegations that Netanyahu held backroom talks with a media baron, trying to negotiate favorable coverage. That the prime minister and his wife accepted cases of expensive Champagne and boxes of Cuban cigars from a billionaire Hollywood producer. And that cash-filled envelopes traded hands to grease a $1.8 billion submarine deal.
Israelis appear willing to forgive Netanyahu—for now. That could change if he's implicated as part of an investigation into the purchase of German submarines, says pollster Rafi Smith. Israelis are "willing to tolerate a certain level of corruption, like taking presents," he says. "What they won't excuse is messing around with anything involving security. If Netanyahu gets implicated directly in the submarine scandal, it's over for him."
Netanyahu calls the allegations a witch hunt by liberals and the media and says he won't step down. A spokesman for the prime minister declined to comment.
Opinions on whether Netanyahu is too tainted to lead the country seem to depend on politics. In an August poll by the Midgam Research Institute, 69 percent of respondents said he should quit if indicted—but only 46 percent of those who identified as right-wing voters agreed. "His supporters believe him when he says that all these corruption charges are part of a conspiracy of the left to topple his government," says Eytan Gilboa, a political scientist at Bar-Ilan University's Begin-Sadat Center for Strategic Studies.
The widening scandal over the purchase of submarines and ships from Thyssenkrupp AG has already led to questioning of multiple associates of Minister of Energy Yuval Steinitz, who isn't a suspect. Neither is Netanyahu, but his personal lawyer (and cousin) represented the shipyard's Israeli agent, who's turned state's witness.
The prime minister has been implicated in two cases which, if they produce indictments, could threaten his premiership. Netanyahu says the Champagne and cigars he received were gifts from an old friend, Hollywood producer Arnon Milchan, but the Attorney General's Office is investigating whether favors were traded. Netanyahu also is accused of seeking favorable coverage from the publisher of the Yedioth Ahronoth newspaper in exchange for curbing a competitor.
Minister of Justice Ayelet Shaked has said the premier can continue to serve even if he's indicted, and no one in Netanyahu's fractious coalition has called on him to resign. The Trump administration is keeping tabs on Netanyahu's predicament, says David Makovsky, a Middle East scholar at the Washington Institute for Near East Policy: "Washington is not writing his political obituary but now believes they have to follow this seriously."
Several other criminal cases also are playing out. Two cabinet ministers are under investigation, including one who's suspected of tax offenses and fraud—after already serving one jail sentence for bribery. Minister of Defense Avigdor Liberman's Yisrael Beitenu party has been hollowed out by corruption indictments against high-ranking members. Only a procedural hearing stands between Netanyahu's wife, Sara, and charges that she misused public funds.
While the stream of arrests might suggest Israel is rife with corruption, fundamentally it's a country where law and order prevail, says Tomer Naor, head of litigation at the Movement for Quality Government in Israel. Last year the nation ranked 28th out of 176 countries in Transparency International's annual graft index, below the U.S. but above Portugal and Spain. "This isn't a country where you get fined by a cop or a government body and you can just bribe your way out of it," Naor says. "If anything we're seeing a change of standards, with a new generation now saying they won't accept things that were done here for a long time."
BOTTOM LINE -
Israeli voters seem unruffled by corruption allegations involving Netanyahu, but if he were implicated in a graft case over a submarine contract, his government could collapse.
Before it's here, it's on the Bloomberg Terminal.
LEARN MORE