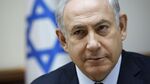 Follow @bpolitics for all the latest news, and sign up for our daily Balance of Power newsletter.
After months of investigating alleged corruption, Israeli prosecutors have reached Prime Minister Benjamin Netanyahu's inner sanctum. Ari Harow, Netanyahu's former chief of staff, signed a plea bargain and will aid the investigation into suspected bribery and other crimes, according to a court document released Aug. 4. News of Harow's cooperation has fed expectations that Netanyahu's reign as prime minister could be coming to a close, and that Israel might see two consecutive leaders indicted for alleged wrongdoing.
1. What is Netanyahu accused of doing?
Police are pursuing charges of bribery, fraud and breach of trust against Netanyahu, according to the document outlining Harow's plea agreement. Investigators have been questioning witnesses in at least four separate cases, details of which have been leaked over the past year to Israeli media.
2. What are those cases?
The first involves suspicions that Netanyahu received cigars, champagne and other gifts from businessmen, including billionaire Arnon Milchan, the Hollywood producer of films such as "Fight Club" and "The Big Short," according to Channel 2 TV. In a second case, Netanyahu is suspected of conspiring with the owner of Israel's Yedioth Ahronoth newspaper to undermine Israel Hayom, a competing free daily backed by U.S. casino billionaire Sheldon Adelson, chairman and majority owner of Las Vegas Sands Corp. In two other cases, involving associates of his, Netanyahu isn't said to be a suspect. They involve officials and businessmen who allegedly profited from Israel's purchase of nuclear submarines from Germany's ThyssenKrupp AG in a deal worth more than $1.5 billion, and accusations that Netanyahu's government gave special treatment to Bezeq Israeli Telecommunication Corp., the country's largest telecommunications company, which is controlled by Netanyahu's friend Shaul Elovitch.
3. What led Netanyahu's former chief of staff to turn on him?
Harow was one of Netanyahu's most ardent loyalists, running the prime minister's government office and leading his political campaigns. He was arrested two years ago on suspicion that he engaged in only a fictitious sale of his lobbying firm, 3H Global, when he returned to work for the prime minister in 2014 (he was supposed to sell the company to avoid conflicts of interest.) In February, police recommended that Harow be tried on charges of bribery, fraud and money laundering. His plea bargain means the testimony he has given in recent months can be used in the Netanyahu investigation, according to Channel 2. An Israeli court has imposed a gag order on details of that testimony. Harow agreed to perform community service and pay almost $200,000 in fines.
4. What has Netanyahu said about the investigations?
He's repeatedly described them as part of a witch hunt waged by his political opponents, and says he did nothing wrong. In a Facebook video after the disclosure of Harow's plea deal, Netanyahu said he doesn't respond to "background noise" and assured Israelis, "I will continue working on your behalf." He mentioned his support for the settlement movement, an apparent nod to right-wing supporters who see the investigations as a partisan attempt to replace Netanyahu's conservative government with a more liberal one.
5. Will Netanyahu be charged?
We probably won't know for a while. Harow's plea deal has to be adjudicated in court, giving Netanyahu the opportunity to rebut any testimony that reflects badly on him. Harow's testimony could also prompt police to question additional figures, adding months to the investigation, Channel 2 reported. Only after all that would police make their recommendation on whether the prime minister should face criminal charges. Attorney General Avichai Mandelblit, a Netanyahu appointee, would then take the police recommendation and decide whether to indict.
6. What happens if he's indicted?


Netanyahu, whose 11 years in office make him Israel's longest-serving prime minister after founding father David Ben-Gurion, wouldn't be legally obligated to resign. And putting him on trial could take years: Netanyahu's predecessor, Ehud Olmert, was indicted on corruption charges in 2009, acquitted on the most serious charges in 2012, convicted on other charges in 2014 and entered prison only in 2016 (he was released last month). Other investigations, of former Prime Ministers Ehud Barak and Ariel Sharon, continued for years without resulting in charges against them.
7. Who are potential successors to Netanyahu?
If he's driven from office and new elections are declared, polls show Yair Lapid of the opposition Yesh Atid party and Finance Minister Moshe Kahlon of the Kulanu party as top contenders to replace him. Avi Gabbay, who became chairman of the opposition Labor party last month, would run for office, as could Defense Minister Avigdor Liberman of the Yisrael Beitenu party, Education Minister Naftali Bennett of the Jewish Home party and Israel Katz, minister of intelligence and transportation from Netanyahu's Likud party.
The Reference Shelf
Before it's here, it's on the Bloomberg Terminal.
LEARN MORE