Remarks
Here's What Puerto Rico Faces Once It Gets Past Maria
Crippling debt and destruction have made the island's crisis almost existential.
By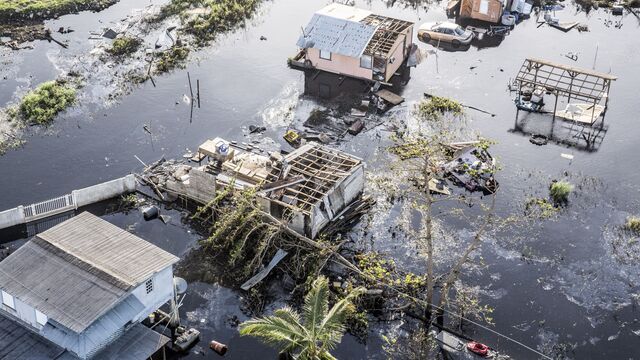 "This is, without a doubt, the biggest catastrophe in modern history for Puerto Rico," Governor Ricardo Rosselló said after Hurricane Maria pummeled the U.S. territory with floodwaters and 155 mph winds. He declared that his priorities were "not a fiscal consideration. It's restoring people's security and restoring normalcy."
Normalcy, however, is something Puerto Rico hasn't experienced in a while. That's because the government is essentially bankrupt. Years of runaway borrowing to plug budget shortfalls, a decade-long recession, and the exodus of residents seeking work in the mainland U.S. pushed the commonwealth in May to seek creditor relief from nearly $74 billion of debt, the nation's biggest municipal bankruptcy. The island's budget and spending now have to be approved by an oversight board appointed by the federal government. That board says that Puerto Rico can use only $1 billion from its budget to deal with hurricane damage. The tab for Maria's destruction could reach $30 billion.

There are dire and immediate consequences. For now, officials are rightly focused on people's safety and bringing back power and running water, rather than calculating when and how much Puerto Rico can repay its bondholders, about a third of which are hedge funds. The government-owned electric utility, the largest U.S. public power provider, has had its aging system ripped apart by the hurricane. U.S. Department of Energy officials and American Public Power Association staff are working with the Puerto Rico Electric Power Authority, the island's main electricity provider, to repair transmission lines and restore power.
The potential for food shortages is high. The hurricane destroyed about 80 percent of Puerto Rico's crop value and the island is now more dependent than ever on the mainland. The Federal Emergency Management Agency has sent food, water, hygiene kits, baby formula, and diesel fuel. More than 11,000 residents have sought refuge in emergency shelters; people have been wading through filthy, waist-high water; and nursing homes are scrambling to find enough fuel to keep generators running. "I have seen a lot of damage in the 32 years that I have been in this business, and from this particular perspective, it's about as large a scale damage as I have ever seen," says Wendul Hagler II, a brigadier general in the National Guard.
Prepa, as the electrical utility is known, is central to rebuilding the island after Maria and also in repairing an economy that's shrunk in the past decade. Like the commonwealth, though, Prepa is operating amid its own bankruptcy. It filed in July after the federal oversight board threw out a $9 billion deal with creditors, saying the plan put residents at risk of higher electricity rates.

Eventually, attention will once again return to Puerto Rico's debt crisis. By then, that debacle can only have grown more dismal; the expense of recovering from the storm may require greater help from the federal government. The markets are not sanguine: An index of Puerto Rico debt fell by 4 percent the week the storm hit the island, the biggest weekly drop since July 2015, when then Governor Alejandro García Padilla announced that the commonwealth would ask bondholders to take less than what they were owed. Prices on Puerto Rico's most actively traded bond fell on Sept. 27 to an average of 49¢ on the dollar, the lowest ever since the debt first sold in 2014.
Investors may still see value in Puerto Rico. An inflow of FEMA money and other federal assistance may help pay for infrastructure upgrades that Puerto Rico's electric utility and water agency badly needed even before Maria struck, taking some burden off residents and investors. The devastation may also help break Prepa's monopolistic structure, eventually allowing for competition to help lower energy costs. The federal board and Rosselló have pushed for privatizing Prepa, a move opposed by labor groups.
"The early phases of reconstruction, particularly if there's substantial federal money, could provide a little bit of support to Puerto Rico's economy," says Brad Setser, a senior fellow at the Council on Foreign Relations. Maria's aftermath may also lead to a reassessment of current plans to return the commonwealth to solvency. Setser believes that "in the next five years, debt service is likely to be revised down. It becomes a debate—what kind of debt in the long run the Puerto Rican economy can support."

The island's challenges are daunting—and require assistance from Washington. As the Bloomberg View editorial board wrote: "The U.S. has an abiding national interest in the recovery and prosperity of Puerto Rico. Its residents deserve the full support of their fellow Americans."
Unfortunately, Puerto Ricans are being treated like second-class citizens. The island isn't a state, so its residents—despite their citizenship—don't enjoy the same set of benefits as Americans in the rest of the country. Donald Trump plans to fly to Puerto Rico and the U.S. Virgin Islands, which also suffered terrible storm damage. And he's said that FEMA will cover 100 percent of the cost of removing debris on the island, rather than the customary 75 percent. On Sept. 28, Trump issued a temporary waiver for Puerto Rico of the anachronistic Jones Act, which has its origins in 1920. The federal statute allows only U.S. ships to carry goods between U.S. ports. The Department of Homeland Security had originally denied a waiver to the island. Texas and Florida had received exemptions when they were ravaged by hurricanes.
Beyond executive action, Congress has to intervene to help finance as well as guide Puerto Rico's financial and physical recovery. The island needs to rebuild in a way that sparks growth. It has to use whatever federal assistance it receives effectively to address the island's most critical infrastructure needs to ignite economic development. The reforms must be vibrant enough both to keep islanders from moving away and to attract new residents to help remake the economy and repay Puerto Rico's debt. Otherwise, normalcy will truly be a long way off. —With Jonathan Levin
Before it's here, it's on the Bloomberg Terminal.
LEARN MORE