China's Property Stock Plunge Isn't Fazing These Investors
By and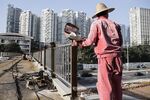 Investors in junk dollar debt sold by Chinese property companies aren't losing their cool.
Chinese real estate bonds actually eked out a small gain on Monday, a Bank of America Corp. high-yield index shows. That compares with a 9.1 percent tumble on the day in the Bloomberg Intelligence index of shares of 22 Chinese developers, the biggest decline in six years.
After some of China's biggest property stocks climbed as much as four or five times this year, bond analysts at Standard Chartered Plc and CreditSights Inc. aren't surprised at the equity selloff sparked by new property curbs in Chinese cities.
For bondholders, those curbs seems less of a concern. Chinese property companies moved to fund upcoming maturities earlier this year in buoyant markets and have sold $35 billion of dollar notes in 2017, more than double the total for all of 2016. The companies have only $11.4 billion of the bonds maturing to the end of 2018, and fixed-income investors have shown increased appetite for the notes, not less.
Here is a take from Yin Chin Cheong, a credit analyst at CreditSights in Singapore:
Most of the developers have refinanced their callable/maturing bonds by now, hence, liquidity is expected to be adequate
Credit investors are aware that there will be further tightening measures for the property sector
Year-to-date contracted sales performance for the developers in general (i.e. those with USD bonds) have been good, and many are on track to meet their FY17 contracted sales targets (be it old or new targets)
Zhi Wei Feng, Singapore-based head of China corporate credit research at Standard Chartered Plc. says bigger players will benefit on the backs of weaker competitors 
Market consolidation will continue with the large and financially strong ones taking up more market share (and as such, sales of the large developers will continue to grow at the expense of the small ones); and the large developers' credit profiles will likely remain stable if they rein in their expansions
Before it's here, it's on the Bloomberg Terminal.
LEARN MORE