Chinese Developers Plunge After Officials Tighten Housing Curbs
Bloomberg News
Eight cities rolling out additional cooling measures

Tightening dashes speculation that government had done enough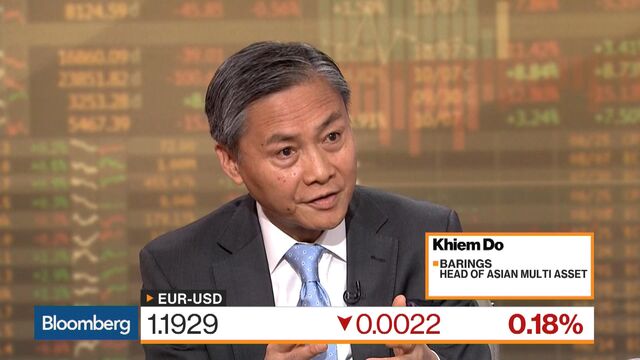 Chinese property stocks plunged in Hong Kong after a raft of mainland cities added housing curbs, wrongfooting investors betting that the government's next step would be to ease restrictions.
Eight cities including Chongqing and Nanning rolled out curbs over the weekend, with most banning home resales within two to three years of purchase, the official Xinhua News Agency reported. Shanghai-based Tospur Real Estate Consulting Co. said six more may follow suit, without naming them.
A Bloomberg Intelligence index of 22 developers tumbled 9.1 percent on Monday, the biggest decline in six years, taking some air out of valuations for stock market stars such as China Evergrande Group and Sunac China Holdings Ltd., which have climbed fivefold and fourfold, respectively, this year.
The latest wave of tightening comes only a week after official data showed home price gains in fewer Chinese cities, fueling optimism that the authorities may be able to limit additional property curbs. The industry is a focus of policy makers ahead of a twice-a-decade Communist Party congress slated to begin Oct. 18, as leaders try to cool prices without tanking the economy.
Read a Gadfly story on a Chinese property developer back from the dead
"Policy risk is back in focus in the run up to mid-October as investors watch whether more cities will follow suit in issuing new controls," said Toni Ho, an analyst with Rhb Osk Securities Hong Kong Ltd. "In reality, home prices in some second- to third-tier cities may be stronger than the official figures."
The latest curbs over a span of only two days show the authorities' resolve and signal that home prices are ending across-the-board gains and may become more closely linked to cities' economic fundamentals, Guotai Junan Securities's Shenzhen-based analysts led by Hou Like wrote in a report on Sunday.
Chinese developer stocks, which had been the hottest part of Hong Kong's market in recent weeks, slumped on Friday as S&P Global Ratings' sovereign downgrade and Logan Property Holdings Co.'s reported scrapping of a share placement punctured investor euphoria toward the sector.
Country Garden and China Evergrande fell as much as 11.2 percent on Monday and Sunac as much as 9.4 percent.

New-home prices, excluding government-subsidized housing, gained in 46 of 70 cities tracked by the government in August, compared with 56 in July, the National Bureau of Statistics said last week, the smallest number of increases since January.
The nation is on a city-by-city campaign to rein in house prices and limit the risk of bubbles. Since Friday, Xi'an, Chongqing, Nanchang, Nanning, Changsha, Guiyang, Shijiazhuang and Wuhan have tightened housing controls, according to Xinhua. In Shijiazhuang, buyers will be banned from reselling within five years.
Click here for a story about some of the tightening measures
At least 44 cities have imposed resale restrictions this year, Zhang Hongwei, a research director at Tospur, wrote in a note. The curbs can not only reduce speculative buying of homes but also prevent sharp price declines that could trigger systemic financial risk -- as well as locking up investor cash that could otherwise flow abroad as the U.S. raises interest rates, Zhang wrote.
— With assistance by Richard Frost, Amanda Wang, Dingmin Zhang, and Russell Ward
Before it's here, it's on the Bloomberg Terminal.
LEARN MORE