Your Evening Briefing
Here are today's top stories.
By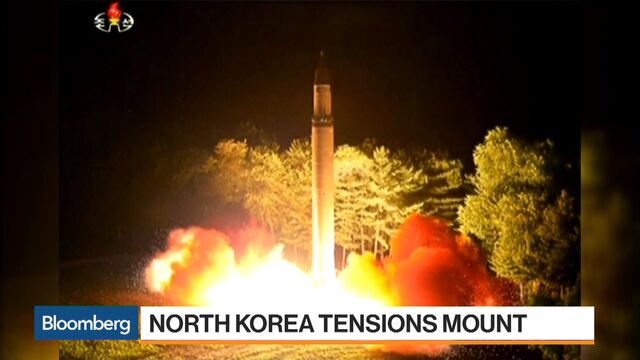 Want to receive this post in your inbox every afternoon? Sign up here.
Good afternoon. If you were able to unplug this weekend, you've got some catching up to do: The NFL and Trump are entangled in a battle that resulted in players across the country kneeling during the national anthem Sunday. While that captured attention spans and Twitter feeds, a decimated Puerto Rico continues to ask for help. —Megan Hess
North Korea claims the right to down U.S. jets. Foreign Minister Ri Yong Ho said North Korea can shoot down U.S. strategic warplanes in international airspace as part of its right to self-defense under the United Nations charter. Speaking from New York, Ri also said that President Trump's recent comments about North Korea were a declaration of war against his country.
Who's not taking a knee. As players and NFL owners — nine of whom are Trump donors — rushed to defend their right to protest in the wake of Trump's criticism, one group of stakeholders has remained largely silent: the league's corporate partners. One of the few top sponsors that has mentioned the protests is Under Armour, a company that has already had a pair of Trump-related controversies this year.
"The system is down." It's almost impossible to find a place that accepts credit cards in storm-ravaged Puerto Rico. The cash economy has reigned since Hurricane Maria decimated much of the island last week, leveling the power grid and wireless towers. The state of affairs could carry on for weeks or longer in some remote parts, which means it could be impossible to trace revenue and enforce tax rules.
Anthony Weiner was sentenced to 21 months in prison for exchanging sexually explicit messages with a 15-year-old girl. The former congressman tearfully told U.S. District Judge Denise Cote that "the crime I committed is my rock bottom." He was ordered to surrender to prison on November 6.
Tax cuts for the rich. Trump and Republican leaders plan to release a tax framework this week that would dramatically cut taxes for corporations and the wealthy, provide a measure of middle-class tax relief and punish some households in Democratic-leaning states like New York and New Jersey. This breaks from the president's recent rhetoric against tax cuts for the rich.
The Supreme Court may not hear the travel ban case. The U.S. Supreme Court removed a clash over Trump's travel ban from its argument calendar and raised the prospect it will dismiss the case, telling the administration and the ban's challengers to file briefs discussing the impact of a new revised policy.
In the world's hottest oil patch, jitters mount that a bust is near. Ups and downs are so ingrained in the oil business that crazy success in the Permian Basin is seen as an omen that a crash looms. What's unusual, and unnerving, is that the Permian is still thrumming with activity after prices cratered for the stuff it pumps out.
Before it's here, it's on the Bloomberg Terminal.
LEARN MORE