Here's a Chart That Might 'Unnerve' Lloyd Blankfein
By
Dividend yields outpacing European bonds by most since 2005

Deviation from the norm also driving demand for U.S. stocks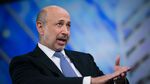 European markets might just be the epicenter for the "bubbly elements" that have left Lloyd Blankfein "unnerved."
The Goldman Sachs Group chief executive alluded Wednesday to the risk of the protracted era of low interest rates fueling bubbles as investors turn to stocks from corporate bonds for income. Taking a closer look shows that the difference between European stock dividends and yields on low-grade debt, which inverted in 2013, recently widened in favor of stock dividends to the most since at least 2005. 

That dynamic also applies to a clutch of high-grade issuers in the U.S. Apple Inc., which sold $5 billion in bonds Tuesday, had an incentive to add to its leverage since debt-raising costs after taxes are below dividend yields, noted Ben Emons, chief economist at Intellectus Partners LLC.
Low yields on government obligations are also helping stock bulls in the U.S. justify equity prices. Treasury investors are so bereft of income that the S&P 500 blended 12-month forward dividend yield currently offers higher returns than 10-year notes.

It's all adding up to growing angst over excess exuberance for risky assets, even for Blankfein.
— With assistance by Cormac Mullen
Before it's here, it's on the Bloomberg Terminal.
LEARN MORE