Gary Cohn Would Do 'Great Job' as Fed Chairman, Blankfein Says
By and
Former trader would be 'less theoretical, much more practical'

Blankfein also says markets have 'bubbly elements,' not mania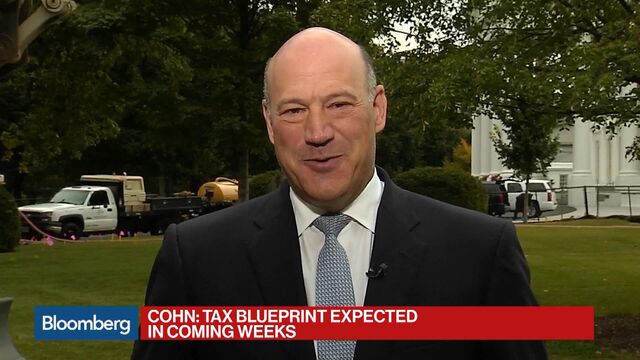 Lloyd Blankfein, who was Gary Cohn's boss for more than a decade at Goldman Sachs Group Inc., endorsed his former deputy's qualifications to run the Federal Reserve.
"Gary is very, very capable," Blankfein said in an interview from his bank's New York headquarters as part of a conference hosted by German newspaper Handelsblatt. "There's nobody who has a better sense of markets or the consequence that decisions will have on people's behavior who act and are guided by market forces. No one's perfect, but he's the best I know."
Donald Trump said in July that he's considering Cohn, currently his top economic adviser, for the role of Fed chairman when Janet Yellen's term ends in February. Cohn would diverge from recent leaders of the central bank in that he isn't a trained economist.
"He's not an academic. I don't know that he reads a lot of policy papers, let alone writes them," Blankfein said. "He'd be much less theoretical, much more practical. We haven't gone in that direction in a few generations as far as the Fed, but we used to. And who's to say what's better or not."

Yellen and Cohn have been considered by many economists as the frontrunners for the role. The Wall Street Journal reported Wednesday that Trump is now unlikely to nominate Cohn after he criticized the president's response to violence in Charlottesville last month.
Yellen has "done a pretty good job," Blankfein said. "If Gary got the job, I think he would do a different job but a great job."
In the wide-ranging conversation, Blankfein also said he's not too worried that asset prices have gotten to a point where they should be considered bubbles with outsized risks. While he's "unnerved" by "bubbly elements" in markets, such as when corporate bond yields are lower than dividend yields on stocks, the market doesn't feel like it has "tulip-bulb mania," the CEO said.
Before it's here, it's on the Bloomberg Terminal.
LEARN MORE