Merkel's Stamina in Coalition Talks Is Facing Its Ultimate Test
By
Grand coalition needed 86 days in 2013 before cabinet sworn in

North German experiment may be model for three-way alliance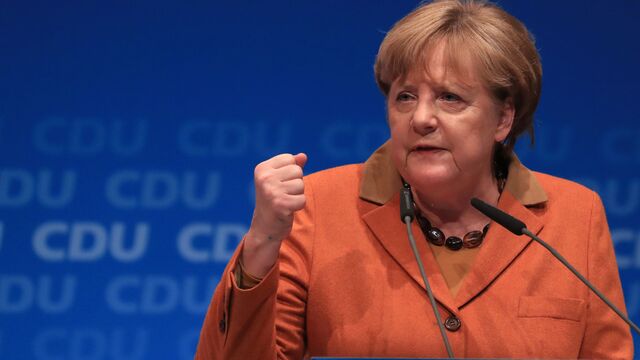 Angela Merkel's Christian Democratic bloc looks set for a clear win in Germany's election on Sept. 24. But polls suggest she'll still be short of a parliamentary majority in the Bundestag and will need weeks, if not months, to form a new coalition government.
The chancellor is likely to have two obvious options: a rerun of her "grand coalition" with the Social Democrats, or a combination previously untested at the national level in Germany, a three-way tie-up with the Free Democrats and Greens.

For more on Germany's election, click here.
Only once has a single party or bloc obtained a Bundestag majority since World War II, and it's taken an average of 46 days to form a German government since east-west reunification in 1990. Last time, talks were the slowest yet: It took 86 days after the 2013 election for the coalition to be formed.
A repeat of 2013 would see a new cabinet installed just before Christmas -- a factor that may play a role if the German government needs to get involved in deciding on progress in the U.K.'s talks on leaving the European Union. Past experience suggests it's improbable that the new government will be in place for an EU summit on Oct. 19 to discuss Brexit.

"In general, it looks as if the formation of the government is going to be more exciting this time than the election itself," said Oskar Niedermayer, a professor of politics at Berlin's Free University. "All the mathematically possible coalitions have their pitfalls and are likely to be more difficult to achieve than before."
Another complicating factor is a state election in Lower Saxony. Scheduled three weeks after the national vote, it could delay a coalition in Berlin as parties wait for the regional result to gauge their bargaining power.
Merkel's Christian Democrats and their Bavarian allies in the Christian Social Union have traditionally preferred to rule in partnership with the liberal Free Democrats. But barring a swing in the polls in the final month of the campaign, the CDU-CSU will probably have to bring in the Greens to achieve a majority.
That would mirror the government that emerged after regional elections in May in Schleswig-Holstein, the country's northernmost state. In German political parlance, it's a "Jamaica coalition," because the CDU's party color of black and the FDP's yellow combine with green to form the Jamaican flag.

The only time Merkel did a coalition deal with the FDP, in 2009, it took 31 days. That's just a day longer than the 30-day speed record set by the Social Democrats under Gerhard Schroeder and the Greens in 1998 and 2002. With three sides involved, extra time may well be needed to overcome differences in areas such as taxation and defense spending, not to mention Green demands on climate-change policy.
For an interactive look at coalition options, click here
The Schleswig-Holstein deal was done in just over seven weeks, more slowly than the recent norm in the northern state -- but more quickly than it took Merkel to form both her coalitions with the Social Democrats in 2005 and 2013.

A renewed grand coalition would be likely to have a bigger parliamentary majority than a Jamaica arrangement, but it would also face a larger and more disparate opposition than in the 2013-2017 Bundestag. If the polls hold on Election Day, the returning FDP and the anti-immigration Alternative for Germany will join the Greens and the Left in parliament.
Still, Social Democrat leader Martin Schulz ruled out another deal with Merkel in an ARD television interview in June; the SPD has had a total of eight years as junior partner and has seen its support decline.
Read more on the opposition to a new coalition deal within the SPD
It took 65 days to get Merkel's first grand coalition into office in 2005. That rose to 86 days four years ago, reflecting the increasing difficulty of forming a government neither side really wants.
Even so, Germans are unlikely to take things as slowly as their western neighbors in the Netherlands, where discussions on a new four-party coalition after elections in March are likely to drag on until close to the German election, if not longer.
— With assistance by Arne Delfs
Before it's here, it's on the Bloomberg Terminal.
LEARN MORE