politics
Germany's Auto Industry Becomes a Hot Campaign Issue
By
Six weeks before election, candidates adopt sharper tone

Merkel's CDU-led bloc well ahead of SPD, according to polls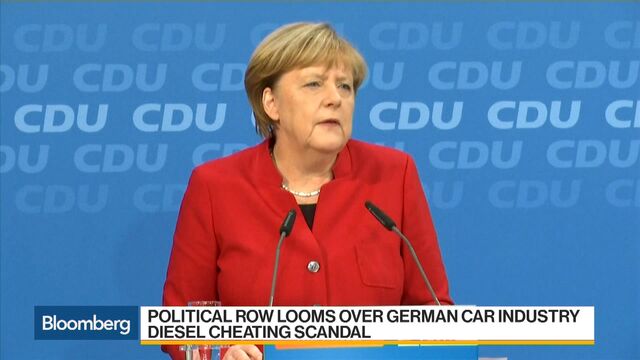 Chancellor Angela Merkel and her main challenger, Social Democrat Martin Schulz, took aim at the backbone of Germany's export economy, dressing down auto industry managers as the candidates began six weeks of campaigning before the September election.
As potential political damage looms over the diesel cheating scandal amid accusations of collusion between government and industry, Merkel and Schulz placed the blame on executives of auto titans such as Volkswagen AG and Daimler AG. At a political rally in Dortmund on Saturday, the chancellor said decision-makers had swept violations "under the carpet," while Schulz took a swipe at "irresponsible managers."
"We have a situation in which managers who make millions, at VW, at Daimler, have slept through the future," Schulz told broadcaster ZDF on Sunday. "Because of the cost savings on their balance sheets, they failed to invest in the areas where they should have."

The politicians struck the sharper tone as they entered the last phase of electioneering ahead of the Sept. 24 contest, with polls showing Merkel's Christian Democratic-led bloc well ahead of the SPD. Schulz insisted that with German voters beginning to pay attention in the final weeks, he shouldn't be ruled out as a potential chancellor.
"I think I have a good chance to lead the next government; we still have six weeks left," Schulz told ZDF.
Diesel Scandal
Merkel, 63, back in the public eye after a three-week break, during which the diesel scandal dominated headlines in Europe's largest economy, made her first of a scheduled 50 campaign rallies in the western city of Dortmund. She sounded a pro-labor message in a bastion of Social Democratic politics.
"There's a lot that still needs to be cleared up," Merkel said, responding to a drumbeat of negative news about diesel pollution and corporate misconduct. "When I say industry, I'm thinking first of all of the corporate leadership."
While Merkel made her selling point as a bastion of stability in a world upended by global crises, Schulz, the 61-year-old former president of the European Parliament, took advantage of his outside status to blast away at U.S. President Donald Trump.
Asked by a studio guest at broadcaster RTL whether he fears a nuclear war, Schulz hammered the U.S. leader, an "unpredictable personality," for his inflamed rhetoric against North Korean leader Kim Jong Un.
"I can understand this concern very well," Schulz told the guest. "What worries me is that an American president like Mr. Trump lowers himself to the level of a North Korean dictator." 
For a QuickTake Q&A on the German election, click here
Merkel's bloc maintained its lead with 38 percent support in an Emnid survey published by Bild am Sonntag newspaper. The SPD climbed a percentage point to 24 percent, the poll showed. A separate poll earlier in the week published by broadcaster ARD showed that Merkel's personal popularity had dropped 10 points to 59 percent, though still outstripped Schulz, who had a 33 percent approval rating.
Speaking at the Dortmund rally in Germany's Ruhr Valley industrial heartland, Merkel voiced support for the minimum wage, a Social Democratic initiative introduced under her coalition government with the SPD. The comments showed her ability to appropriate issues from the center-left.
Schulz burnished his own credentials with the RTL crowd, promising a man who was attacked at a subway station in Berlin that he would fund more police on the streets. He told a couple struggling to find a larger apartment that Merkel had rejected his proposal for tighter rent controls. And he offered help to an Afghan teenager threatened with deportation by the state government in Bavaria.
"In your case, I'm prepared to make contact with the Bavarian premier to see if you can get a work permit in Germany," Schulz said, referring to Horst Seehofer, a party ally of Merkel who has called for caps on migration.
BI Economics report on Germany: Economy Running Hot, Politics Cooling Off
— With assistance by Arne Delfs
Before it's here, it's on the Bloomberg Terminal.
LEARN MORE