business
Diesel Drama Fizzles as VW, Daimler, BMW Dodge Deeper Fixes
By and
Agreement seen doing little to rebuild public trust in diesel

Carmakers stick to software patches to curb emissions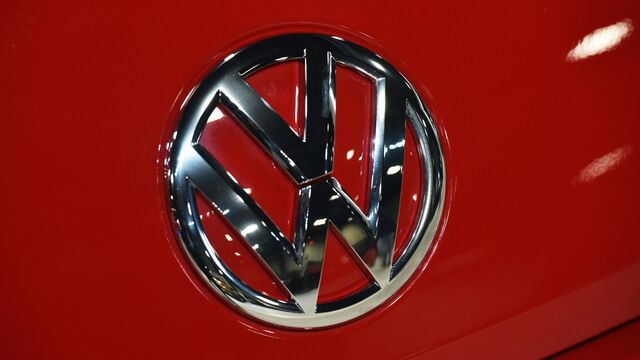 It's not every day that a gathering of German car bosses and government officials prompts Greenpeace to scale Berlin's transport ministry, forcing a change of venue. But these aren't ordinary times for an industry beset by a diesel cheating scandal that just won't quit.
In the end, the much-anticipated face-off on Wednesday fizzled. Volkswagen AG, Daimler AG and BMW AG largely reiterated pledges to upgrade 5 million cars in Germany with software to reduce harmful emissions, a comparatively easy feat at a low cost, and dodged the more expensive and complicated task of tweaking the vehicles' hardware.
The agreement offers breathing room for an industry that's relying on diesel to meet the European Union's toughening emissions standards as it steps up development of electric cars. While the outcome briefly boosted automakers' shares, it failed to cool criticism ahead of next month's federal election that Chancellor Angela Merkel's government has been too soft on the manufacturers.
"In this game, there are only losers," said Ferdinand Dudenhoeffer, director of the University of Duisburg-Essen's Center for Automotive Research, calling the agreement a placebo to remove it from the election agenda. "But the biggest loss is the credibility of the politicians," who could have made more fundamental reforms in response to the crisis, he said.
Ever since Volkswagen was caught cheating on emissions tests in the U.S. almost two years ago, Germany's carmakers have faced a widening crisis that's eroded trust in the industry and dented demand for the diesel vehicles they've long championed. The automakers' image took another blow last month from allegations they'd improperly colluded on technology for decades.

The deal hashed out in Berlin on Wednesday largely sticks to commitments the automakers had previously made. In fact, about half the recalls have already been carried out as part of Volkswagen's response to its cheating scandal. The agreement also includes automaker participation in a fund to promote sustainable transport in cities.
"What the agreement doesn't do is restore consumer confidence in diesel engines," said Arndt Ellinghorst, a London-based analyst with Evercore ISI. Two years into the scandal, "consumers rightly demand new technologies."
The meeting followed a steady drumbeat of negative news about diesel pollution and steps by cities -- including Stuttgart, the home of Mercedes-Benz -- to ban diesel cars. The manufacturers agreed to absorb the costs of the upgrades, which they said wouldn't diminish performance, fuel usage or durability.
The aim of the fixes, which also involve vehicles from PSA Group's Opel brand, is to cut emissions of smog-inducing nitrogen oxides by 25 percent to 30 percent on average, the German auto industry lobby VDA said in a statement. The bulk of the costs to carmakers will come from incentives for scrapping older models. While overall details were unavailable, BMW outlined plans to offer 2,000-euro ($2,375) trade-in bonuses.

"Our goal is to improve diesel rather than ban it," Daimler Chief Executive Officer Dieter Zetsche said in a statement. "As long as e-cars still have a small market share, optimizing diesel is the most effective lever to reach climate targets in road transport."
Unsatisfactory Result
The agreement did not satisfy a number of the summit participants, including Environment Minister Barbara Hendricks, who expressed her displeasure at the press conference afterward. Hendricks remains convinced that more expensive hardware fixes are necessary to significantly reduce smog in German cities and will push for such measures in upcoming negotiations on the matter, according to a person familiar with her thinking, who asked not to be identified discussing private deliberations. Hendricks is a Social Democrat, Merkel's junior coalition partner.
Dealing with the crisis has been a balancing act in Germany, where every fifth job depends on the industry. Last year, some 46 percent of the autos sold in the country had a diesel engine. The turmoil comes at a difficult time for automakers that are already struggling with the switch to electric cars while also ramping up development of self-driving vehicles and facing a host of new challengers, from Tesla Inc. to Apple Inc.
Diesel was once the calling card of German auto-engineering prowess, with the industry boasting about the technology offering more power while emitting about 15 percent less carbon dioxide than equivalent gasoline engines. German politicians in turn backed diesel for decades with tax incentives that make the fuel cheaper at the pump. That all started unraveling in September 2015, following Volkswagen's admission that it duped regulators and consumers for years with diesels rigged to cheat on emissions tests.
Click here to read why it seems like open season on car companies
"We're in a very tough spot here, and it's the car industry that's responsible for this," Stephan Weil, the prime minister of Lower Saxony and a VW supervisory board member, said in an interview with N24 television in Berlin. "There are numerous unresolved questions, but what must be avoided at all cost is a driving ban for large parts of the German car fleet."
The chummy relationship between the industry and German politicians has also come under scrutiny. Critics question why it's taken Transport Minister Alexander Dobrindt, a member of the Bavarian sister party to Merkel's Christian Democratic Union, nearly two years to take decisive action after U.S. authorities exposed the cheating. While American consumers received generous compensation payments from the automaker, affected owners in Europe are only offered fixes.
— With assistance by Brian Parkin
(
Updates with environment ministry in 11th paragraph.
)
Before it's here, it's on the Bloomberg Terminal.
LEARN MORE