markets
Junk Bonds Slump as Morgan Stanley Sees a Bigger Unwind Ahead
By and
Investors demand most in a month to buy high-yield debt

'Decent case for markets to struggle' in coming months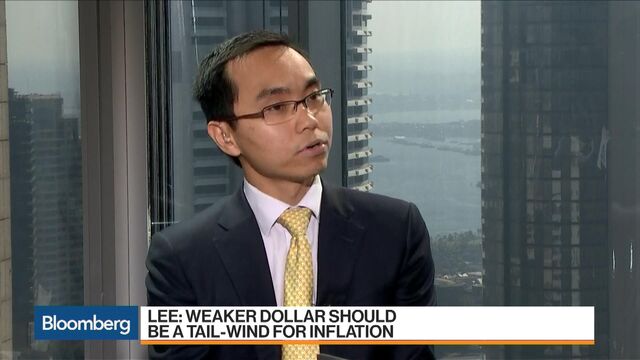 It could be the beginning of the end for an 18-month rally in junk bonds.
A high-yield bond fund run by BlackRock Inc. slumped on Thursday to its lowest level since March, a day after Morgan Stanley warned a correction may already be underway. The cost of protecting speculative-grade bonds against default in the credit-default swap market climbed to its highest level since July 6. Investors demanded the most extra yield in almost a month to buy junk debt, according to a Bloomberg Barclays index fixed late Wednesday.
Morgan Stanley added its voice to a growing chorus of skepticism surrounding debt valuations, with Pacific Investment Management Co. writing in a report released Wednesday that investors should pare relatively expensive assets like corporate bonds in favor of safer investments like Treasuries. Echoing that view, T. Rowe Price Group Inc.'s Sebastien Page, head of asset allocation, said "everything is expensive."
Investors haven't abandoned the junk market altogether -- Tesla Inc. will probably pay lower-than-average yields on $1.5 billion of bonds it's selling now. But that kind of enthusiasm for speculative-grade securities may get increasingly rare, Morgan Stanley analysts said. 
"This softness has a good chance of turning into a legitimate correction," strategists led by Adam Richmond wrote in their note. "Complacency is too elevated."

Buyers of speculative-grade debt underestimate how much pressure the U.S. central bank will put on the securities by removing the monetary stimulus known as quantitative easing, the analysts wrote.
Junk-bond investors now receive an average of about 3.7 percentage points more yield than Treasuries, up 0.16 percentage point since Friday and heading toward the biggest weekly increase since April, according to Bloomberg Barclays index data. That's still well below the average for the last five years of 4.7 percentage points.
PetSmart Drops
An index of credit-default swaps on 100 non-investment-grade entities jumped to 344 basis points as of 4 p.m. in New York. The iShares iBoxx $ High Yield Corporate Bond fund, the largest exchange-traded fund focused on junk debt, fell a fourth day. Investors pulled almost $200 million from the $19.2 billion fund on Wednesday.
PetSmart Inc. high-yield bonds with an 8.9 percent coupon maturing in 2025 that were issued just a few months ago fell 3 cents on the dollar to 88 cents, their lowest-ever price, after the pet-store chain's chief executive stepped down, according to Trace, the bond-price reporting system of the Financial Industry Regulatory Authority.
Investment-grade corporate bonds are weakening as well. The average risk premiums for the securities were 1.09 percentage point on Wednesday, up 0.03 percentage point from the day before and 0.07 percentage point from the end of last month, Bloomberg Barclays index data show.
Even amid this difficulty, investors are still piling into Tesla's new junk bonds. The notes, maturing in eight years, will probably yield somewhere around 5.25 percent, lower than the average for similarly rated securities, even though Tesla's operations generated negative cash flow for nine of the last 10 years, according to data compiled by Bloomberg.
But the high-yield debt market is underestimating the headwind from the end of quantitative easing, especially when the Fed is also increasing interest rates, the Morgan Stanley strategists wrote. The Federal Reserve said in July that it plans "relatively soon" to reduce stimulus in part by allowing its portfolio of Treasuries and mortgage bonds to start running off.
Investors should consider betting against the high-yield bond market using total return swaps, which remains "our favorite short," the strategists said.
(
Updates with investment-grade securities in 10th paragraph.
)
Before it's here, it's on the Bloomberg Terminal.
LEARN MORE