Remarks
Can Xi Jinping Defuse China's Debt Bomb?
With almost $29 trillion in overall debt, Beijing must come up with a Great Deleveraging.
Kevin Hamlin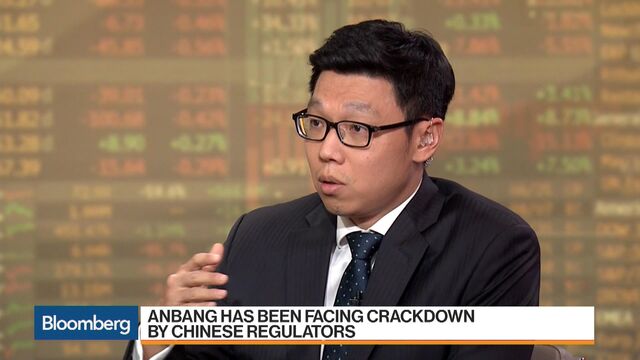 For the past couple of years, Chinese companies roamed the world in an unprecedented $343 billion cross-border takeover spree. Among the splashiest deals: Dalian Wanda Group, whose founder, Wang Jianlin, is China's second-richest executive, bought Hollywood production and finance company Legendary Entertainment for $3.5 billion in 2016. Anbang Insurance Group bought the Waldorf Astoria. Fosun International Ltd. purchased Club Méditerranée SA and Cirque du Soleil. But as the binge seemed ready to go on, China's banking regulator in June ordered lenders to scrutinize their exposure to four high-­flying private conglomerates that have announced $75 ­billion-plus in deals at home and abroad since the start of 2016: Dalian Wanda, Anbang, Fosun, and aviation and shipping giant HNA Group Co. Several major Chinese banks that helped fund HNA's global acquisitions have stopped issuing new loans to the company, according to Bloomberg News. Authorities have also asked Anbang to sell its overseas assets and repatriate the funds, people familiar with the matter tell Bloomberg News. The company says that it "at present has no plans to sell" its foreign holdings.
Chinese executives were riding an historic credit expansion that the country's financial authorities turned on after the global financial crisis—and never really turned off. Overall government, household, and corporate debt clocks in at more than $28.8 trillion, or 258 percent of gross domestic product. The biggest share, some $17 trillion, is concentrated on corporate balance sheets, particularly those of lumbering state-owned enterprises producing everything from steel to coal, construction companies, and property developers.
The longer China's credit binge continues, the greater the risk of a wrenching downturn. At some point the country will no longer be able to both roll over existing debt and fund new projects. If China can't reduce its reliance on debt, an International Monetary Fund working paper sees growth slowing from the 6.9 percent in the first half of 2017, to 5 percent by 2021. Growth could fall below 3 percent if the country experiences a financial crisis. The impact would ripple across the global economy, which last year got about a third of its expansion from China, according to Nomura Holdings Inc.
Are the restrictions on lending to the four private companies a sign the government is going to get serious about the debt problem? Similar efforts in the past have been short-lived. Since taking power in 2012, President Xi Jinping has cracked down on corruption at home and has emerged as perhaps the most powerful figure since Deng Xiaoping. Yet when it comes to the debt mess, he's been much less aggressive.
Outlines are emerging of a Great Deleveraging that might occur should Xi consolidate enough power in this autumn's expected Politburo leadership reshuffle. He's already been pushing financial regulators to address excessive ­borrowing at state-owned enterprises. China should view curbing SOE ­indebtedness as "the priority of priorities," Xi said at a ­financial policy gathering on July 14-15, and hold regional officials accountable "for a lifetime" if they fail to prevent reckless borrowing on their watch.
"We need that kind of political consolidation to push things forward," says Tao Dong, a Hong Kong-based senior adviser for private banking with Credit Suisse Group AG. He thinks the autumn Party Congress could be as consequential as the launch of Deng's reforms that opened China to the world in the late 1970s. "Almost every 15 years, China has a big turn. It is now at the doorstep of the next big turn," he says.
Tapping on the brakes just enough to postpone a debt reckoning is one option. China has tremendous financial resources at its disposal, including $3 trillion in foreign exchange reserves, should its banks or heavily indebted companies run into trouble. Then there's the $24 trillion in domestic savings that keeps the banks awash with cash, which means they don't have to borrow from overseas. Yet thoroughly vanquishing China's debt dependency would require a willingness to allow companies to fail, a fundamental shift in the way capital is raised and allocated, and an end to the fixation on annual growth targets. "Genuine deleveraging would not just mean ditching the growth target, it would mean realigning incentives through the entire economy and political apparatus," says Andrew Polk, co-founder of research firm Trivium China in Beijing.
Too much economic growth in recent years has depended on torrents of borrowed money—with debt actually growing faster than the overall economy over the past five years. And in a country where party cadres regularly rotate between top government and state enterprise jobs, there's a powerful constituency that supports borrowing and spending on big infrastructure projects. Credit is power in China. "Banks behave like old Stalinist banks: the bigger the balance sheet, the better," says Michael Spencer, chief economist and head of research for Asia Pacific at Deutsche Bank AG in Hong Kong. "Until you change the way banks function, all you are doing is solving one problem until another one is created."
The willingness to pump credit into uncompetitive enterprises has created a blight of zombie companies—which the Organization for Economic Cooperation and Development defines as "old firms that have persistent problems meeting their interest payments." Despite overcapacity in such industries as steel, coal, and cement, the government is more apt to bail out or sell a faltering company than let it vanish.
Before 2015, China's bond market experienced almost no defaults, and last year in the corporate bond market there were only 31, according to Bloomberg Intelligence. The default rate is 0.1 percent, vs. about 2 percent in the U.S. Last year, Premier Li Keqiang said China must "ruthlessly bring down the knife" on zombie enterprises in sectors with over­capacity. With the economy holding up and exports improving, Xi can afford to talk tough this year, but skeptics are waiting for results. "We need to see bankruptcies, lots of them," says Michael Every, head of financial market research at Rabobank Group in Hong Kong.
Then there's China's overheated property sector, which is now valued more highly, relative to GDP, than the U.S. housing market was at its frothy peak in 2006. With property prices rising at double-digit rates in major cities last year, speculators are flipping properties without bothering to move in. Nationwide, there are 50 million housing units that have been sold but remain unoccupied, according to research by Gan Li, an economist at Chengdu's Southwestern University of Finance and Economics. That's enough to house every man, woman, and child in Germany and France combined.
China has increased requirements for down payments and ordered banks to be more discerning about mortgage lending—to little avail. The country has for years considered imposing a property tax to curb speculation but the idea has never gained traction amid opposition from politically well-­connected interests.
China needs to continue modernizing its financial system. The government must also crack down on the $9.6 trillion shadow banking sector of unregulated financial institutions. One unintended side effect of Xi's early campaign against debt is that borrowers, especially real estate developers, have flocked to alternative forms of financing, according to Xu Gao, chief economist at China Everbright Securities Co. Off-balance-sheet lending surged by 754 billion yuan ($109 billion) in March from the previous month, according to the People's Bank of China.
Just how aggressive Xi will be in defusing the corporate debt bomb is hard to say. There's no reason China can't pull together a comprehensive set of reforms that will allow it to gradually get its debt down to manageable levels while it continues to prosper and raise living standards at home. Since the debt is financed by domestic savings—not foreign lenders—Beijing has ample wiggle room for reform. But it has to happen. The alternative is studied inaction followed by a disorderly ­deleveraging that inflicts a lot of economic pain. The Chinese stock crash in 2015 was triggered in part by regulators' belated crackdown on excessive margin borrowing.
Continuing to shovel more credit into the economy has become less effective over time and has created vast waste. Even in newer industries, where the government is spending big on subsidies and tax breaks, there is overcapacity. Does China really need more than 200 electric-vehicle makers and 800 robotics companies?
Xi has amassed enormous power in his first five years of control, even taking the unusual step of placing himself in charge of economic policy. When it comes to managing China's debt workout, much will be riding on how wisely he uses it.
Before it's here, it's on the Bloomberg Terminal.
LEARN MORE