U.S. Announces Sanctions Against 13 Venezuelan Officials
By , , and
U.S. is trying to deter Maduro from rewriting constitution

'Bad day for 13 enablers of' Maduro, Marco Rubio tweets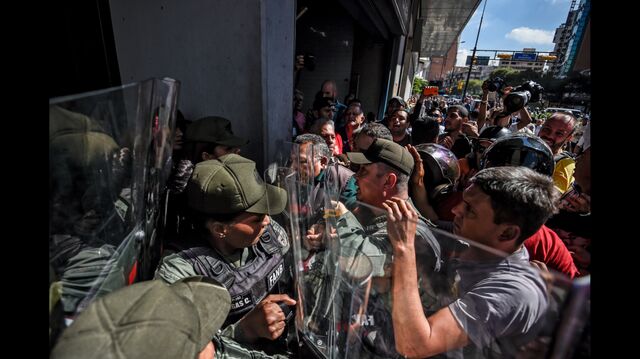 The Trump administration announced sanctions on 13 senior Venezuelan officials on Wednesday as it tries to deter the nation's president, Nicolas Maduro, from proceeding with a plan to rewrite the nation's constitution.
The move against the officials -- the third round of sanctions against Venezuelans under the Trump administration -- is one offshoot of a broader U.S. probe into corruption allegations that began several years ago and has resulted in some criminal charges.
The sanctions also are intended as a warning to other members of the Venezuelan government ahead of a planned "constituent assembly" to be chosen in an election scheduled for Sunday, said a senior administration official who briefed reporters Wednesday. Anyone who becomes a member of the assembly to draft a new constitution should know they would be at risk of financial sanctions, the official said.
Read more: Venezuela Flirts With Economic, Political Meltdown: QuickTake
The U.S. has warned it would take further action if Maduro proceeds with his plan to rewrite the constitution, which his opponents regard as a power grab by an increasingly autocratic leader. Street demonstrations have intensified as opponents demand Maduro scrap his plan for the assembly, while President Donald Trump has promised "strong and swift economic actions" if Maduro goes through with an election for a constitutional convention.
Still, the embattled Venezuelan leader so far seems unfazed by Trump's threats. "What does the United States think, that it governs the entire world?" Maduro said following Wednesday's measures. "We don't accept them and we reject them."
'Bad Day'
Other Venezuela-related measures are also in the works, according to people familiar with discussions. U.S. officials have briefed lawmakers on their plans in recent weeks, including Senator Marco Rubio of Florida.
"Today will be a bad day for 13 enablers of @NicolasMaduro effort to destroy democracy in Venezuela & more actions will follow," Rubio, a Republican, said on Twitter Wednesday morning.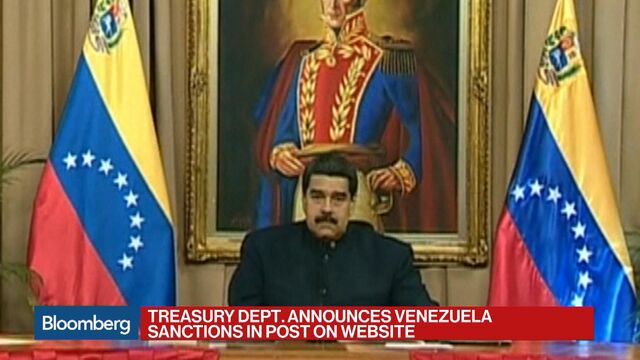 The 13 sanctioned officials, according to a release from the U.S. Treasury Department, include: Interior Minister Nestor Reverol Torres; the vice president of finance for the national oil company, Petroleos de Venezuela SA, Simon Zerpa Delgado; the general commander of the army, Jesus Suarez Chourio; Sergio Rivero Marcano, commander general of the national guard; Tibisay Lucena, president of the national electoral council; and Elias Jose Jaua and Iris Maria Varela, members of the Commission for the Constituent Assembly. The sanctions also affect current and former directors of the national police, Carlos Perez Ampueda and Franklin Garcia Duque.
Not Backing Down
Maduro insists that the officials are victims of an imperialist "assault," with the U.S. seeking to bend his crisis-torn country to its interests. In a televised address Wednesday, he honored each of his sanctioned allies with a golden replica of the sword used by Venezuela's independence hero, Simon Bolivar.
"Our revenge will be our popular victory in the constituent assembly this Sunday. Venezuela will be respected! The assembly moves forward!" Maduro said.
Trump will be presented with a wide range of potential actions to take if Maduro moves forward with the constituent assembly, and will make the final decision about new sanctions, according to the senior administration official who briefed reporters.
The U.S. regards Sunday's election of an assembly as a potential final step that could lead to the complete unraveling of democracy in Venezuela, so Trump is prepared to take significant action in response, the official said.
Ban on Crude
There is tension inside the White House about which additional measures to adopt, and whether to wait to see how Venezuela's constitutional issue plays out, according to people familiar with the discussions. That includes potentially imposing some sort of ban on crude oil imports from Venezuela, they said.
The debate among top administration officials reflects friction over the potential impact on U.S. gasoline prices and concerns about exacerbating the worsening humanitarian situation in Venezuela, said the people, who asked not to be identified discussing internal deliberations.
While the National Security Council views limiting Venezuelan crude as a powerful weapon, the State Department has argued that cutting off a major piece of the country's foreign trade could harm already suffering Venezuelans. There is significant sensitivity to the impact on Venezuelan people, one of the people said. 
Other officials have highlighted potential economic harm inside the U.S., including higher gasoline prices for motorists. Refiners have warned that any move to choke off the third-largest foreign source of U.S. oil imports -- after Canada and Saudi Arabia -- could disadvantage Gulf and East Coast refiners optimized to use Venezuelan crude and cause a spike in gasoline prices. 
The administration aims to minimize the impact of any actions on U.S. consumers and the Venezuelan people, while maximizing the impact on the Venezuelan regime, according to the official who briefed reporters.
— With assistance by Ben Bartenstein, Jennifer A Dlouhy, Toluse Olorunnipa, and Andrew Rosati
Before it's here, it's on the Bloomberg Terminal.
LEARN MORE