Trump Calls Venezuela 'Horrible' as U.S. Expands Sanctions
by and
President's comments follow meeting with Santos of Colombia

High court members join vice president on U.S. sanctions list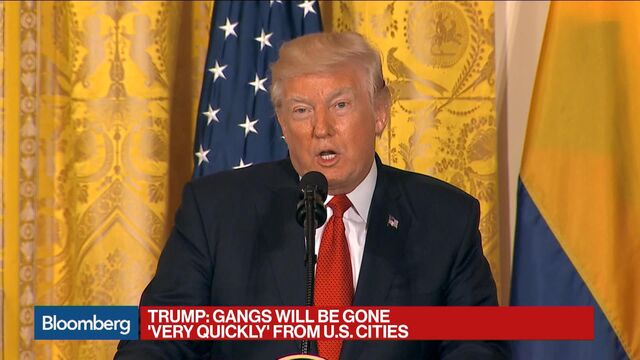 President Donald Trump labeled Venezuela's ongoing political and economic turmoil "a disgrace to humanity," as the Treasury Department slapped sanctions on members of the crisis-torn country's Supreme Court.
Trump's comments came at a news conference following his meeting at the White House with Colombian counterpart Juan Manuel Santos where the two leaders discussed the ''deteriorating situation in Venezuela."
Venezuela presents a "very, very horrible problem" for the entire hemisphere, and the ongoing unrest there that's left dozens dead and hundreds injured was "nothing like what we've seen for a long time," Trump said, adding that the U.S. stood with those "yearning to be free."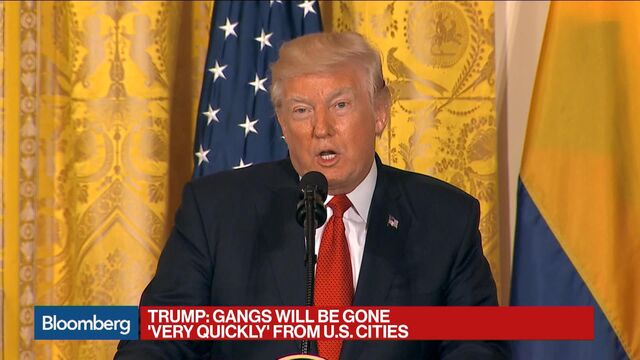 The sanctions add eight members of Venezuela's Supreme Court -- including its president, Maikel Moreno -- to the Treasury Department's Office of Foreign Assets Control list, which is reserved for countries and individuals accused of crimes such as drugs and weapons trafficking, as well as perceived threats to national security. These individuals will have their assets frozen, be blacklisted from doing business with U.S. citizens and barred from U.S. entry.
Venezuela has been in the throes of violent protests for a month and half as hundreds of thousands of citizens have taken to the streets almost daily to denounce what they say is President Nicolas Maduro's push toward dictatorship. Despite sitting on the world's largest proven oil reserves, years of mismanagement coupled with crashing commodity prices has led to triple-digit inflation and an economy that is expected to shrink for the fourth consecutive year. In a speech lasting over three hours today, Maduro made no mention of the U.S. action.
Read more: Why Venezuela May Get Its 27th Constitution: QuickTake Q&A
On Wednesday, opposition demonstrations across Venezuela were once again marred by violence. At least one man was killed in the western state of Zulia -- bringing the death toll to at least 44 -- after being run over by a truck while participating in a protest there. Additionally, over 50 people were reported injured in Caracas, where protesters attempting to march across the capital clashed with police, who fired tear gas and rubber bullets into the crowds.
The recent unrest was sparked by the Supreme Court's attempt to gut the nation's only opposition controlled institution -- the Congress -- seizing its powers and declaring the body invalid. While the move was partly rolled back amid international outcry, protests have since escalated as the opposition intensifies its demands that the ruling socialist party purge Venezuela's institutions of loyalists and convene fresh elections.
Following the Treasury Department's announcement, a senior State Department official told reporters the Maduro government was "making a mockery" of the separation of powers, and the sanctions targeted those who had "usurped" the National Assembly's powers.
U.S. Strategy
While the U.S. has so far avoided wide-ranging sanctions on the South American country or its economy, it has targeted individuals for drug trafficking and human rights violations stemming from anti-government protests in 2014. State oil company Petroleos de Venezuela SA has also seen minor sanctions over trade with Iran.
In February, Vice President Tareck El Aissami became the the highest-ranking Venezuelan hit by U.S. sanctions under the Foreign Narcotics Kingpin Designation Act for alleged ties to drug trafficking and one of the most-senior government leaders of any country listed by the Treasury Department under its various sanctions authorities.
Earlier that month, a bipartisan letter from U.S. Representative Ileana Ros-Lehtinen, Senator Bob Menendez and 32 other lawmakers called on Trump to sanction Venezuelan officials who have allegedly profited from the country's chronic food shortages.
In March 2015, former President Barack Obama expanded U.S. sanctions against Venezuelan officials and declared worsening relations with the South American nation to be a national emergency.
Before it's here, it's on the Bloomberg Terminal.
LEARN MORE