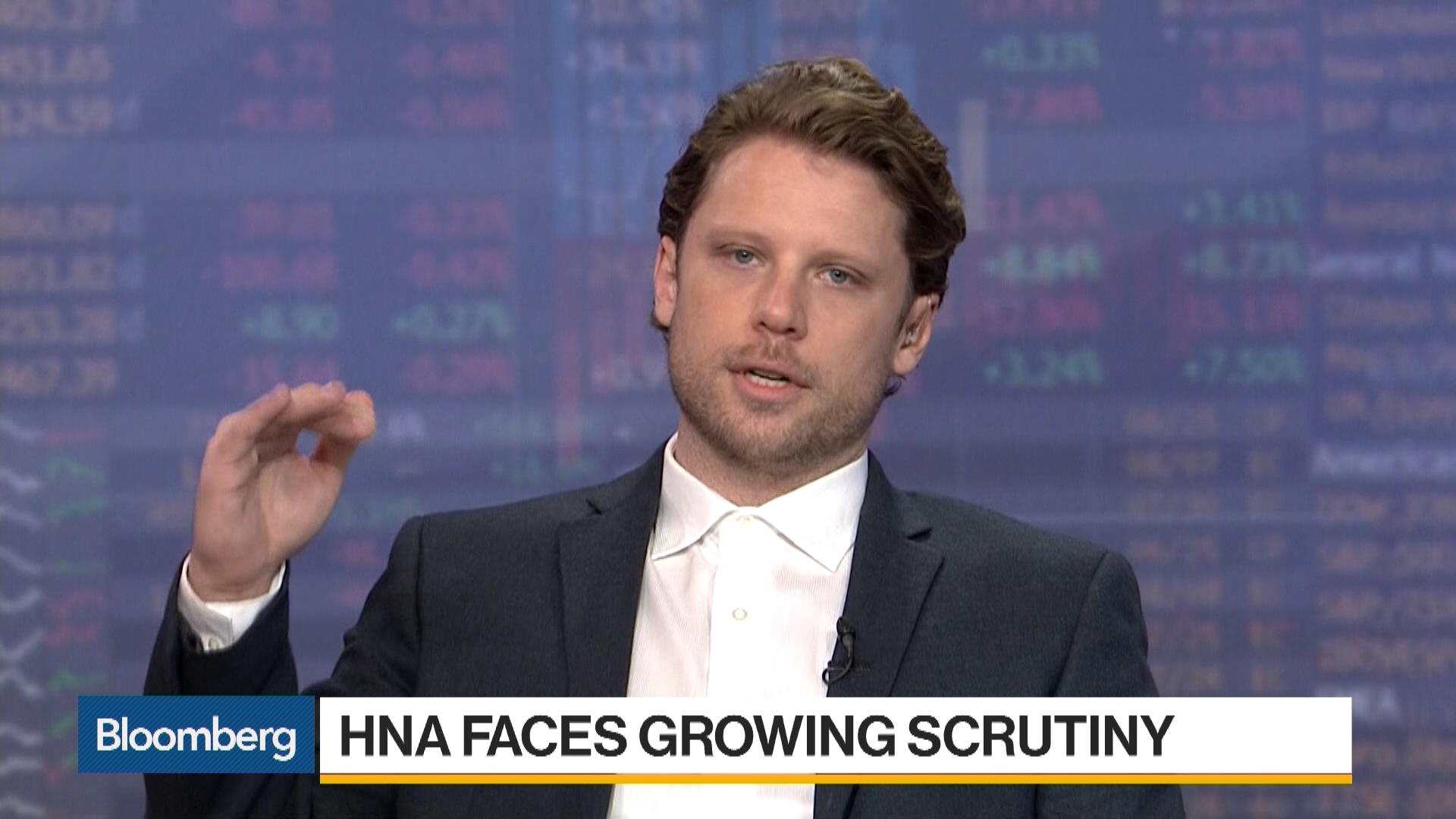 For a company regularly in the news for its frequent and wide-ranging acquisitions, China's HNA Group Co. remains shrouded in mystery. Chinese and American government officials are seeking more information about the company's ownership -- though for very different reasons -- and the European Central Bank may open a review of its own. Once a little-known airline operator, the company took on billions of dollars in debt as it made more than $40 billion of acquisitions over six continents since the start of 2016. With interests in tourism, logistics and financial services, it's now the biggest shareholder of such well-known names as Hilton Worldwide Holdings Inc. and Deutsche Bank AG.
1. Why is HNA under scrutiny in the U.S.?

In part because HNA is trying to purchase SkyBridge Capital, the hedge-fund firm of Anthony Scaramucci, who was just named White House communications director by President Donald Trump. The proposed transaction has been delayed by the Committee on Foreign Investment in the United States, which vets sales of American assets to foreign buyers to protect national security. HNA is also being probed by creditors as part of the U.S. bankruptcy of one of the companies it invested in, San Francisco-based travel agency Travana Inc.
2. Why is HNA under the spotlight in China?
The China Banking Regulatory Commission has stepped up its scrutiny of the country's most prolific overseas dealmakers, including HNA. That's part of a government campaign to slow the pace of China's overseas takeovers, which set a record in 2016 and contributed to the depreciation of the yuan. In addition to HNA, those under the microscope include Dalian Wanda Group Co., Anbang Insurance Group Co. and Fosun International Ltd. Several Chinese banks that helped fund HNA's global acquisition spree are said to be losing their appetite for financing the company -- though HNA denies that is the case.
3. What's known about HNA?
Founded in 1993 as a regional airline operator, with George Soros as an early investor, HNA says it's created 410,000 jobs worldwide and built up assets of about $150 billion. The company "fosters a corporate culture befitting both Chinese and western society" by "incorporating traditional Chinese culture and integrating Chinese socialist values with a world-class management system," according to the corporate website. The company has been in the news because of its various acquisitions, questions about its true ownership, and because Guo Wengui, a fugitive tycoon sought by the authorities, made allegations of secret ties to Communist Party officials. HNA denied those claims and sued Guo in New York for libel.
4. So who does own HNA?

On July 24, HNA disclosed that it's controlled by two company-connected charities named Cihang -- one based in New York and the other in China's resort island of Hainan -- that together own 52 percent, with 12 company officials, including founders Chen Feng and Wang Jian, holding about 47.5 percent. Prior to that, a little-known investor named Guan Jun had been HNA's biggest shareholder, with a 29 percent stake, according to Chinese corporate filings late last year. He was holding it on behalf of the company and its leadership, Bloomberg News reported. That changed earlier this year, when HNA reorganized its ownership structure and Guan distributed most of his holdings to five individuals, who then donated the shares to HNA's Cihang foundation, Bloomberg News reported. Guan donated his remaining stake, about 4.4 percent, to the charity as well.
5. Did that settle the matter?
Hardly. Among the biggest remaining mysteries: Why did HNA executives park their shares with Guan in the first place? Who's in charge of the charities? And what to make of the unproven allegations from Guo, shared on social media from his exile in New York, that seek to tie HNA's acquisitions to corruption among Chinese leaders and their family members?
6. What's known about the charities?
Little about how they are are managed, or how votes related to its shareholdings are cast. Hainan Cihang Charity Foundation Inc. was formed in New York in December, according to a filing with the New York Secretary of State. The charity holds 29.5 percent of HNA and its office is at 850 Third Avenue in Manhattan, a property HNA purchased in a 2016 joint venture, data from Real Capital Analytics show. One of its recent charitable donations was to Harvard University, in support of a new innovation workshop at the John A. Paulson School of Engineering and Applied Sciences. In China, Hainan Province Cihang Foundation, was founded in October 2010, holds a 22.75 percent stake in HNA. The foundation's website says it's a nonprofit charity that "cultivates projects in various fields such as educational aids, supporting the poor and helping the underprivileged, fighting earthquake and relieving disaster, cultural promotion, medical rescue, green EP, and scientific innovation."
The Reference Shelf
Before it's here, it's on the Bloomberg Terminal.
LEARN MORE