business
HNA Group's Dealings With U.S. Travel Startup to Be Probed
By
Travana's former executives accused HNA of destroying finances

Investigation called a 'hijacking' to aid other lawsuits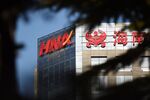 Chinese conglomerate HNA Group Co., already under scrutiny from local regulators, will also be probed as part of the U.S. bankruptcy of one of the companies it invested in.
HNA Group's dealings with San Francisco-based travel agency Travana Inc. will be investigated under bankruptcy law, which gives creditors the right to depose witnesses and seek internal records. U.S. Bankruptcy Judge Hannah L. Blumenstiel approved the request in San Francisco court on Thursday over objections from the company's board.
"We think this is a sideshow, a hijacking" of the bankruptcy, Daniel Lanigan, a lawyer for Travana's board, said in the court hearing.
HNA, once an airline operator, has taken on billions of debt from China's banks as it has made more than $40 billion of acquisitions over six continents, using billions in pledged shares as collateral. It has bought up large stakes in Hilton Worldwide Holdings Inc., Deutsche Bank AG, and most recently one of Brazil's busiest airports.
Scrutiny In China
The relationship between HNA and Travana is already said to be under scrutiny from China's banking regulator, as it tries to gauge how much risk the country's banks face from lending funds to it and other top deal-makers. The European Central Bank is also said to be considering a review of HNA for its stake in Frankfurt-based Deutsche Bank.
Earlier Thursday, Bank of America Corp. was said to halt transactions with HNA amid concerns about the conglomerate's debt levels and ownership structures.
A group of former Travana executives brought the probe request in bankruptcy court, saying the online travel agency may have significant claims against HNA, which holds 90 percent of its shares. They sought testimony and documents from Shi Lei, who they say was appointed to oversee HNA's investment in Travana and named president, and has a close relationship with Adam Tan, HNA Group's chief executive. They alleged that the HNA executive overseeing the company decided to stop Travana from marketing activity and deny it from seeking funding, and said they wanted more information.
"It was not an ordinary business closure. The insolvency of Travana was entirely within the control of HNA, and accordingly, designed and directed by HNA for the benefit of HNA," Travana's former executives said in court papers.
HNA's board objected, saying a Chapter 7 trustee overseeing the bankruptcy should be the one seeking the information.
An HNA spokesman said on Friday that the claims by former Travana executives are "riddled with hyperbole."
"Following a thorough investigation, the HNA Group board decided that Travana management was unable to deliver a viable sustainable business model and that closing down the company was the most responsible step. Naturally, Travana employees are disappointed – as is HNA – but the decision to close the company was made after careful consideration," he said in an emailed statement.
Blumenstiel said she will review subpoenas to make sure they're appropriately narrow, after saying some of the executives' request contained "hyperbole."
The case is In re Travana Inc., 17-30373, United States Bankruptcy Court, Northern District of California (San Francisco.)
(
Updates with HNA comment beginning in 10th paragraph.
)
Before it's here, it's on the Bloomberg Terminal.
LEARN MORE