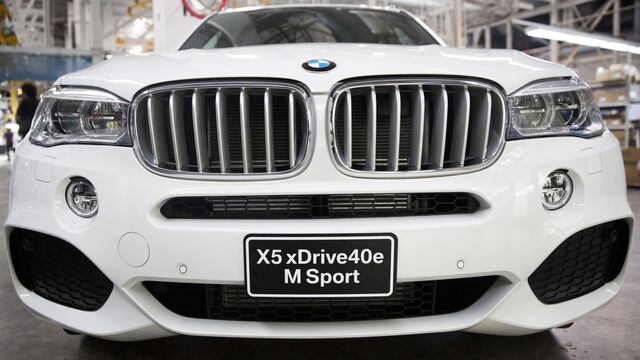 German carmakers' shares have dropped on reports they're being probed by European Union and German antitrust regulators for colluding on technology for more than two decades. Volkswagen AG, BMW AG and Daimler AG worked together on a wide range of technology including discussing the size of tanks for AdBlue, a liquid that purges diesel fuel of exhaust emissions, according to Der Spiegel. BMW has denied the charges, while the other car companies have declined to comment.
1. What did they do?

The allegation is that discussions between the car rivals dating back to the 1990s that were supposedly forums for thrashing out technical standards turned into sessions for fixing prices. More than 200 carmaker employees participated in 60 working groups in areas including auto development, gasoline and diesel motors, brakes and transmissions, Der Spiegel said. Daimler chose to avoid "especially problematic" meetings with competitors after revelations of a truck cartel in 2011, Sueddeutsche Zeitung reported, citing unidentified people familiar with the matter.
2. What's allowed and what's not?
It's not a simple question. Swapping information can breach antitrust law if the companies reveal their future strategies to each other or discuss how much they plan to pay for components or sell final products for, said Angus MacCulloch, a senior law lecturer at Lancaster University. Such cases are rare and it can be hard to decide where the line is and whether the talks have gone too far. "Technical exchanges are seen as less likely to determine future conduct," he said. "It's really the intention of the companies, how they see that information being used, that will decide whether it's problematic."
3. Who got hurt?
That's not clear. According to BMW, nobody. But if it's shown that the companies did in fact collude to squeeze lower prices from suppliers, those parts manufacturers lost potential sales revenue. A customer who is forced to pay too much for a product can sue for compensation. There's no redress for suppliers who were forced to sell something more cheaply than they liked. That might be a familiar situation to some of them -- a number of European, Asian and American auto-part suppliers have been fined for a flood of cases in which they overcharged car manufacturers.
4. What do the carmakers say?
BMW said automakers' talks focused on creating an AdBlue tanking infrastructure in Europe to help customers refill cars with the liquid that helps remove nitrogen oxide from exhaust emissions. BMW said that its own diesel cars use little AdBlue and don't need a large tank. Daimler Chief Executive Officer Dieter Zetsche declined to comment during a reporters call on earnings Wednesday. Volkswagen, which publishes second-quarter results on Thursday, has also declined to comment.

5. What does this mean for the German car industry?
Possibly a black eye on top of a black eye. The industry was battered after Volkswagen admitted two years ago that some of its cars were fitted with software that allowed it to cheat on emissions tests. Germany's justice minister has said the firms have to understand that what's at stake is "the global trust in the entire German car manufacturing industry" and hundreds of thousands of jobs.
6. How much is this going to cost them?

It's too soon to say. But it could run into the billions of euros if regulators find, or are given, evidence that sticks. The EU imposes high fines "to punish and to deter" companies that collude. Truckmakers -- including Daimler -- were fined a record 2.93 billion euros ($3.41 billion) last year for fixing prices for 14 years. Germany imposed 338 million euros in fines on sausage producers in 2014. Penalties are calculated on sales in the market where the cartel was active, multiplied by how many years it lasted and increased for repeat offenders. The U.S. Justice Department is also examining the German carmakers' potential collusion issue, though it hasn't opened a formal inquiry yet. That would be a criminal probe that could lead to high penalties and jail sentences.
7. How long is this going to take?
It could be years. EU cartel probes take more than four years on average, according to one study. They usually start with a surprise dawn raid by officials from the EU and a country's antitrust authority to collect documents from company offices. Germany's Federal Cartel Office said it searched six carmakers and suppliers last year as part of a possible probe into a steel cartel. A fine doesn't end the legal wrangling. Companies can appeal any fines and must fight compensation lawsuits from angry customers and suppliers.

8. Who's in charge?
While both the European Commission and German antitrust regulators said they received information on the case, the EU authority said it's currently assessing it. The EU usually tackles cartels that operate across several countries while the German authority focuses on offenses that took place within its borders.
9. What about whistle-blowers?
Firms who are the first to own up about a cartel can be eligible for a full reduction on any EU fines. There are discounts for other companies that help regulators with the probe or who agree to settle the case, which means they can't appeal to the EU courts. Daimler may escape fines because it appears to have beaten Volkswagen to blowing the whistle, according to Sueddeutsche Zeitung. 
The Reference Shelf
— With assistance by John O'Neil
Before it's here, it's on the Bloomberg Terminal.
LEARN MORE