VW, Daimler Workers Push for Carmaker Clarity on Collusion
By
EU, German regulators probe carmakers' technology talks

BMW denies its diesel technology involves emissions cheating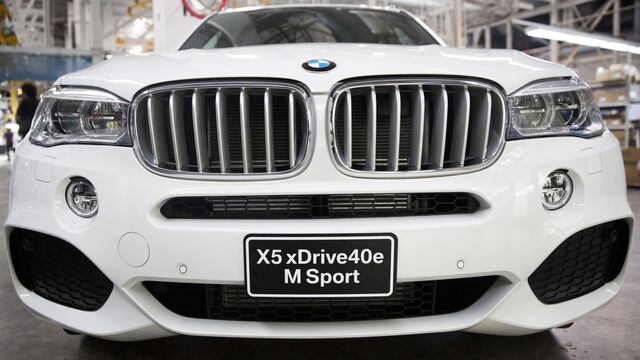 Germany's carmakers are under pressure from their employees to come clean on allegations the companies colluded on technology for decades, as investors continued to sell the stocks on concern the industry faces another major scandal following the diesel emissions crisis.
Prodded by labor leaders, Volkswagen AG Chairman Hans Dieter Poetsch is convening a special supervisory board meeting on Wednesday "given the current situation," Michael Brendel, a spokesman at the Wolfsburg-based manufacturer, said Monday in an email. Daimler AG's "workers are rightly horrified and angry" by antitrust allegations that came to light last week, and "there must obviously be consequences" if they're confirmed, Michael Brecht, head of that company's works council, said separately.
Shares of Volkswagen, Daimler and BMW AG have fallen at least 5.5 percent since Spiegel magazine reported Friday that the carmakers had held talks since the 1990s on coordinating technology, including for combustion engines, emissions systems, brakes and transmissions. In conjunction with Germany's regulator, the European Union's antitrust overseer said Saturday that it's studying possible collusion among auto manufacturers.
Worker representatives are a powerful presence on major German companies' supervisory boards, holding half of the seats, and Volkswagen's meeting was prompted by a demand for an extraordinary session from labor representatives.
Management 'Duty'
"Management has the duty to thoroughly inform the supervisory board. That hasn't happened yet," the Volkswagen works council said in a statement. "We also expect the management board to give an explanation to the workforce. Trust in company leadership is dwindling more each day." Its counterpart at Munich-based BMW said separately that it "expects to be informed of the situation promptly."
Stuttgart-based Daimler doesn't plan to hold a special meeting, said Ute Wuest von Vellberg, a spokeswoman. The company is due to report its quarterly results June 26, and Volkswagen publishes figures a day later. Boards usually convene shortly before those numbers are released to give final approval to the reports.
"I advise the car industry to clear the air now, to say what has happened, and then we can look to the future together again," Volker Kauder, caucus leader of German Chancellor Angela Merkel's Christian Democrat-led bloc in parliament, said Monday on ARD television. "If the antitrust violations were to prove true -- and there's a lot to suggest that -- then one must really say the clear sentence: the rule of law also applies to the car industry."
Daimler shares fell 3.5 percent as of 5:02 p.m. in Frankfurt to the lowest price in almost a year. BMW was trading down 3.1 percent at the lowest since November. Volkswagen declined 1.8 percent.
Lobby's Concern
A spokeswoman at German financial watchdog Bafin said Monday that it's looking at whether the industry followed market-moving announcement rules in the matter, confirming a report in WirtschaftsWoche magazine. The German carmakers association VDA said it's very concerned about the allegations. The lobby group called in a statement for a thorough investigation to determine whether carmakers had engaged in standardization and definition of norms, which generally aren't considered illegal or harmful, or had crossed into collusion at the expense of consumers or competition.
The antitrust allegations emerged a little less than two years after Volkswagen's revelation that it rigged diesel engines to cheat on emissions tests, an admission that has prompted governments to scrutinize the entire industry's technology. BMW sought on Sunday to defuse concerns about possible collusion as well as allegations of manipulating diesel emissions by downplaying the talks with rivals as being focused on promoting exhaust-treatment technology in Europe.
"In the aftermath of the diesel scandal, illicit collusion would be a catastrophe for the credibility of the German auto industry," said Stefan Bratzel, director of the Center of Automotive Management in Bergisch Gladbach, Germany. A potential cartel could lead to billions of euros in fines and compounds challenges for industry already facing threats from the shift to self-driving electric cars.
Before it's here, it's on the Bloomberg Terminal.
LEARN MORE