Demand for Space Travel Is Out of This World
Five of the most interesting ideas of the week, and the stories behind them.
By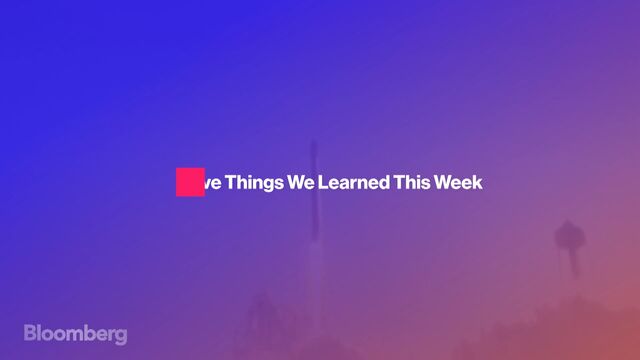 1) Space Flights Could Launch Next Year
Pack your bags. Richard Branson, the billionaire founder of Virgin Group, says his goal is to get commercial passenger flights into space by the end of 2018. Branson told Bloomberg News that he's gearing up again toward getting non-astronauts like you and me into space. A fatal crash in 2014 killed co-pilot Michael Alsbury and put the mission on hold. That hasn't scared people off, Branson says. Far from it. "We will never be able to build enough spaceships," he said. "The demand is enormous." He's competing with fellow billionaires Jeff Bezos and Elon Musk, both of whom have their own rocket companies. "There is definitely the demand for all three," Branson said.
2) The U.S. Is No Longer Leader of the Free World
And maybe that's just fine with President Donald Trump, who ran on isolationism and has since championed the need to think about America before anyone else. (Pittsburgh, not Paris!) Such rhetoric pushed China and Germany closer together at the Group of 20 meeting, which is taking place over the next two days in Hamburg. Diplomats and officials involved in the massive affair say the two countries are working closely on the meeting's agenda. "The two most important leaders in the world are President Xi [Jinping] and Chancellor [Angela] Merkel at the moment," said Diego Ramiro Guelar, ambassador to Beijing for G-20 member Argentina. Even former President Barack Obama took a jab at Trump on leadership. While in Indonesia, he described the Paris climate deal as "an agreement that even with the temporary absence of American leadership will still give our children a fighting chance."
3) The Motorcycle Industry Is Dying
Motorcycle makers are giving up the whole hog. Companies are throwing their efforts into bikes designed for new riders who aren't enamored with classic, massive Harleys. Sales plummeted after the 2008 financial crisis and haven't recovered. The industry is trying to pivot to a younger audience, because most of its current customers are aging—fast. They're doing that by focusing on smaller, lighter bikes. For example, Harley-Davidson's Street 500 costs about $7,000, has an engine that's around 500cc—roughly half the size of some of Harley's most popular models. Kawasaki's Ninja 300 is about $5,000 and is smaller than its well-known standard model. "If all goes as planned, these little rigs will help companies like Harley-Davidson coast for another 50 years," Bloomberg's Kyle Stock reports. 

4) Inside the Massive Gender Pay Gap in Trump's White House
Women don't make as much as men in the Trump White House, according to salary data released by the administration. But a White House official said that's because they are doing different jobs; more men have been hired in senior positions. Sixteen men and six women in the White House earn the top salary of $179,700. In comparison, men in the Obama administration made up 56 percent of the top-paid roles. Comparing like-for-like positions, the numbers go back and forth, said the official, who spoke on condition of anonymity. Female assistants to the president make an average of $664 more than male ones. Male deputy assistants, the second-highest rank, earn $4,603 more than their female counterparts.
5) We Are All Drinking too Much
Especially Europeans. A group of gastroenterology experts issued a warning this week that we're ignoring the cancer risks that come from even moderate consumption, considered about two drinks a day. Worldwide, the heaviest boozers are Europeans, who have from one to four drinks a day, according to a report from United European Gastroenterology, a nonprofit coalition of specialists. That increases the risk of colorectal and esophageal cancers, the group said. "This epidemiological evidence is clear about the association," said Professor Helena Cortez-Pinto, a gastroenterologist at Hospital Universitário de Santa Maria in Lisbon.

Before it's here, it's on the Bloomberg Terminal.
LEARN MORE