Photographer: Kevin Lee/Bloomberg
markets
China Rewrites Rulebook on Capital Flows After Crisis Lessons
Bloomberg News
'Asymmetric' capital opening encourages inflows, not outflows

Approach will probably continue in coming years, Nomura says
Since global capital was set free following the end of the Bretton Woods system in the 1970s, countries have struggled to tame the consequences of unbridled money flows without walling off their economies.
Now China is trying to crack that code by essentially establishing two separate checkpoints for flows: one for foreigners and one for residents. It's a big difference from the all-in capital-account liberalization that rich nations began embracing four decades ago and which later badly tripped up emerging markets -- as in the Asian financial crisis in the late 1990s.
China's thinking is seen most clearly in the bond connect that opened July 3, which lets global investors buy Chinese bonds through Hong Kong, but as yet bars Chinese from buying in Hong Kong's market. The Communist Party leadership has similarly taken a number of other steps to open markets to foreign participation, while steadily tightening supervision of what domestic actors can do to take money abroad.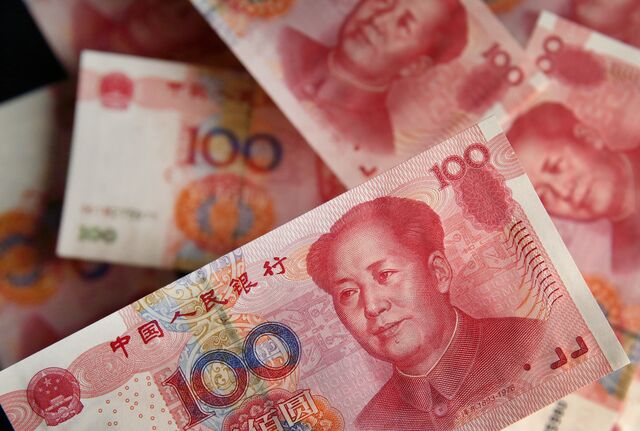 "China has been encouraging capital inflows but not really encouraging outflows -- fundamentally it's a direction that policy makers in China would like to see," said Chi Lo, senior economist for Greater China at BNP Paribas SA in Hong Kong. He said there's no precedent for such an "asymmetric capital account opening."
The immediate benefit of the lop-sided approach is avoiding the kind of sudden capital outflows that hobbled the likes of Mexico and Thailand in the 1990s or Brazil in the 2000s. What's less clear is whether foreign investors will be comfortable enough with the arrangement to plow in portfolio investment commensurate with China's economic importance. And without steady inflows, pressure may remain on the yuan to depreciate.

The approach under President Xi Jinping has only become clear over the past year or so, after policy makers previously followed a course of gradual opening on both sides of the account. The country had stepped up reform in the middle of the last decade, when it ended a 10-year fixed peg to the dollar in 2005, then in 2006 gave permission to households to take as much as $50,000 a year abroad, more than double the previous limit.
In the wake of the 2007-2009 crisis that exposed the dangers of the global financial system's reliance on the dollar, China began elevating the role of its own currency. It pushed the establishment of offshore yuan trading centers. Officials widened the band for the yuan's fluctuation against the dollar. By 2012, HSBC Holdings Plc analysts were predicting full convertibility for the yuan by 2017.
New Assumptions
Things went wrong in 2015, ironically just as China was securing International Monetary Fund approval for the yuan's designation as an official reserve currency. In its efforts to reduce links between the yuan and the dollar, policy makers contributed to a sea-change in investors' longer-term expectations for the currency.
While an inexorable strengthening in the yuan had for years been the assumption -- much like the yen's decades of appreciation -- expectations were turned on their head. The new narrative was that with the Federal Reserve set to kick off a U.S. monetary tightening cycle, and estimates of more than $2 trillion worth of pent up money in China looking to diversify abroad, the yuan faced years of decline.
"The outflow pressure is very real," says Zhao Yang, chief China economist at Nomura Holdings Inc. in Hong Kong. The new one-way capital flow strategy that started in 2016 will remain for years to come, and "China doesn't want hot money."
Single Party
While countries like Japan faced strong post-Bretton Woods pressures that prompted them to dismantle capital regulations, China's single-party government has demonstrated the ability to maintain controls over a wide range of areas across both the economy and society.
Some put the measures China's taken to curb capital outflows since late 2015 down to a long-standing pattern of two-steps-forward, one-step-back liberalization, and predict that policy makers will again embrace outflows as they did last decade.
There's no evidence of that now, however, with China's banking regulator recently looking into the financing of overseas acquisitions by private domestic companies.
Read why China is scrutinizing its biggest dealmakers
While China has emphasized that foreign investors who put money in the country won't have trouble withdrawing, capital controls give some pause. And while years ago economists projected as much as $1 trillion of foreign funds pouring into China's bond market over a five-year period, estimates have been scaled back now.
Read More: As China's Doors Open, Foreign Investors Worry About Exits
China ultimately must embrace two-way liberalization, according to George Wu, a veteran monetary-policy official who left the central bank in 2016 after 12 years.
"In the long run, as China is already a middle-income country, and residents as well as companies have strong incentives to diversify their assets globally, the controls will hamper the economy's long-term growth and vitality," said Wu, now chief economist at Huarong Securities Co. in Beijing.
The Reference Shelf:
Inbound financial channels:
Outbound financial channels:
— With assistance by Chris Anstey, and Xiaoqing Pi
Before it's here, it's on the Bloomberg Terminal.
LEARN MORE