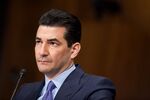 The new FDA commissioner's tough tone on drug pricing isn't just bluff.
In an effort to call attention to drugs that could stand a little price-lowering competition, FDA chief Scott Gottlieb this week released a list of hundreds of medicines that don't have market rivals, including old drugs without patent protection that still have no generic alternatives.  
On the list are several drugs for which prices have been raised aggressively by such companies as Valeant Pharmaceuticals International Inc., even though the drugs are many years old.
The hope is that identifying these medicines -- and introducing a new policy to expedite review of cheaper generic copies of some dominant drugs -- will encourage rivals to join the market. That could help lower prices and make jacking up the prices of old medicines more difficult. 
Shares of specialty pharma firms that focus on such drugs mostly shrugged at the news this week. They shouldn't be so nonchalant. 

The list can't be read entirely as a rogue's gallery of medicines with outrageous price increases. Colgate Total -- a fine toothpaste not associated with price-gouging -- is on the list. So are an array of IV fluids. But there are plenty of medicines the FDA is targeting for a reason. 
The FDA split the list into two parts: one for drugs most likely to get fast-tracked generic competition and a second for drugs that might have some legal, regulatory or scientific reason that may make it tougher for a rival to get on the market. In both cases, though, the FDA hopes to eventually get some competitors to the market.  
The chart below shows the companies with the most drugs on part one of the list, which are suddenly more vulnerable to competition. The chart excludes Pfizer Inc.'s Hospira, ICU Medical Inc., Baxter International Inc., and B Braun Medical because they have a large number of entries (such as the aforementioned IV varieties) that aren't generally subject to big price hikes. Controversial specialty pharma firms Valeant Pharmaceuticals International Inc. and Mylan NV are near the top of the ranking -- behind pharma giants Pfizer and Novartis AG. 

Pfizer and Novartis can afford competition on some older products. But Mylan's specialty division is stumbling in the face of scrutiny of its Epi-Pen price hikes, and the firm's generic business is already seeing lower prices.
Meanwhile, many of Valeant's well-documented troubles have come from competitive pressure for its older medicines and the backlash over its infamously large price hikes. That pressure will only increase. Along with the eight medicines on part one of the list, Valeant has seven more on part two. 
To take one glaring example, Valeant has raised the cost of its rare genetic-disorder drug Cuprimine from $6,000 for a prescription to more than $26,000. That drug is now in part one of the FDA's low-competition list. Cuprimine and two other drugs on part one of the list accounted for more than $300 million in sales for Valeant in 2016. Those sales could soon be threatened. 

In a list of more than 300 drugs with an outsize Valeant and Martin Shkreli presence 1 there are bound to be other examples of predatory pricing. The high-cost drugs most vulnerable to competition are now more visible to other drugmakers.
These medicines might once have been acquisition targets for an opportunistic price-hiker. Now they have a target on their back for other drugmakers to come snatch any excess margin. The FDA will update the list every six months, and companies will be watching for the chance to seek approval for rival drugs. 
There are still questions about whether FDA staff can handle a wave of applications. Some firms may not be willing to chase the small markets for some of the drugs on the list. And then there's the matter of whether they can successfully make rival drugs.
But the potential for rapid FDA approval, a juicy target list, and the potential PR boost of sticking it to price-hikers combine to form a powerful incentive to act.
The list is also a statement of intent for Gottlieb, who so far is the only member of the Trump administration to actually follow through on the president's aggressive (but recently softened) drug-pricing rhetoric.
The FDA's press release says this is just the first in a series of steps the agency will take to curb prices. Drugmakers with a past-prime portfolio of medicines need to start worrying about what's coming next.
Before it's here, it's on the Bloomberg Terminal.
LEARN MORE