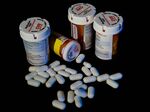 After repeatedly sounding off on prescription-drug prices, President Donald Trump -- who these days has other things on his mind -- has gone largely quiet on the matter. But his FDA commissioner Scott Gottlieb is keeping the topic alive.
In his initial remarks to FDA staff in May, Gottlieb suggested pricing would be an area of focus for the agency. He added specifics to that this week, telling Bloomberg News how the FDA will change the generic-drug approval process with an eye toward lowering prices.  
Gottlieb's move Thursday afternoon to request that Endo International PLC pull the opioid Opana ER from the market because it is frequently abused -- a first for the agency -- suggests drugmakers should take the potential for a more-aggressive FDA seriously. 
Gottlieb's plan may have some effect on drug prices overall, making it a concern for the whole pharma industry. But it will likely have the most impact on generic drugmakers, which have already been hammered by falling prices.

Generic-drug approvals have been on the rise for several years. The FDA approved 813 new generics last year, up from 500 in 2013. Gottlieb would like to ramp up that growth, telling Bloomberg News he wants to work through a backlog of 2,640 drug applications in one year.
He also wants to change the FDA's approach to how it handles applications, giving first consideration to medicines that have less competition, rather than the first-come, first-served approach the agency tends to take now. 
It's not simply the case that more generic approvals mean more profit for generic drugmakers. Getting quick approval for a generic drug is good for that drug's maker, but less so for others making the same medicine. In fact, the FDA's recent stretch of heightened productivity has coincided with a long slump in drug and stock prices for these companies.
A Bloomberg Intelligence analysis found generic drug prices shrank, year-over-year, for six straight quarters before growth returned in the first quarter. Before that slump, prices had been rising for more than two years, though the pace of growth was slowing: 

Gottlieb's policy shifts could push prices down again. Speeding through the approval backlog will have the biggest effect, but the FDA's change in focus will have a big and often deflationary impact, as well. 
That's because it's not just the volume of approvals that matters to generic drugmakers, it's the type.
The most profitable type of generic drug is when a company is the first to get approval to mimic a previously branded medicine. The so-called first-to-file company gets a period of market exclusivity where it can price at a relatively small discount to the original product. Prices only really come down when more generic copies hit the market.
It's a system ripe for abuse. When the FDA has a big approval backlog or you're selling an obscure drug in a small market, then prices don't don't decrease very much, even if a drug went generic years ago. In some cases, as with Valeant Pharmaceuticals International Inc. and Martin Shkreli's Turing Pharmaceuticals, companies have used this lack of competition to raise prices dramatically on medicines developed decades ago. 
Prioritizing generic approvals for drugs with low competition and high prices has the potential make a lot of artificially expensive medicines more affordable.
Smaller players that focus on the U.S. may have a harder time in a lower-margin market, where scale will likely become more important. Drugmakers that are specialty-generic hybrids -- relying directly on high-priced, obscure medicines, whether they are generic or not -- will also suffer. 
This is potentially good news for patients that need these medicines, and for the insurance companies and others that help pay for them. It also means drugmakers who may have hoped the heat of political pressure on pricing was starting to cool should brace for more.
Before it's here, it's on the Bloomberg Terminal.
LEARN MORE